A Bittersweet Way to Close Out Summer.
As we journey into the last week of August many people are planning their labor day BBQs. Traditionally, Labor Day serves as the real last hoorah for the summer. Kids have gone back to school, and we have transitioned into the cooler months. However, there is no rule that says you can't fully embrace the tropical vibes that come with summer. We have put together 3 delicious ways for you to incorporate pineapple into the dishes that you serve at your Labor Day/end of summer BBQs.
Delicious Summer Side: Pineapple Coleslaw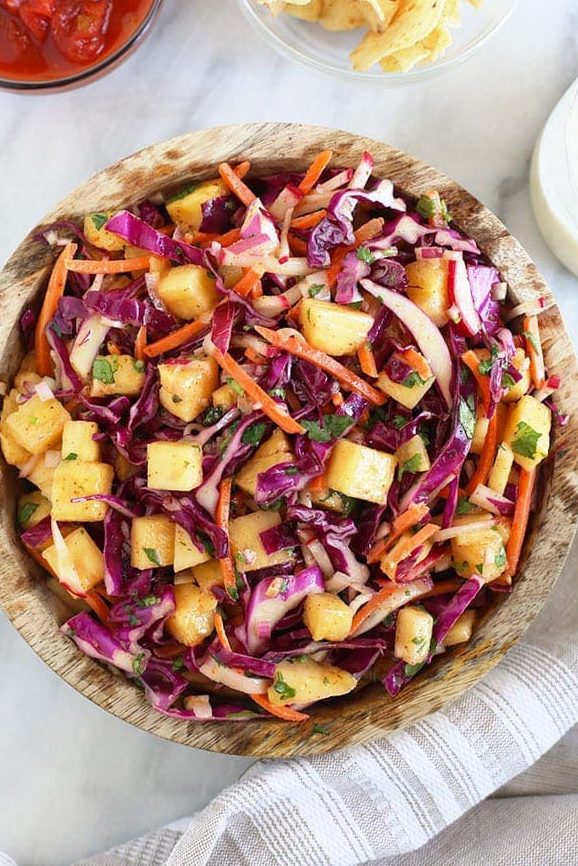 Coleslaw, the classic side dish at any summer BBQ. This creamy and crunchy side goes with just about any main food item that is served at a picnic. Upgrade this classic but giving it a little sweetness. When diced up, our perfect pineapples will take your coleslaw to the next level.
Ingredients:
14 ounce coleslaw mix with red cabbage and carrots
1/2 cup mayonnaise
2 tablespoons sugar
1 1/2 tablespoons lemon juice
1 tablespoon white vinegar
1/4 teaspoon kosher salt
1/2 teaspoon coarse ground black pepper
1 Chestnut Hill Farm Perfect Pineapple finely chopped (4 cups)
Directions:
Add the mayonnaise, sugar, lemon juice, white vinegar, salt and pepper to a large mixing bowl and whisk together until fully combined.
Add in the coleslaw mix and stir well to combine.
Fold in the finely chopped pineapple in to the mix. For best results drain any excess juice.
Refrigerate for at least 2 hours before serving.
Tropical Summer Dinner: Hawaiian Chicken Kabobs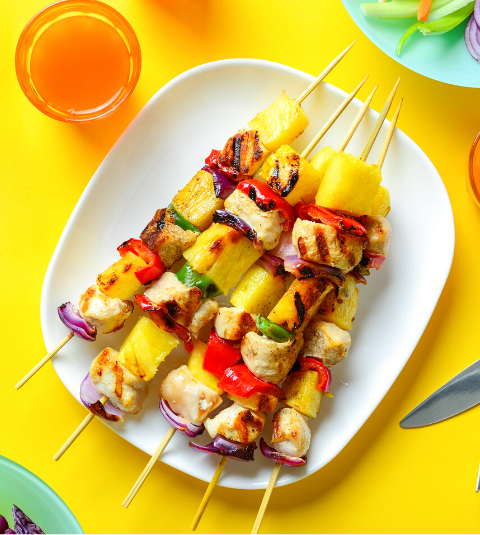 Something about kabobs screams perfect, easy end of summer dish. Not only are kabobs fun and easy to put together, but they are also delicious! It is also one of the rare occasions that eating with your hands is not frowned upon. These Hawaiian chicken kabobs will give you the perfect amount of tropical vibes you will transport yourself from your backyard to a beautiful beach.
Ingredients:
Marinade
1 cup barbecue sauce (I like to use one with sweetness)
1/4 cup Chestnut Hill Farms Perfect Pineapple juiced
1 tablespoon soy sauce
1 tablespoon oil
1 teaspoon minced ginger
1 teaspoon minced garlic
1/2 teaspoon salt
1 pinch black pepper
Chicken Kabobs
4 boneless skinless chicken breasts (about 1-1.5lbs)
2 bell peppers cut into 1″ pieces
1 Chestnut Hill Farms Perfect Pineapple cut into 1″ pieces
Directions:
In a medium bowl, whisk together marinade: BBQ sauce, pineapple juice, soy sauce, oil, ginger, garlic, salt and pepper.
Cut chicken breasts into 1″ cubes. For best results try and cut chicken into even sized cubes.
Place chicken in a large Ziploc bag or medium glass container with half of the marinade. Cover and marinate for at least 1 hour.
Cover remaining marinade and refrigerate until needed.
Preheat the grill to medium high heat, around 375-400 degrees.
If using wooden skewers, soak for 10 minutes before building kabobs.
Build kabobs, alternating between chicken, peppers, and pineapple chunks as desired. Discard remaining marinade from the chicken.
Grill for 4-5 minutes per side, until chicken reaches an internal temperature of 165 degrees F in the thickest part, basting twice during the cook time with remaining marinade.
Remove from grill and serve.
Sweet Dessert: Pina Colada Fluff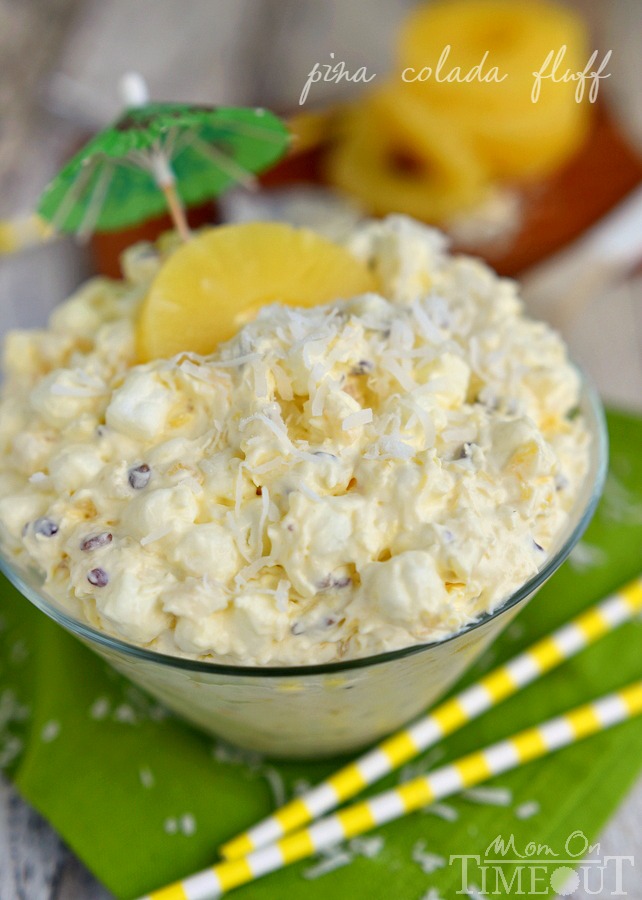 Whoever said that Pina Coladas have to be consumed as a frozen alcoholic drink. This dessert is the perfect way to get your pina colada fix minus the brain freeze. If you need a last-minute, quick, and easy dessert to take with you this recipe is it!
Ingredients:
3.4 oz vanilla instant pudding mix 1 box
20 oz of crushed Chestnut Hill Perfect Pineapple – do not drain!
8 oz Cool Whip 1 container – I used lite – thawed
1 tsp rum extract
2 cups miniature marshmallows
1 cup shredded sweetened coconut
1/2 cup chopped nuts your favorite
Directions:
Combine pudding mix and the entire can of crushed pineapple in a large bowl.
Stir until completely combined.
Fold in Cool Whip, rum extract, marshmallows, coconut, and nuts.
Chill until ready to served.
---
To get Chestnut Hill Farms news and updates delivered to your inbox, sign up for our newsletter.