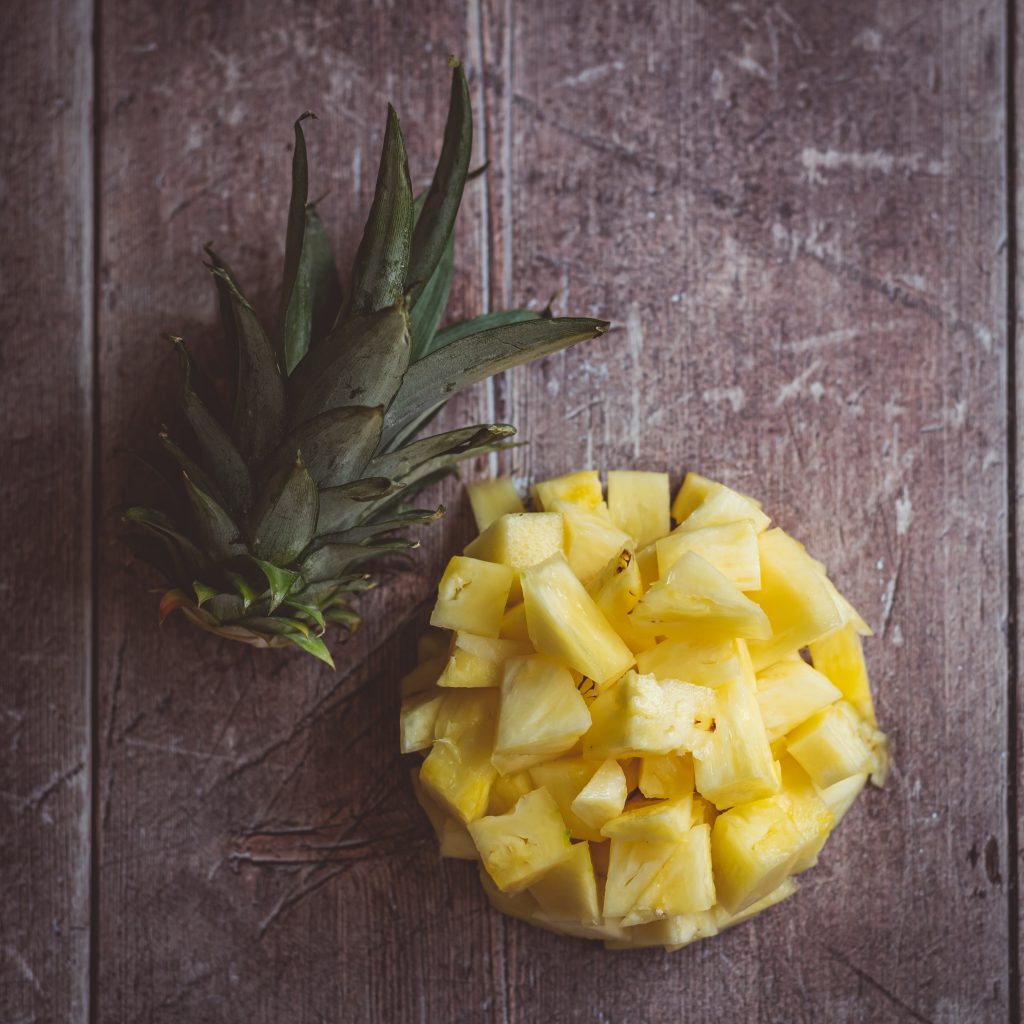 Tackle life's busiest moments with these easy meal-prep hacks that will help to cut your cook time in half!
Summer is coming to an end, and the end of the season brings along the hustle and bustle: back to school, back to work, sporting events, after-school activities, and so on. With the changing of the season, it's essential to be prepared for anything life throws your way. This means meal prepping plenty of delicious eats ahead of time that can be enjoyed in a variety of ways, so you're not stressed about meals when life gets crazy.
Here at Chestnut Hill Farms, we deliver the perfect pineapple that's as versatile as it is delicious. Pineapple is packed full of essential vitamins and nutrients, including vitamin C, vitamin B, and potassium, supporting your immune system, brain health, and more. Even better, our pineapples are ripe and in-season all year long, making it the ideal addition to any meal even with the seasons' changing.
So, whether you're meal prepping for breakfast, snacks, or dinner to watch the big game, here are five delicious and easy ways to meal-prep using pineapple!
1. Frozen pineapple
Freeze bags of diced pineapple to use for smoothies and enjoy a delicious frozen treat. This smoothie recipe uses only five ingredients, and with pre-frozen pineapple, the process just got easier!
Ingredients:
Frozen Chestnut Hill Farms pineapple, cut into chunks
Frozen banana
Frozen strawberries
Coconut milk
Honey (optional)
Directions:
Add all ingredients to blender and blend. For thinner consistency, add more coconut milk. Add honey to taste.
2. Roasted sheet pan pineapple
Roast pineapple on a sheet pan with your favorite assortment of veggies and protein for meal prep that will last you all week long. Chicken, shrimp, and pork all work well with the tropical flavors of pineapple, while tofu is a great vegetarian option. To dress it up, try tossing everything in a sauce first (we love teriyaki). Serve with a grain on the side for an easy and filling meal.
3. Crockpot pineapple
Crockpots make meal prep easy – they basically do all the work for you! Nothing's better than throwing ingredients into a crockpot and coming home to a delicious, flavorful, and nutritious meal. This recipe from Well Plated by Erin for pineapple chicken is perfect for those busy days that turn into even more active weeks. Throw these ingredients together, and let the crockpot do the rest.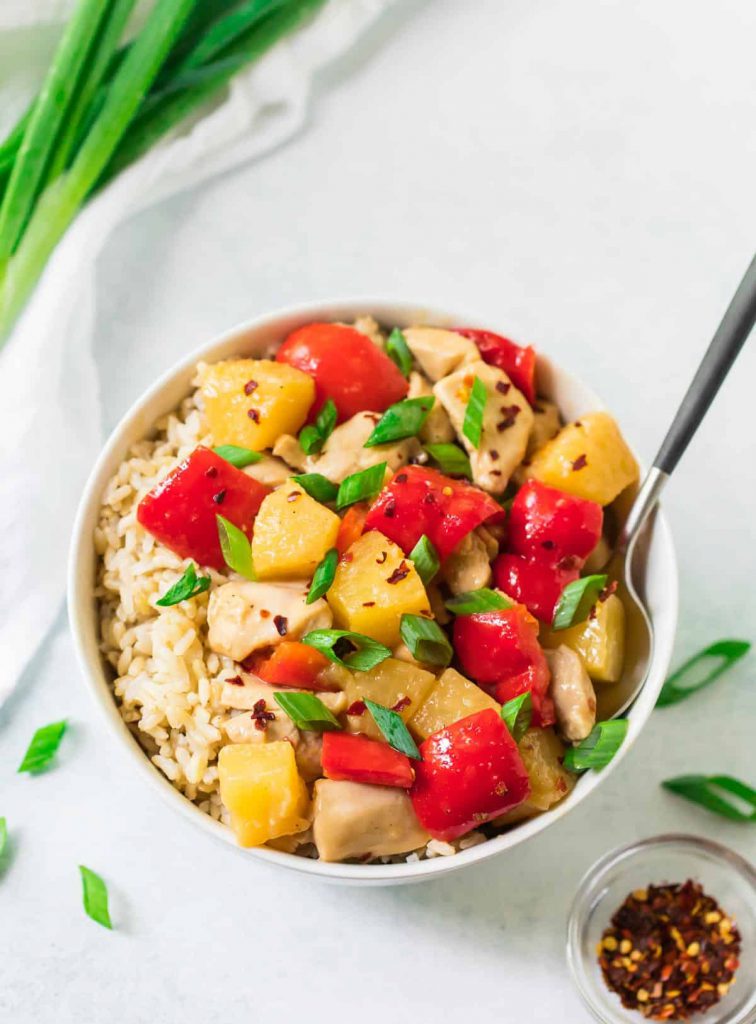 Ingredients:
2 lbs of boneless, skinless chicken thighs or breast
Chestnut Hill Farms pineapple, cut into chunks
1 cup of pineapple juice
1/4 cup of soy sauce
2 tbs cornstarch
2 tbs minced garlic
1 tbs minced ginger
2 tbs sesame oil
1/2 tsp red pepper flakes
Two small red bell pepper, diced
Directions:
Coat crockpot in olive oil and add chicken.
In a bowl, add pineapple juice and whisk in cornstarch until smooth.
Add soy sauce, garlic, ginger, red pepper flakes and pour over the chicken.
Add pineapple and bell pepper.
Cook on low for 4-5 hours or high for 1 ½ – 2 hours, until cooked through.
Serve over brown rice, quinoa, or cauliflower rice and enjoy!
This meal makes six servings so that you can come back to this relaxing meal time and time again.
4. Pineapple fried rice
Stir fry up a large batch of pineapple fried rice. Pineapple fried rice is not only the perfect combination of sweet and savory, but this recipe is also quick and easy to make so you can say hello meal prep and goodbye spending hours in the kitchen.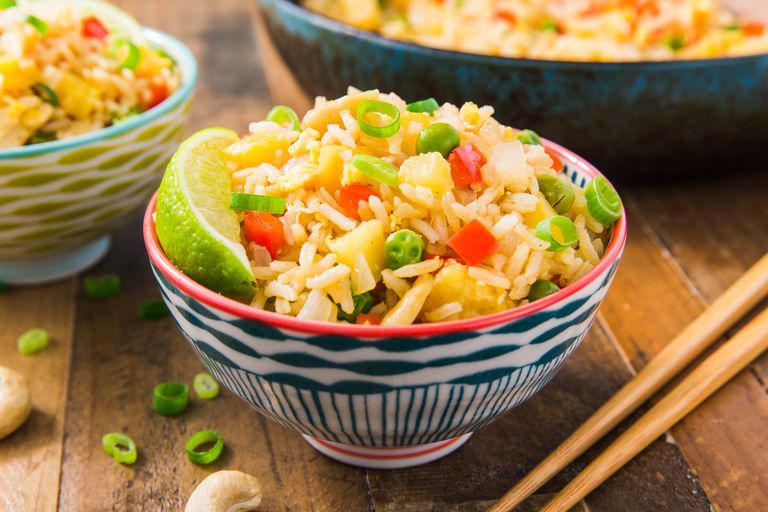 Ingredients:
2 tbsp coconut oil
1 medium onion, chopped
1 red bell pepper, diced
1 c. diced fresh pineapple
3 cloves garlic, minced
1/4 c. cashews, chopped
3 c. cooked rice (preferably day old)
1/2 c. frozen peas, thawed
Juice of 1 lime
2 tbsp. low-sodium soy sauce
1 tsp. Sriracha
2 large eggs, beaten
2 green onions, thinly sliced
Directions:
Heat oil in a large skillet. Add onion, peppers, and pineapple and cook until vegetables are soft and pineapple is caramelized, about 5 minutes.
Stir in garlic and cashews and cook for about 1 minute.
Add rice and peas, then add lime juice, soy sauce, and Sriracha. Cook for about 3 minutes, until rice is fully coated in sauce.
Push rice to one side of the skillet and add eggs. Stir constantly until almost fully cooked, then add to rice mixture.
Top with green onions and serve.
5. Pineapple fruit kabobs
Meal prep fruit kabobs for an easy grab and go snack that will keep energies high and will leave everyone in the house satisfied! Everything tastes better on a stick, and this recipe for fruit kabobs takes fruit salad to the next level.
Ingredients:
Chestnut Hill Farms pineapple, cut into chunks
Strawberries
Blueberries
Grapes
Dark chocolate
Directions:
Add fruit to a wooden skewer.
Put dark chocolate in a bowl. Place bowl above a sauce pan with water, set on low heat. Stir chocolate until melted.
Serve fruit skewers with chocolate for dipping.
---
At Chestnut Hill Farms, we know how important it is to have healthy meals prepared, and eating healthy is easier when you plan ahead of time! Use these meal-prep ideas the next time you're pressed for time and rest easy knowing these meals are packed full of nutrients to keep you and your family happy and healthy even during life's busiest moments.
For more tips, tricks and to stay up-to-date on all the pineapple-related news, sign up for our newsletter.