Celebrate this Father's Day with this Pineapple BBQ Chicken!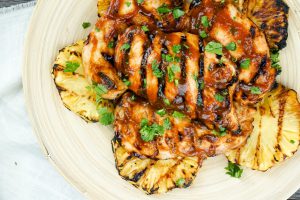 Create a Father's Day feast with this finger lickin' Pineapple BBQ Chicken. You're only a few simple ingredients away from this juicy, delicious meal bound to impress dad and the rest of the family!
Ingredients:
Bone-in split chicken breasts
1 Chestnut Hill Farms Pineapple
BBQ sauce of choice
Extra virgin olive oil blend
Salt and pepper to taste
For this hearty Father's Day feast, preheat oven to 400 degrees and lightly oil a baking sheet to be set aside. Cut and dice your perfect Chestnut Hill Farms pineapple and set a little more than 1 cup aside. Next, place chicken breasts in a plastic bag, adding a pinch of salt and a dash of pepper. Add 1/2 cup of BBQ sauce and diced pineapple to bag, sealing and placing in the refrigerator for about 30 minutes. Next, remove chicken and arrange on oiled baking sheet. Bake in oven for approximately 40 minutes until completely cooked through. Remove from oven and serve with grilled pineapple rings for an added treat!
Need some tips on how to create the perfect pineapple slices? Check out how here!
Original recipe provided by Western Beef Supermarket.