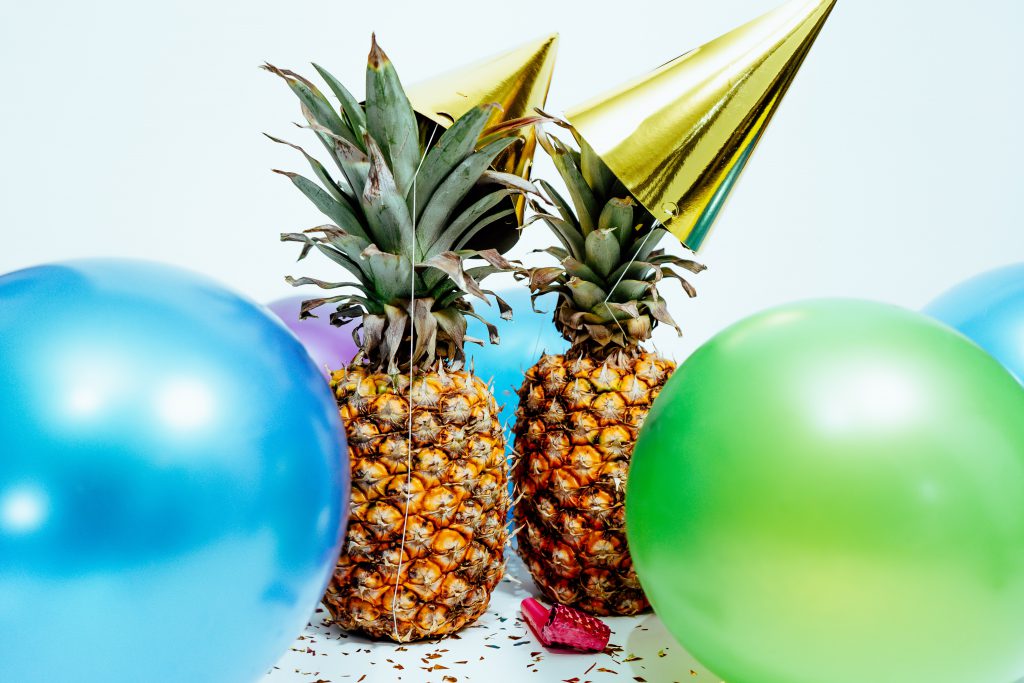 5 DIY Projects Incorporating the Queen of Fruits.
Whether you are throwing a pineapple-themed party or pineapple is your absolute favorite fruit, there are a variety of DIY pineapple crafts to dive into. Pineapple isn't just for munching on but can be enjoyed as a decoration for your home! From printable pineapple stickers to adorable wine corks, check out 5 DIY projects that incorporate the queen of fruits that are both easy and enjoyable to partake in!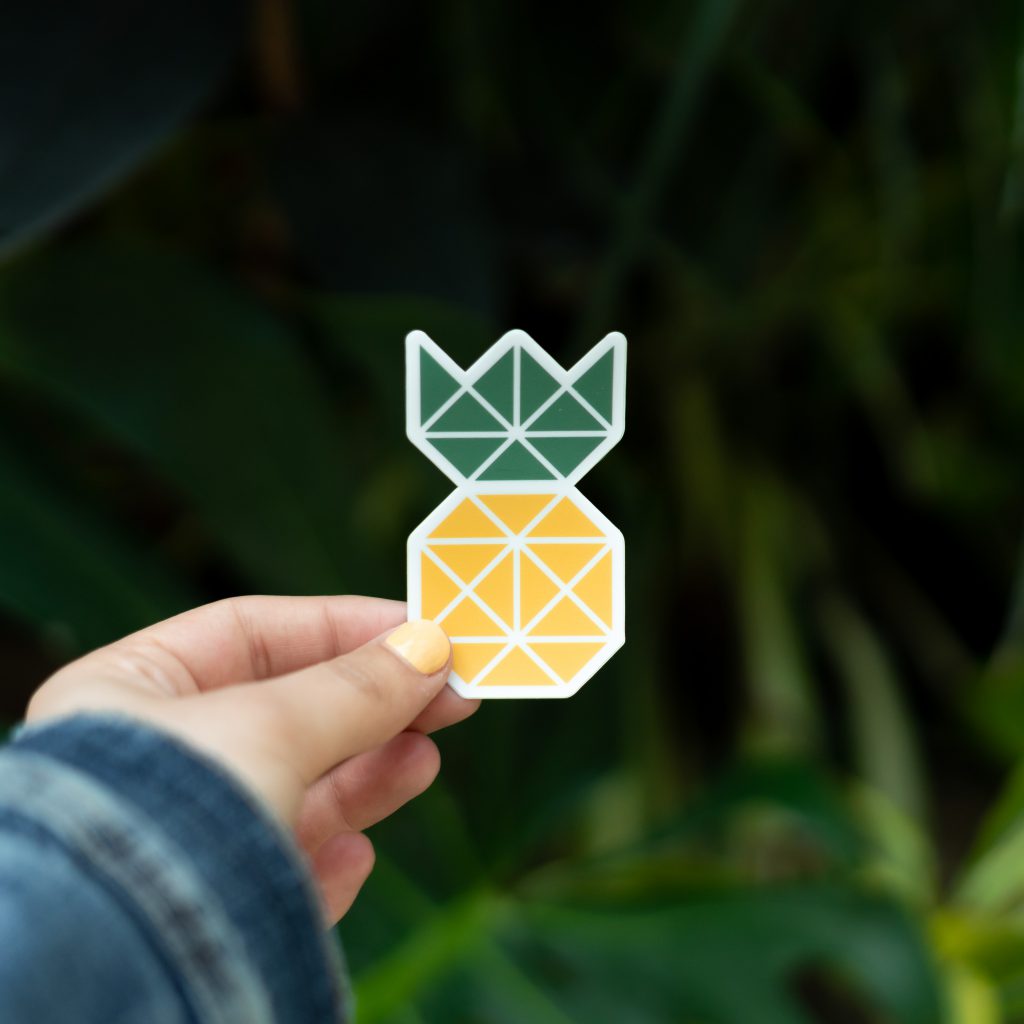 Pineapple stickers
Keep the summer theme going all year long with pineapple stickers! Perfect to use for a gift or decoration.
Materials
Print Vinyl Sheets
Cutting Machine (optional)
Instructions
Print stickers
Cut stickers
Apply for decoration or use as a party favor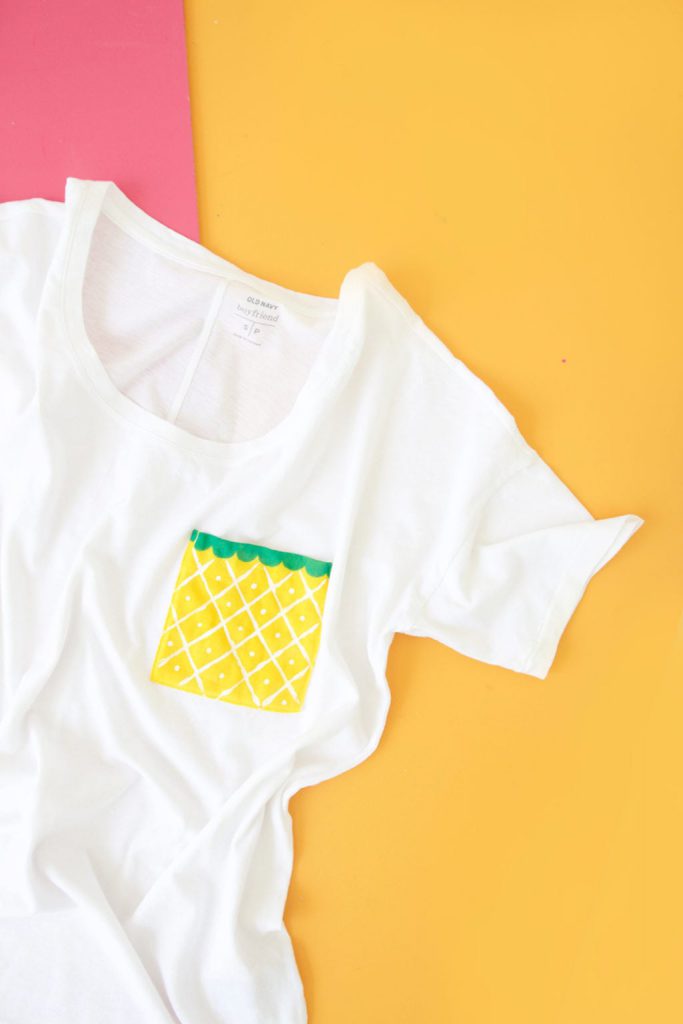 Pineapple pocket tees
Transform an old t-shirt into comfy pineapple memorabilia. Who doesn't want to wear something fresh and fruity?!
Materials
Pocket tee
Foam brushes and a round sponge dauber
Painter's tape
Wood Skewers
Fabric paints (variety of colors)
Cardboard
Instructions
Use painter's tape to cover all the pocket's edges
Insert cardboard box in the pocket (to help prevent the paint from bleeding through the material)
Paint the pocket with yellow paint
Remove cardboard and allow the paint to dry (about 1 hour)
Once dry, reinsert the cardboard and apply the white lines and dots
Apply green paint to the top of the pocket for the pineapple's stem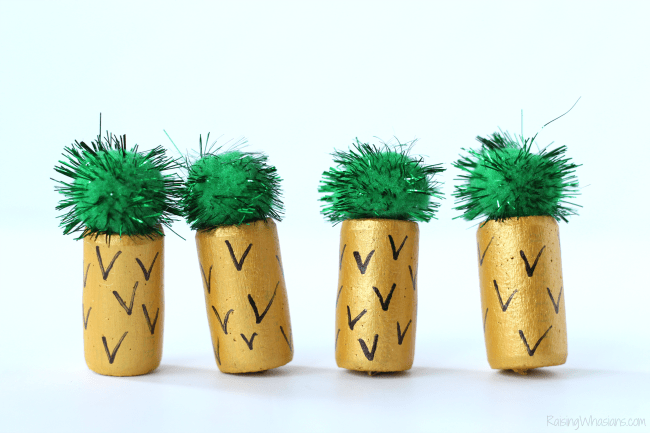 Pineapple wine corks
If you're a fan of collecting wine corks or you just popped a bottle of wine open, why not transform your wine corks into adorable fruity pineapple corks? These pineapple wine corks will carry the summer vibe around the house all year long!
Materials
Green pom-poms
Wine corks
Gold paint
Black Sharpie Marker
Glue
Instructions
Paint wine corks yellow
Use black sharpie marker to dry "V" shapes on the corks
Glue green pom-poms to the tops of the corks
Use as a party favor or decoration around the house!
Pineapple candles
Fill any room with a fresh and sweet fragrance with these DIY pineapple candles! They are so simple to make and smell amazing too.
Materials
Soy Wax Flakes
Candle Wax Pitcher
Candle Wicks
6 oz. Glass Jars
Candle wax colorant
Pineapple fragrance oil
Black and green paint
Paintbrush
Green felt
Hot glue gun
Instructions
Use hot glue gun to attach candle wicks to the center bottom of the jar
In a candle pitcher, melt 4 cups of soy wax flakes and stir
Add 3 blocks of yellow wax with 20-30 drops of pineapple fragrance oil and mix
Pour the candle wax into the glass jar and allow to cool
Paint the lids of the jars green
Cut and assemble felt tops for the stem
Use hot glue to attach the felt to the glass lids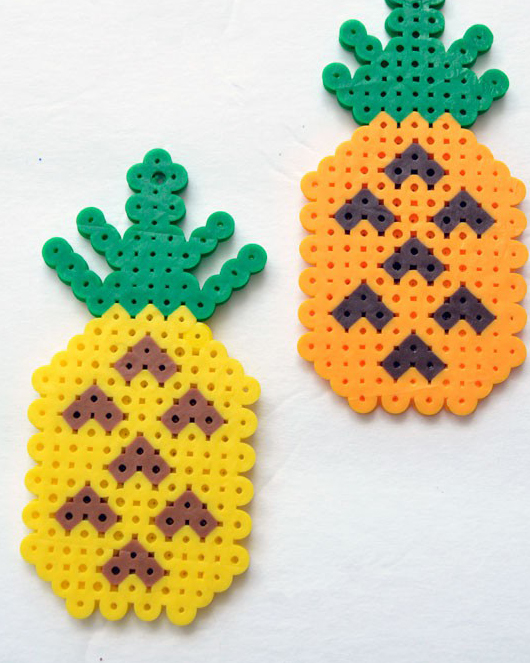 Pineapple keychain
Tropical fruit on a small keychain is the perfect summertime reminder and organizer. Customize the beads anyway you want and add some unique summertime shine to an accessory or backpack.
Materials
Perler beads
Hexagon Pegboard
Ironing Paper
Tweezers
Iron
Pineapple Template Printable
Instructions
Lay out your hexagon pegboard and use tweezers to place a row of six of yellow beads towards the bottom of the hexagon.
Add green beads to the top of pineapple.
Add brown beads to form three triangle points inside the pineapple.
Fill the remaining area with yellow beads to complete your pineapple.
Lay out a piece of iron paper and place the iron on top for about 20-30 seconds.
Lay another piece of iron paper on the opposite side and iron for 20-30 seconds.
Let cool and then carefully poke a hole through the top beads of your pineapple and slide your keychain loop through.
---
All DIY projects are super easy to do and bring the pineapple fun to a party or as a room decoration. To follow all things pineapple, sign up for our newsletter today.