Fire Up the Grill this Labor Day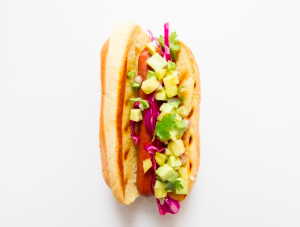 Farm-fresh pineapple, crunchy red cabbage and creamy avocado take your holiday hot dog to the next level.
Ingredients
1 Chestnut Hill Farms perfect pineapple, cut into 1⁄4-inch pieces
1 avocado, peeled, pitted, and cut into 1⁄4-inch pieces
1 small shallot, finely chopped
Zest and juice of 1 lime
7 oz. red cabbage (about 1⁄4), cored and thinly sliced
3 tbsp. white vinegar
Cilantro leaves, for serving
Grilled hot dogs, for serving
Grilled hot dog buns, for serving
Instructions
Toss pineapple, avocado, shallot, zest, and juice in a large bowl.
Toss cabbage and vinegar in a bowl and let sit for 10-15 minutes.
Top hot dog in a bun with pineapple salsa, cabbage, and cilantro leaves.
Serve and enjoy!
Original recipe from Saveur.com.