Game-time Snack Recipes that Will Have You Cheering for More
March Madness is a time of year when basketball fans fill out their brackets and get ready to cheer on the top teams in the country to see who will out-swoop the rest. As the competition gets higher, get your themed snacks ready for the final four parties of your basketball dreams. Adding sweet, healthy pineapple is a great way to incorporate a springtime treat your guests will cheer about.
Grilled Pineapple Fruit Pizza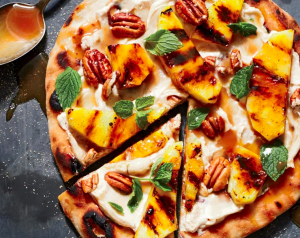 Ingredients:
3 tablespoons light brown sugar
1/8 teaspoon ground cinnamon
1 Chestnut Hill Farms Pineapple
1 (8-oz.) package cream cheese, softened
3 tablespoons light brown sugar
1/8 teaspoon ground cinnamon
Caramel topping
Toasted pecans
Fresh mint sprigs
Instructions:
Prepare Homemade Pizza Dough, and grill both sides of rounds according to Our Grilled Pizza Technique (below). Cool crusts 10 minutes. Stir together 3 Tbsp. light brown sugar and 1/8 tsp. ground cinnamon. Cut pineapple into 1/2-inch slices, and spread brown sugar mixture on both sides. Grill, covered with grill lid, 1 minute on each side or until grill marks appear. Stir together softened cream cheese, 3 Tbsp. light brown sugar, and 1/8 tsp. ground cinnamon. Spread about 2 Tbsp. cream cheese mixture on each grilled pizza crust, and top with grilled pineapple slices. Drizzle with warm jarred caramel topping, and sprinkle with toasted pecans and fresh mint.
Hawaiian BBQ Meatballs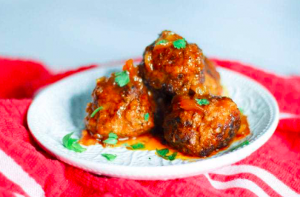 Ingredients:
Meatballs
2

eggs

½

cup

breadcrumbs

½

cup

chopped onion

½

cup

chopped orange pepper

2

tbsp

garlic diced

2

lbs

ground beef

Salt and pepper
Sauce
1 Chestnut Hill Farms Pineapple, 1/2 of the pineapple fruit diced

1

cup

BBQ sauce
Instructions:
Preheat oven to 375 degrees. Line 1-2 rimmed cookie sheets with parchment paper and set aside.
Combine meatball ingredients until integrated. Using an ice cream scoop, create balls (1" for small, 2" for large) and set them on the cookie sheets.
Bake meatballs 20-45 minutes, until cooked. Watch them so they don't dry out.
Make the sauce by combining diced pineapple and BBQ sauce. Place meatballs in a crockpot and pour the sauce on top. Cook 2-4 hours, stirring occasionally.
Pineapple Habanero Dip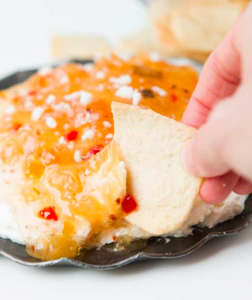 Ingredients:
8 ounces cream cheese, softened
1/3-1/2 Cup Queso Fresco or Cotija is fine
1 Chestnut Hill Farms Pineapple, 1/4 of the pineapple fruit diced
4 plum tomatoes, diced.
1/2 large red onion, diced.
1 medium green bell pepper, diced (or 2 jalapeno peppers, depending on whether you want it spicy or not)
1/2 cup cilantro, chopped
1 lime, juiced
salt, to taste
Chips for serving
Instructions:
In a medium bowl, beat the cream cheese until smooth.
Using a rubber spatula, fold in the cheese and spread into a mound on a platter.
In a separate bowl, combine remaining ingredients to make fresh pineapple salsa
Spread salsa evenly over the top and sprinkle with a little extra cheese as garnish.
Enjoy!
Original Recipe Modified from Oh Sweet Basil