An Easy, Sweet Summertime Treat!
Beat the heat this summer with this creamy, fruity, tropical treat! These Pineapple Coconut Yogurt Pops are perfect for an afternoon snack in the sun.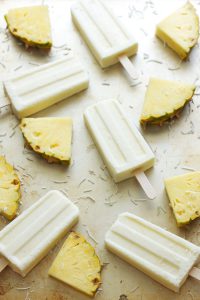 Ingredients: 
• 1 cup Chestnut Hill Farms Pineapple
• 1 cup canned light coconut milk
• 2 (5.3 oz) containers non-fat pineapple yogurt
• 3/4 tsp. coconut extract
• 1 tbsp. sugar
To create this sweet summertime treat, combine all ingredients in a blender and blend until smooth. Pour the mixture into popsicle molds and insert popsicle sticks. Freeze overnight and enjoy!
Don't believe us that something so tasty could be so healthy? Check out some more pineapple health facts here.