Tis the season of springtime. Changing weather and pollen abounds, challenging our senses to combat colds and seasonal allergies. Enjoy a healthy dessert option that will help you fight off what may be drifting in the late winter meets early spring air.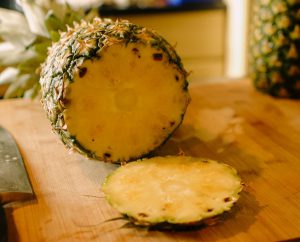 Ingredients:
1 medium sized Chestnut Hill Farms pineapple
1 tablespoon honey
1/4 cup lemon juice
1/2 cup orange juice
1 cinnamon stick
Dark rum
3/4 cup muscovado sugar (option: dark brown sugar)
1/4 cup butter
1 star anise (optional)
Directions:
Caramelize the sugar, cinnamon and the star anise in a pan. Cut the pineapple into slices. Add them to the pan along with the honey, and begin to stir together. Slowly add the rum and mix again (note: the rum may flame the fruit, but will reduce and vanish). After the flame dies down, add both the orange and lemon juices and boil until the liquid is reduced.  Finally, add the butter. This dessert is delicious sprinkled with almonds or fresh mint leaves.
Enjoy and live well!