Easy, Tasty, Healthy. The Perfect Pineapple Salsa is in for 2018.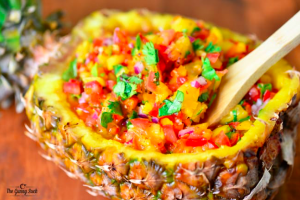 Pineapple salsa in a pineapple bowl is easy and elegant, and so delicious! Whether you are planning your next party or just experimenting with healthy foods, this pineapple salsa recipe is the perfect fresh pick-me-up for any time of the year.
How to Make a Pineapple Bowl: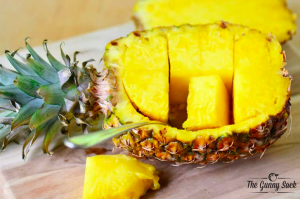 Cut about 1/3 of the pineapple off from the side. Leave the crown (stem) at the top of the pineapple attached to the larger piece, which will be your bowl. Use a small knife to cut around the outer edge of the pineapple inside of the shell and then make cuts across the middle in order to slice up the fruit.
Use a spoon (preferably metal) to remove the pineapple chunks from inside your bowl. Pour the extra juice out so it is empty, and set the pineapple fruit aside to dice for your salsa.
How to Make the Pineapple Salsa:
In a separate bowl, mix together the diced pineapple, diced tomatoes, diced peppers, minced onions, chopped cilantro, lime juice (or juice from 1/2 fresh lime), and salt and pepper. (Note: Like it hot? Add diced jalapeños!)
Mix all ingredients together and spoon into the hollowed pineapple bowl. Serve with your favorite tortilla chips or add to your Taco Tuesday dinner prep and enjoy!
Hungry for more? Read more about health benefits of pineapple here!