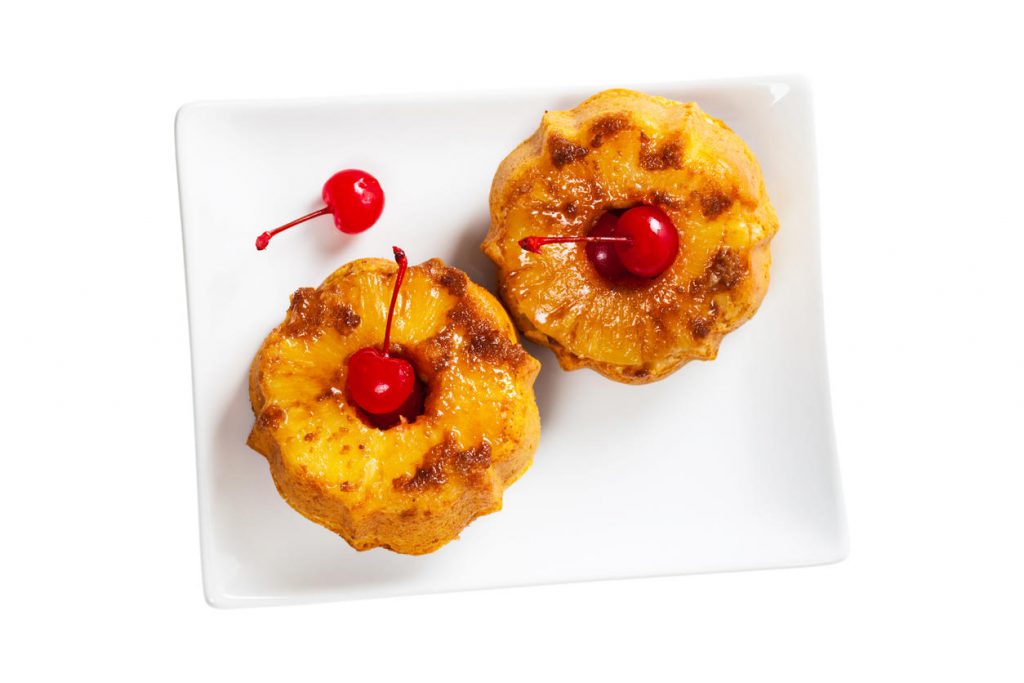 Sweeten Up Everyone's Easter With These Perfect Pineapple Upside-Down Cookies
Easter is right around the corner and we're getting excited to turn our Perfect Pineapples into the perfect dessert. With spring in full swing, our naturally sweet fruit will be sure to make your dessert stand out from the rest.
History of Pineapple Upside-Down Cake
The first thing that comes to mind when you think of incorporating pineapple into a dessert is the classic Pineapple Upside-down Cake. These upside-down cakes date back all the way to the Middle ages when skillet cakes were a popular dessert. The cakes were cooked in a cast-iron skillet and then flipped to reveal the fruit that was layered in the bottom of the skillet, hence where the name "upside-down cake" comes from.
The early versions of this staple did not include pineapple, but instead other seasonal fruits such as apples or cherries. It was the early 1900's when canned pineapple became widely available that the beloved Pineapple Upside-down Cake came to be.
A Perfect Spring Dessert
We've turned this classic cake recipe into a hand-held treat that will satisfy everyone's sweet tooth. Topped with a ring of fresh Chestnut Hill Farms Perfect Pineapple and a cherry, Pineapple Upside-down Cookies are sure to impress at your Easter dinner. You will need a mini round cake pan or a cupcake tin to cook these cookies in.
Perfect Pineapple Upside-Down Cookies
Ingredients:
• 1 1/4 cup butter melted
• 3/4 cup sugar
• 2 eggs
• 2 tsp. vanilla extract
• 2 1/2 cups all-purpose flour
• 1 tsp. baking powder
• 1 tsp. cornstarch
• ½ tsp. salt
• 1 Chestnut Hill Farms Perfect Pineapple sliced into 12 rings
• 12 maraschino cherries
• 1 cup light brown sugar packed

Instructions:
Preheat oven to 350 degrees.
Mix together 1 cup butter, sugar, eggs, and vanilla extract in a large bowl until light and fluffy.
Next, slowly fold in the flour, baking powder, cornstarch, and salt. Once added and mixed, the cookie dough will start to form. Set aside the dough for now.
In a small bowl, stir together 1/4 cup melted butter and brown sugar until combined.
In the bottom of each cutout in the pan gently spoon enough of the brown sugar mixture to cover the bottom of each.
Add fresh Perfect Pineapple slices on top of the brown sugar and place a cherry in the center of each.
Scoop cookie dough on top until each cutout is about ⅔ of the way fill.
Use a spoon to flatten the tops out.
Bake in the oven for 20-25 minutes, checking regularly to ensure the sides are getting golden.
Remove from oven and let cool for about 15 minutes.
Once cool, cover a surface with wax paper and gently flip the pan over to release the cookies onto the paper. They might be a little messy from the brown sugar mixture so perform this step carefully!
Let cool completely before enjoying! They will store well for about 2-3 days, so feel free to bake them ahead of time.
*Recipe adapted from Cookie Dough & Oven Mitt
---
If you try making these at home, be sure to snap a photo and tag us @chestnuthillfarms! We'd love to see your sweet creations.
Want more pineapple recipes sent straight to your inbox? Sign up for our newsletter today.