You'll Flip for This Upside Down Cake, Made with Sweet, Fresh Pineapple
Pineapple Upside Down Cake can be enjoyed at all times of the year, but it is especially popular to prepare and indulge in during the spring months. Rather than using canned pineapple, try a fresh variation on this traditional recipe by slicing sweet Chestnut Hill Farms pineapple and taste the difference. Hands down, this will be the best pineapple cake you've ever taken a bite out of.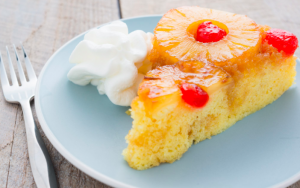 Ingredients
TOPPING
1/3 cup butter
3/4 cup firmly packed brown sugar
12 slices of Chestnut Hill Farms pineapple (sliced in circles)
1 small jar maraschino cherries, stems removed
CAKE
2 cups all-purpose flour
1 tablespoon baking powder
1/4 teaspoon salt
1 cup firmly packed brown sugar
2/3 cup butter, softened
3 large eggs
2 1/2 teaspoons vanilla
3/4 cup milk
Directions
Heat oven to 350°F.
Slice fresh Chestnut Hill Farms pineapple or use pineapple slicer to get perfect circle slices (such as the tool here).
Melt 1/3 cup butter in 9×13-inch un-greased baking pan in oven. Stir in 3/4 cup brown sugar. Spread mixture evenly in pan. Arrange pineapple slices on top. If desired, place cherry in center and between each pineapple slice.
Combine flour, baking powder and salt in bowl; set aside.
Combine 1 cup brown sugar and 2/3 cup butter in bowl; beat at medium speed, scraping bowl often, until creamy. Continue beating, adding eggs 1 at a time, until well mixed. Stir in vanilla. Gradually add flour mixture alternately with milk, beating at low speed.
Gently spread batter over pineapple. Bake 35-40 minutes or until toothpick inserted in center comes out clean. Loosen sides of cake from pan by running knife around inside of pan. Flip the cake (still in the pan) on top of a serving platter; let stand 5 minutes. Remove pan from the cake so the pineapple is displayed on top. Cool completely and enjoy!