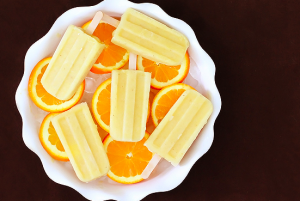 Labor Day weekend is the perfect time to enjoy end-of-summer treats made with delicious fresh pineapple. Combined with banana and Vitamin C-packed orange, these easy-to-make snacks can be whipped up in just 10 minutes. Pick up your Chestnut Hill Farms Perfect Pineapple at your local store that carries our farm-fresh produce near you and enjoy!
YIELD: 10 POPSICLES
PINEAPPLE ORANGE BANANA POPSICLES
You will fall in love with this Pineapple Orange Banana Popsicles recipe! These treats are tangy, sweet, and healthy!
TOTAL TIME: 10 MINS PREP TIME: 10 MINS
INGREDIENTS:
2 cups fresh chopped pineapple

3 bananas, peeled

2 oranges, peeled
DIRECTIONS:
Pulse all ingredients together in a blender until smooth.
Pour into popsicle molds and freeze until firm.
Tip: These are also great when made with a teaspoon of grated fresh ginger!
(Original Recipe and photo from Gimme Some Oven.)