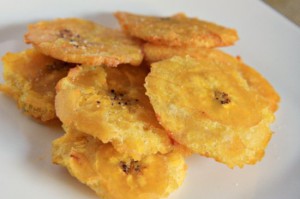 Last month we introduced Lloyd's Corner readers to the wonderful world of plantains. This green, fibrous fruit has long been a staple of Latin American, Caribbean and African cuisine. And now, according to recently published research, plantains can also assist those suffering from Crohn's Disease with proper digestion.
Versatile and delicious, cooked plantains have inspired a variety of preparation methods and recipes. As the first of many plantain recipes to be published on "the Corner," we figured we would start off with an easy one – patacones.
Patacones, as they are called in Central and South America, are also known as tostones in the Caribbean, or plataninas in Central and West Africa. Thinly cut and double fried, any newcomer to plantains will find the following recipe courtesy of Food.com easy enough to follow.
All you'll need is four green plantains, vegetable oil, salt and this recipe.
Enjoy,
Dr. Lloyd