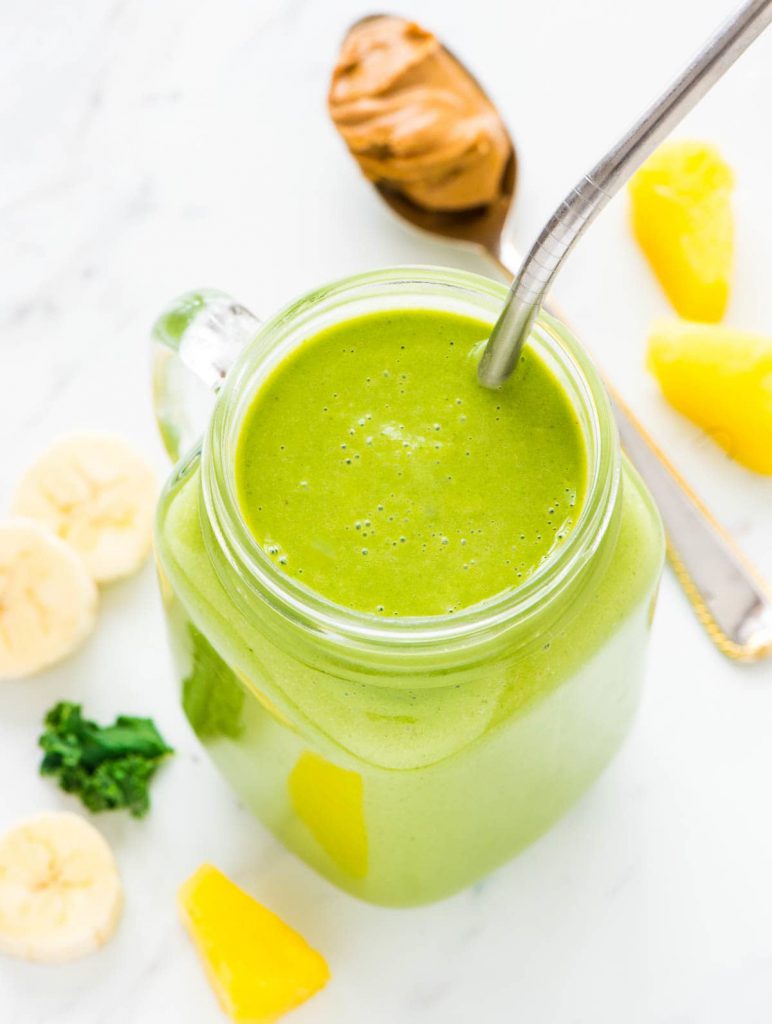 Get Blending to Celebrate Summer and National Smoothie Day
With National Smoothie Day sharing a weekend with the first day of summer, there's no better excuse to get your blender out and enjoy a frosty, fruity beverage. Even better, pineapple pairs perfectly with a wide range of flavors, offering endless ways to blend up this tropical fruit. From enjoying a healthy green smoothie as a way of boosting our vegetable intake to whipping up an alcohol-free pina colada that could easily substitute for dessert, there's a smoothie recipe out there for everyone. Read on to discover four of our favorites and get ready to blend this June 21.
Kale Pineapple Smoothie
Packed with vitamin C, fiber, antioxidants, protein, and healthy fats, this smoothie will keep you full for the whole morning. Plus, fruity flavors from pineapple and banana, plus a warm nuttiness from almond milk and peanut butter, work together to guarantee this smoothie tastes like anything but kale.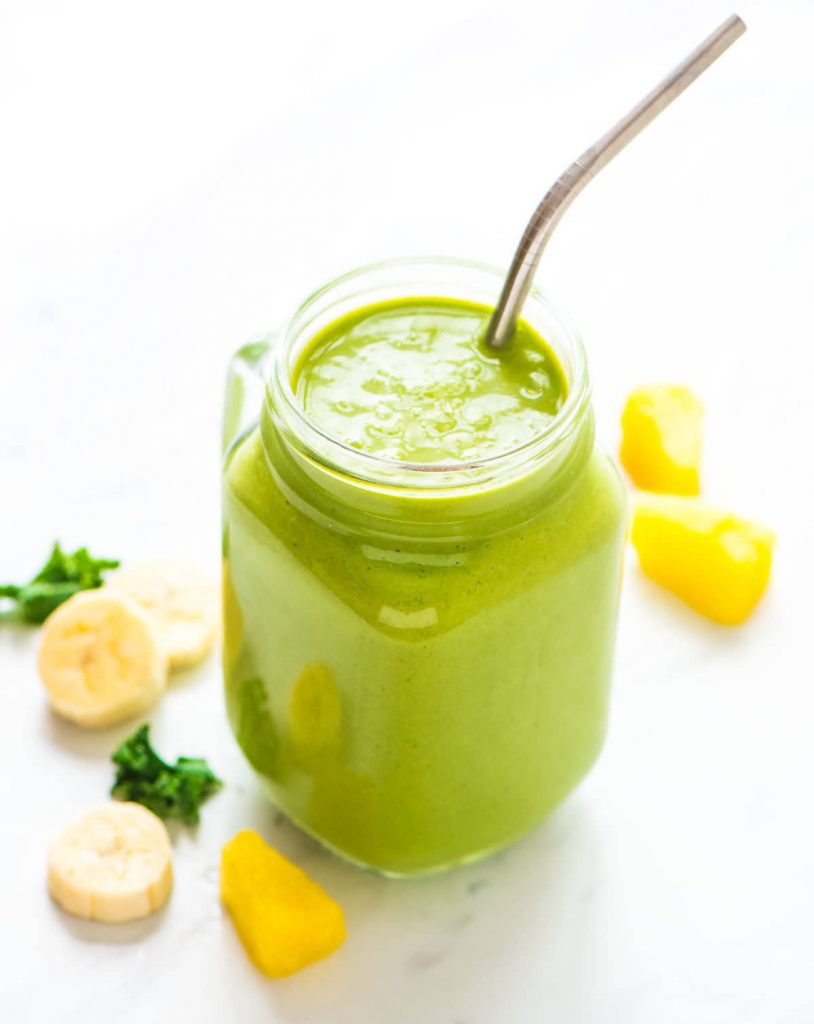 Ingredients:
2 cups lightly packed chopped kale leaves, stems removed
3/4 cup unsweetened almond milk
1 frozen medium banana
1/4 cup plain Greek yogurt
1/4 cup frozen Chestnut Hill Farms pineapple chunks
1-3 tsp honey, to taste
Directions:
Place all ingredients in a blender in the order listed.
Blend until smooth. Add more milk if need to reach desired consistency. Enjoy immediately.
Pina Colada Smoothie
Just because it's sweet doesn't mean it's unhealthy! This pina colada smoothie has no added sugars and is made extra creamy with the addition of canned coconut milk. If you're looking to make the drink a little more adult, rum can also be added to the blend for the ideal summer-evening tropical cocktail.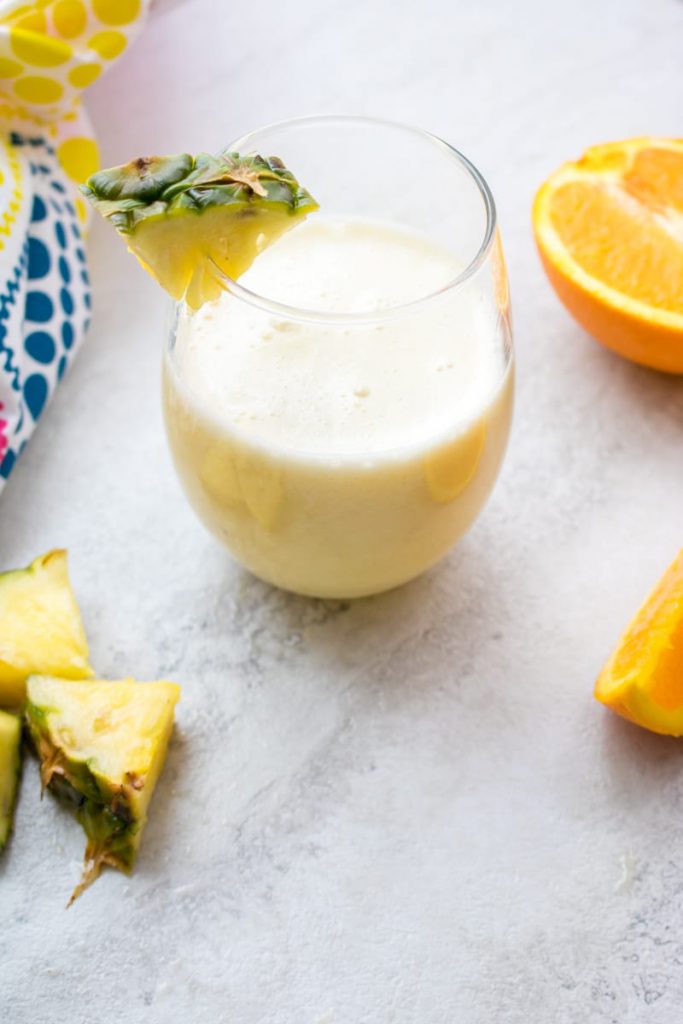 Ingredients:
2 cups Chestnut Hill Farms pineapple juice (learn how to juice your own pineapple)
2 cups orange juice
1 cup canned coconut milk
2 frozen bananas
Optional: 6 oz of rum (1.5 oz per drink)
Directions:
Pace all ingredients into a blender and blend until smooth and creamy.
Pour into four glasses and serve.
Mango, Pineapple, & Passion Fruit Smoothie
For those that love all-out tropical flavor, this is the perfect smoothie recipe. Pineapple, mango, and passion fruit come together to deliver the perfect balance of sweet and tart – as well as a huge serving of vitamin C.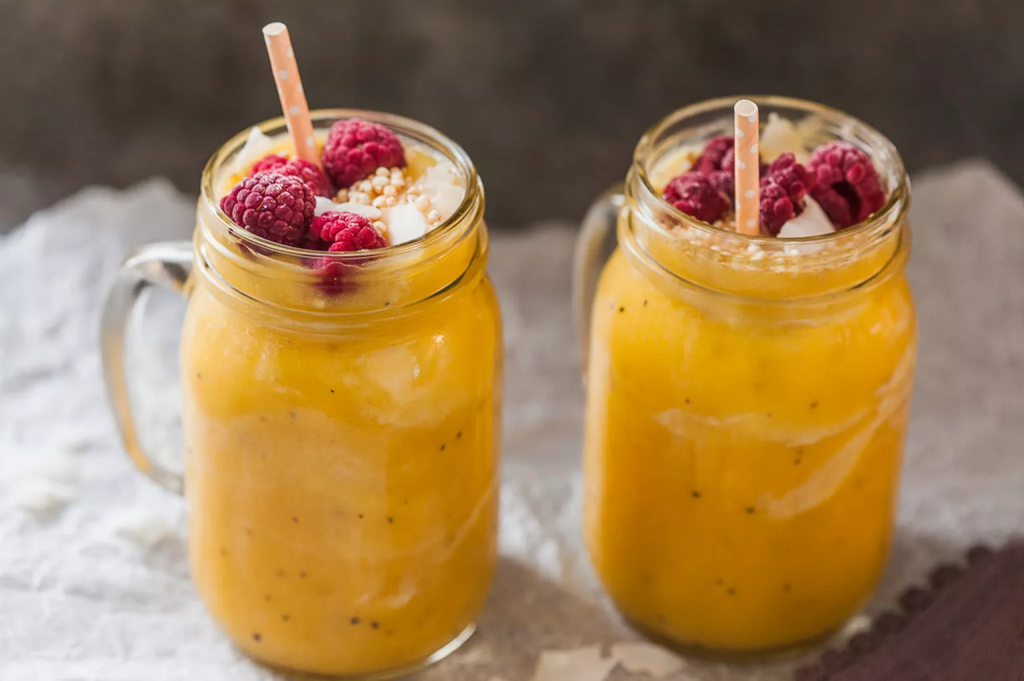 Ingredients:
1 Chestnut Hill Farms pineapple
1 mango
1 banana
1 passion fruit
1 orange
1/2 cup Greek yogurt
Toasted coconut flakes (optional)
2 tsp quinoa puffs (optional)
Raspberries to top
Directions:
Peel and slice pineapple, mango and banana (learn how to cut a pineapple). Add to blender. Cut passion fruit in half and scoop out the juice and seeds. Cut orange in half and squeeze out juice. Add to blender.
Add Greek yogurt and 1 cup water to blender and blend on high for a few seconds, until the ingredients blend into a smooth mixture. Add more water if the mix is too thick.
Pour smoothie into 4 glasses and top with toasted coconut flakes and quinoa puffs (optional) and a couple of raspberries. Serve.
Dragon Fruit & Pineapple Swirl Smoothies
Looking to level up your smoothies? Try getting creative with layers! This recipe swirls creamy Greek yogurt with fruity smoothie for a beautiful display. Whether you make these to serve to friends or just to enjoy on your own, they're a great way to add a little color to your day.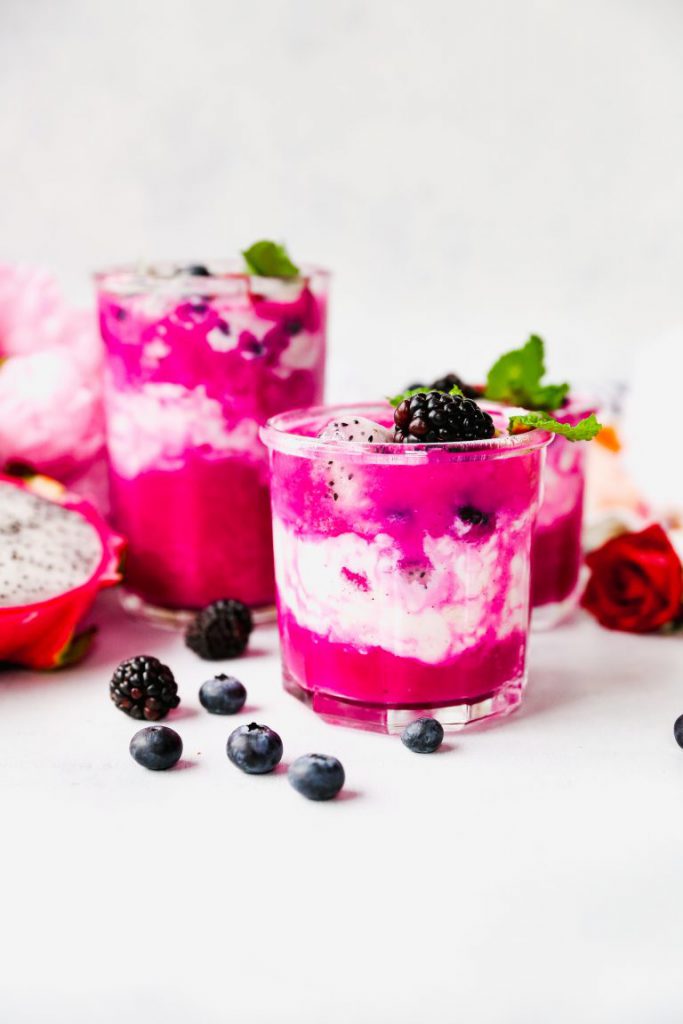 Ingredients:
1 cup Chestnut Hill Farms pineapple juice
1 packet (100 g) frozen pitaya puree
1 banana, frozen
1 cup fresh Chestnut Hill Farms pineapple
2 tbsp hemp seeds
1 1/2 cups Greek yogurt
Fresh berries, for garnish
Fresh dragon fruit, for garnish
Fresh mint, for garnish
Directions:
In a blender, place pineapple juice, pitaya puree, banana, pineapple chunks, and hemp seeds.
Blend until smooth, creamy, and thick.
Pour half the mixture into two glasses. Add a layer of yogurt, then top with the remaining half of the smoothie mixture. Swirl gently with a straw to combine the layers.
Top with desired garnishes and serve immediately.
---
Want more delicious tropical smoothie recipes delivered straight to your inbox? Sign up for our newsletter today!
---