Let's Get Ready to Rumble with These Super Easy Pineapple Poppers!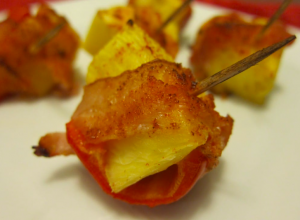 These sweet and salty football-themed bites will be reigning champs no matter who's team you're on. Impress your host or your guests this Sunday and enjoy!
Ingredients
1/2 of a fresh Chestnut Hill Farms pineapple
6-8 mini bell peppers (or 1-2 medium bell peppers – pick your favorite team's colors!)
6 slices of your favorite bacon
Smoked paprika
Toothpicks (themed-optional)

 
Directions
Preheat the oven to 375F (190C). Cover baking sheet with aluminum foil.
Peel and core the pineapple (easy to do with a pineapple corer!). Cut into pineapple chunks that would fit on a toothpick.
Cut the tops off the bell peppers and scoop out seeds inside. Go ahead and cut the peppers into pieces that are similar in size as the pineapple chunks.
Cut each slice of bacon in half lengthwise, then in half crosswise in the middle of each to get 4 strips total.
Wrap the bacon around each pineapple chunk (ends at the bottom) and secure with a toothpick with the bell pepper piece.
Arrange your pineapple bacon bites on a baking sheet and lightly dust with smoked paprika.
Bake for 25 minutes, or until the bacon is crispy. Enjoy!