By Dr. Lloyd Berg, PhD.
We are so very proud to share the results of a recent project we embarked on with one of our longstanding customers, European-based Tesco PLC. An admirable example of what can be done in the sphere of social responsibility, Tesco recently launched the Eat Happy Project. Since its inception it has been committed to helping the next generation have a healthier and happier relationship with food. To make this change, Tesco works to give children the tools they need to live a healthy life and make better decisions about what they put on their plates when they grow up.
In addition to the Eat Happy Project's "Farm to Fork" trail visits and hands-on cooking demonstrations, Tesco has partnered with Google+ Hangouts to produce Online Field Trips that bring far away farms and factories into UK classrooms, and host lessons from food suppliers around the world via live video chats.
Honored to be selected for a recent Online Field Trip for three England-based elementary schools, Chestnut Hill Farms joined students one afternoon to introduce them to the world of "prickly pineapples." Joining one of its packing houses in Kent, our very own President and COO Raul Romero help lead a discussion about pineapple basics and answered a few questions.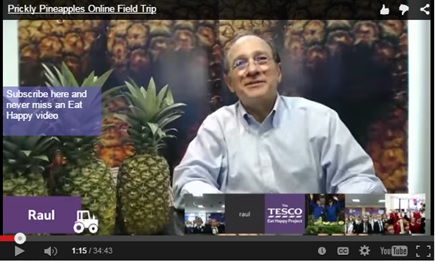 The results? Fantastic! As one of the classroom's homework assignments, Mr. Handley asked students to post their own pineapple recipes in his classroom blog. Click here to see the fun and (very, very) versatile recipes.
For more information about the Tesco's Eat Happy Project, visit http://www.eathappyproject.com/resource-hub/online-field-trips/pineapples/. For more information about Chestnut Hill Farms' Perfect Pineapple™ please contact our offices at (305) 592-6969.