From table centerpieces to simple  home decor, impress your guests this season!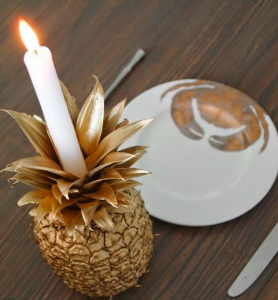 It's not too late to create beautiful decor for your home or holiday table.  Our pineapples are available year-round, making this sweet, healthy fruit an easy tool too impress your in-laws.
Simply use gold or silver spray paint to color your Chestnut Hill Farms pineapple and let dry for 24 hours (or until set). Then, place a candle stick in the top of the pineapple's crown. To secure, you may want to light the candle and let wax drip into the center of the crown, and then gently place the candle in the top.
Voila! You have the perfect table centerpiece or home decor. (Note: For your safety, please be careful to not place candles near trees or other flammable items!)
Happy Holidays from all of us at Chestnut Hill Farms!