With Halloween just around the corner, we thought it might be fun to show our readers a creative alternative to the standard Jack-O-Lantern. Instead of carving a pumpkin this year, try slicing a pineapple into a slightly scarier form.
Like a werewolf during a full moon, The Perfect Pineapple can actually be very spooky once a year and, we think, quite possibly a better candidate for this annual doorstep tradition.
I mean, come on. A pumpkin just brings its roundness to the (carving) table, but a pineapple? A pineapple comes pre-made with a pretty creepy face and a kooky top hat!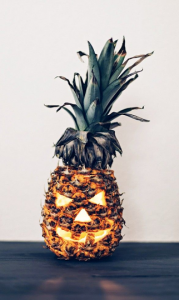 Don't believe us? Give it a whirl tonight in preparation for next week's big bash. Simply pick up a pineapple at your nearest grocery store and follow these simple steps, demonstrated by this short stop-motion tutorial.
The results might just be terrifyingly good.
Happy Halloween!
Dr. Lloyd