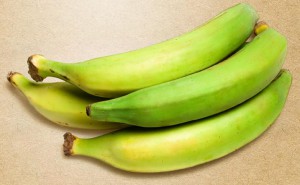 We're going to switch it up a bit on Lloyd's Corner from our usual discussions about pineapple perks to verse our readers a bit more on another versatile fruit we carry here at Chestnut Hill Farms – the all-purpose plantain.
For those that aren't as familiar with plantains, get ready to have your world rocked by what we loving like to call "banana's big brother." Starchy and low in sugar, plantains are cooked before eating. This tropical fruit is a staple in Caribbean and Latin American dishes and have inspired a variety of culinary creations, most recently in the United States.
In the next few weeks we'll be sharing some recipes and fun facts about plantains, much like we have with pineapples. However, this week, we wanted to get right to the nuts and bolts of how beneficial plantains can be for your gut. That's right, your gut!
Plantains & Digestive Disorders
Discussions about gut health have become more and more popular as, unfortunately, more people are being diagnosed with digestive orders. In North America alone about seven in every 100,000 people suffer from Crohn's disease – an inflammatory bowel disorder. People who suffer from this disease experience pain and digestive discomfort on a regular basis.
The pain comes as a result of a constant, unnatural battle between the immune system and bacteria (even good bacteria) in the intestines. So as a result, the bowel lining becomes a battleground where the immune system is constantly attacking bacteria that attach to it.
Research now suggests that the soluble fibers from plantain plants may block a key stage in the development of Crohn's disease. By testing to see if the fibers could reduce the movement of E. coli bacteria across cells lining the bowel, they found that plantain fibers prevented E. coli movement by between 45% and 82%. The lack of movement meant that the plantains were almost "overriding" the Crohn's need to rid the body of bacteria and as a result fight its effects.
A major win for those dealing with Crohn's disease in their daily life, the study allows plantains to become a safe and healthy part of anyone's diet with "sensitive" stomachs.
Interesting to see how fresh produce can help alleviate even the most painful disorders, huh? We will be posting some tasty recipes to make the science a bit more applicable to daily life soon.
Stay tuned!
Dr. Lloyd