Why You Should Fall for Pineapples this Halloween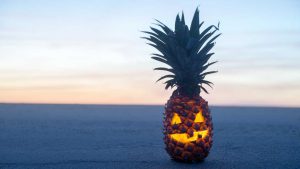 As summer dwindles down and autumn approaches, now is the time to begin preparing for  an abundance of fresh pineapple into our customer's stores. As we will be discussing in the coming weeks, fall is one of the best times of the year for pineapple production from our farms in Costa Rica. One fun and delicious way to utilize these pinas is to incorporate them into the fun tradition of Halloween carving. We have listed a few reasons below as to why pineapples are the new pumpkin when it comes to fall festivities, and stay tuned for a video coming soon on how to easily carve your own Pineapple Jack-o-Lantern!
1. Availability
Most consumers identify pineapples as a refreshing summer fruit, and though they make the perfect pina colada, autumn is one of the best times of year to reap the benefits of pineapple harvesting. Pineapples are plentiful during the fall, which means stores are able to provide even more shelf space for the delicious fruit, which comes in abundance.
2. Cost efficiency
At under $5 a pop, obtaining a perfect, beautiful pineapple is cost efficient as it is convenient. The famed pumpkin may take the street corner, but pineapples take the cake when it comes to a happy wallet.
3. Snackability
After coring your perfect pineapple with an easy-to-use pineapple slicer, the fruit is immediately ready to enjoy as you carve your tropical creation. Craving Halloween decadence? Try melting dark or milk chocolate on-hand from trick-o-treaters and dipping in the pineapple. Sinfully delicious!
4. Health Benefits
Pineapple fruit contains half of the daily-recommended value of vitamin C and also contains nearly 75 percent of the daily-recommended value of the mineral manganese, which is essential in developing strong bones and connective tissue. Like many other fruits and vegetables, pineapple contains dietary fiber, which is essential in keeping your intestines healthy, but unlike many other fruits and veggies, pineapple contains significant amounts of bromelain, an enzyme that breaks down protein. In addition to having a hearty amount of vitamin C, pineapple's bromelain may help reduce mucus in the throat and nose, making it a great snack for those with a cold or sinus infections.
5. Simplicity
Creating a pina-lantern is simple, especially with the use of readily-available tools such as the pineapple slicer. Just cut the top off the pineapple, use the tool to core the fruit, and use a carving kit to make your favorite fun or scary pina-face. Stay tuned into our blog and YouTube channel for tips on how to easily make your own in just minutes!
Follow us on Facebook, Twitter, Instagram, and Youtube for tricks and tips weekly!