Cutting a pineapple is easy, especially if you have tools like a pineapple corer. But even if you are simply using a knife, pineapple is a deliciously assessable fruit that can be broken down into bite-sized pieces in minutes. Check out 4 easy steps to breaking down a pineapple for a quick and healthy snack below.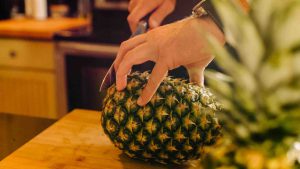 Place the pineapple on a cutting board on its side. Using a sharp knife, slice off the top green crown plus half an inch off the very top.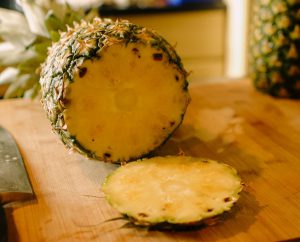 Stand the pineapple in an upright position and carefully begin to cut the spikey skin, going from top to bottom and making sure to follow the curves of the pineapple. Be careful not to cut off too much from the sides, since it's the sweetest part.
Now, you can begin to cut the pineapple into rings or chunks. After it's sliced, a small, round cookie cutter may be used to stamp out the inner core. Discard the core.
After the inner core is removed, continue cutting into bite sized pieces making sure there are no brown spikey spots left. Enjoy!