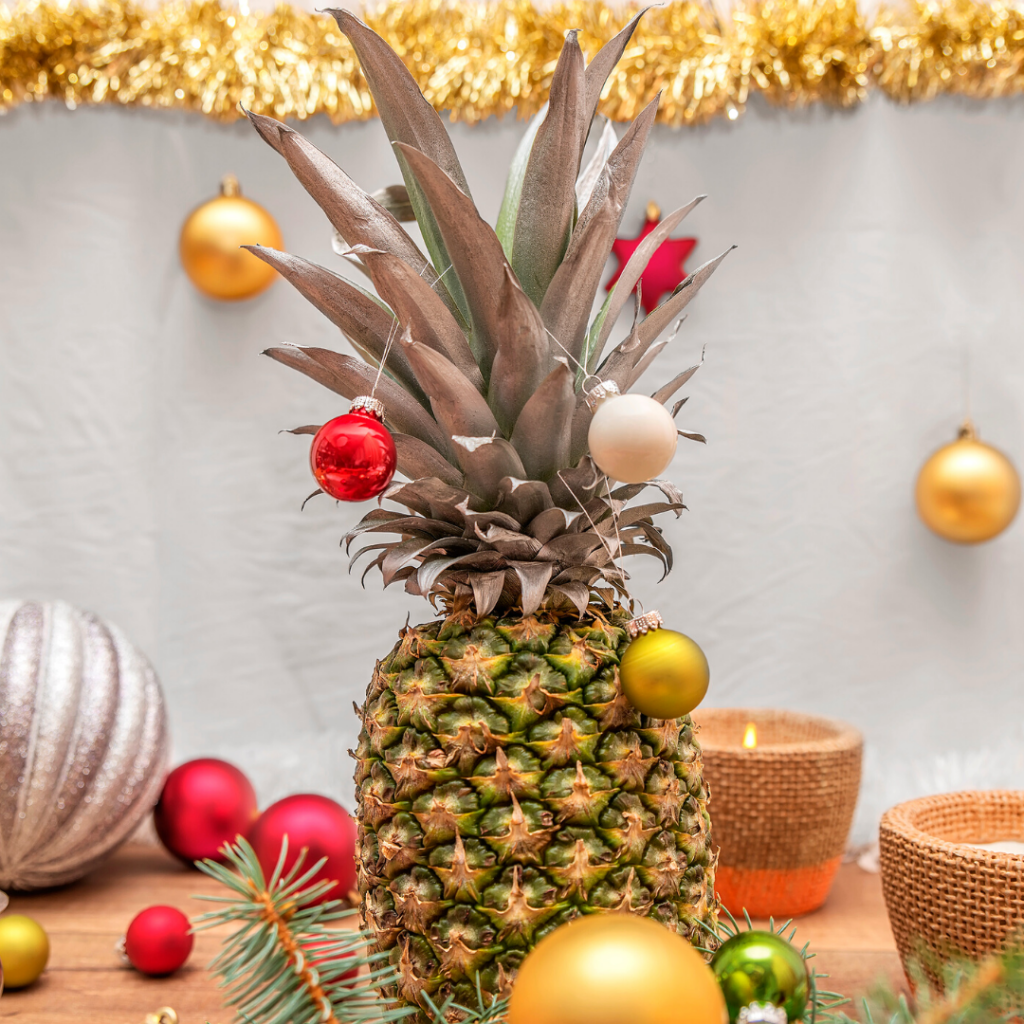 A Tree That Will Put a Tropical Twist on Your Holiday Celebrations
'Tis the season for holiday music, peppermint mochas, and Christmas trees. If you haven't found a tree this year, don't worry. A Pineapple Christmas tree will make you feel like you're on a tropical vacation.
Pineapple Christmas trees are an inexpensive way to spice up your holiday décor. They are a compact, colorful, and fun addition to any space. These tiny 'trees' can be displayed on kitchen counters, bathroom counters, dining room tables, or anywhere else. When decorating your tropical tree, there are no rules—besides having fun!
Follow along for a few ideas about how to decorate your pineapple. Don't forget to press play on Jimmy Buffett's "Christmas Island"! 
Let's Get Started
First, get your pineapple. You can visit your local store or order the Perfect Pineapple online from Chestnut Hill Farms.
What do we mean by "perfect pineapple"? Well, we monitor our pineapples for sugar content and harvest at the peak of ripeness. That way, Chestnut Hill Farms can ensure the sweetest, most flavorful pineapple possible.
Keep in mind there is no right or wrong way to dress up your pineapple tree. The only limits are your imagination. Have fun accessorizing your fruit. When you're done, snap a picture and join in on the social media trend that has been around since 2017. Tag @chestnuthillfarms on Instagram so we can see your beautiful creations!
Mini Ornaments
Start decorating your pineapple Christmas tree with miniature ornaments. Why miniature ornaments? Regular ornaments can look oversized with a pineapple, but mini ornaments are ideal.
Lots of stores carry miniature ornaments in their holiday sections, or you can make them at home. Handmade ornaments are a fun craft with family and friends during the holidays.
The Ultimate Beach Tree
Pick a theme for your tropical 'tree'. One of our favorites is a beach theme. Every Christmas tree needs a star on top—try finishing your beach-themed tree with a starfish!
Time to Accessorize
Give your tree some personality with their very own pair of sunglasses! This decoration is sure to get a chuckle out of any guests visiting your home. Let your pineapple tree friend borrow your favorite sunnies or pick up a pair of festive eyewear at your local thrift store.
Upside Down Pineapple Tree
The one downside to using pineapple as a decoration is you can't eat it! Well, we have a solution for you. If you cannot wait to enjoy your delicious pineapple from Chestnut Hill Farms, cut the 'fronds' off the top of your pineapple. After cutting off the fronds, flip them upside down and you'll have a readymade tree. It's crazy how similar upside-down fronds look compared to a picture-perfect Fraser Fir.
Connect with Us!
Through spring, summer, fall, and winter, Chestnut Hill Farms is bringing fresh pineapples to stores all across the country. Our pineapples are perfect to eat, to juice, or to spruce up your home! To get Chestnut Hill Farms news and updates delivered to your inbox, sign up for our newsletter.