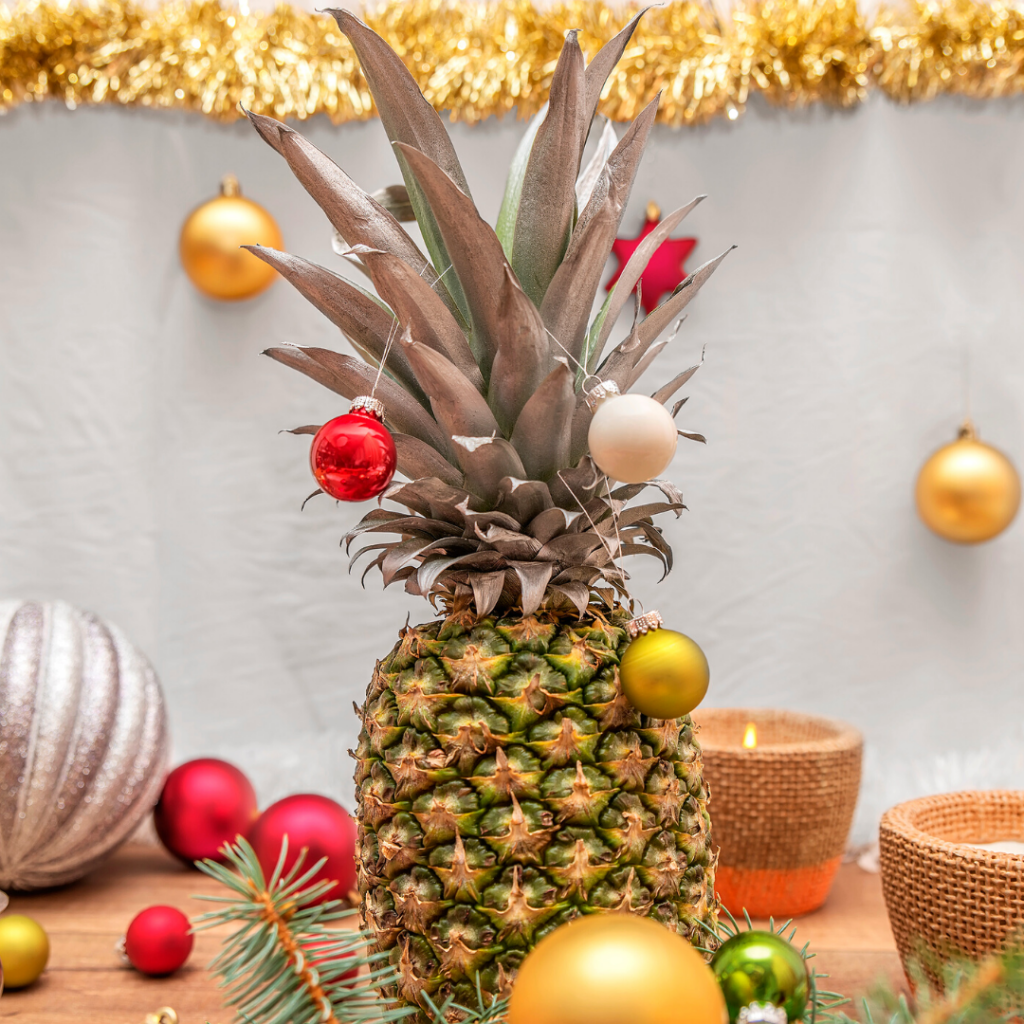 Add A Tropical Twist This Christmas With The Perfect Pineapple Christmas Tree
With a tree in every store window and scents of peppermint and cinnamon wafting out of every door, there's no doubt, the time for gift giving has returned. You are not alone if you feel like you blinked and the holidays are here. It's not unusual to feel overwhelmed with a million things on your to-do list.
Let your friends at Chestnut Hill Farms take one major stress off your plate when it comes to picking up a Christmas tree. If you're looking for a small tree or an inexpensive way to celebrate Christmas with family, friends, or co-workers, turn expectations upside down with a pineapple! It's the perfect tropical twist this holiday season.
This convenient small decoration can fit on counters and even easily travel. Bringing in some natural green can serve as a dining room table centerpiece or a quick office set-up. Just remember, there are no rules when decorating your own pineapple Christmas tree!
Getting Started
To start, head to the store and pick up a Chestnut Hill Farms Perfect Pineapple.
After picking out your pineapple you can decide how you want to set up and design your tree. There is no right or wrong way to decorate your tree. Let it be a reflection of you and who you want to share it with.
There are two major ways to make your tree.
First, you can cut the fronds from the top of the pineapple and flip it upside down. When turned over, the crown of a pineapple closely resembles a classic Fraser Fir.
Alternatively, you can keep it as is and start on your decorations.
Whichever way you designed, remember: you're only limited by your imagination!
How to Pick a Theme for Your Pineapple Christmas Tree
You can really make your Perfect Pineapple Christmas Tree stand out if you lean into a theme for your decorations.
Here are a few tips to help get the creative (pineapple) juices flowing!
Take inspiration from things in your life that you find joy in. Consider simple symbols or colors that remind you of happy memories. Yellow and gold decorations might help you reminisce about a trip to the beach or green decorations could remind you of gardening with your grandparents. Pick a color scheme and make a basic plan so you won't feel overwhelmed or distracted when picking up decorations at the store.
If you're looking to pull off something a bit more advanced, make a Pinterest board where you can organize your ideas.
These are just a few ways to stay organized when picking a theme. Find what works for you and your pineapple Christmas tree needs.
Accessorize Your Tree
After you've picked your color or design theme, you can move on to picking out decorations to accessorize your tree. You can choose from small colored ornaments or try a pair of sunglasses or earrings to give your tree some personality.
One of our personal favorites is the beach themed Perfect Pineapple Christmas Tree. You can add a pair of sunglasses, put down a small beach towel, and finish off the tree with a starfish at the top.
There are many ways to enjoy your Christmas tree. The main thing is to have fun and bring your tree to life. Whether you decided on pretty, classic, or laugh-out-loud hilarious, you can't go wrong!
Connect with Us!
Be sure to tag @chestnuthillfarms on Instagram as we love to see your pineapple Christmas trees!
Through spring, summer, fall, and winter, Chestnut Hill Farms is bringing fresh pineapples to stores all across the country. Our pineapples are perfect to eat, to juice, or to spruce up your home! To get Chestnut Hill Farms news and updates delivered to your inbox, sign up for our newsletter.