How Eating This Tropical Fruit Could Help You Battle Illness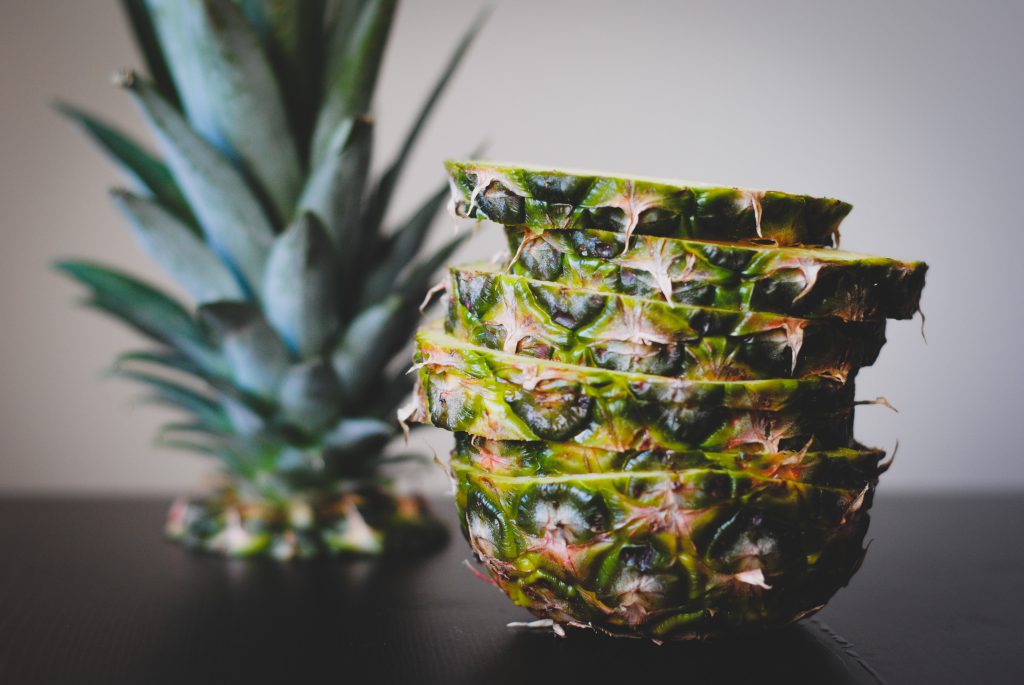 Many people are constantly seeking out ways to improve their health and bolster their immune systems. Thankfully, pineapple is a delicious way to add extra, valuable nutrition to your diet and, some experts say, prepare your body to ward off sickness. Plus, some believe this tropical superfood can even offer a natural remedy to help ease a cough or sore throat.
Why Pineapple is a Superfood
Superfoods earn their titles thanks to their nutrient-rich nature and the health benefits they offer. Full of antioxidants, vitamins, bromelain, fiber, manganese, potassium, and other valuable nutrients, studies have shown pineapple to have a positive effect on our health and well-being (see resources below for more information). Plus, despite being naturally sweet, pineapple is quite calorically low and is a wonderful substitution for other sugary desserts.
When it comes to its vitamin C content, pineapple is truly a powerhouse: one cup of pineapple contains 131% of the suggested daily intake. For your immune system, vitamin C is a vital nutrient. According to Oregon State University, it can stimulate the production of white blood cells, helping your body fight off pathogens and, as an antioxidant, can protect your cells from free radicals and improve cell function. Adding additional vitamin C to your diet has also been shown to shorten the duration of colds and reduce inflammation (see resources below for more information).
In addition to vitamin C, pineapple also is a great source of the enzyme bromelain. This nutrient can aid with digestion, and some studies have seen it help prevent macular degeneration (learn more on WebMD) and reduce anxiety (learn more on Natural Health Research). For those feeling sick, studies have demonstrated pineapple juice to have strong anti-inflammatory properties, and bromelain is commonly used as a treatment for hay fever and sinusitis. Additionally, pineapple juice is thought to be a lytic agent, which means that it can breakdown mucus so it doesn't settle as readily in your airways and reduce cough symptoms.
Sip Your Way to Better Health
To boost your immune system, Dr. Oz suggests adding more nutrient-rich fruits and vegetables to your diet. One of his favorite ways to enjoy them? In smoothies, like this Immune-Boosting Ginger Hydrator featuring pineapple, banana, orange, and ginger.
Ingredients:
1/2 frozen banana
1/4 frozen Chestnut Hill Farms pineapple
1/2 orange
½ tbsp ginger
3/4 cup coconut water
Directions:
Blend all ingredients together and enjoy!
Try Soothing a Sore Throat With Pineapple Cough Syrup
If you're already feeling under the weather, pineapple cough syrup can be a great natural remedy to try. Keep in mind that its effectiveness will depend on the cause and severity of your cough (learn more at Healthline).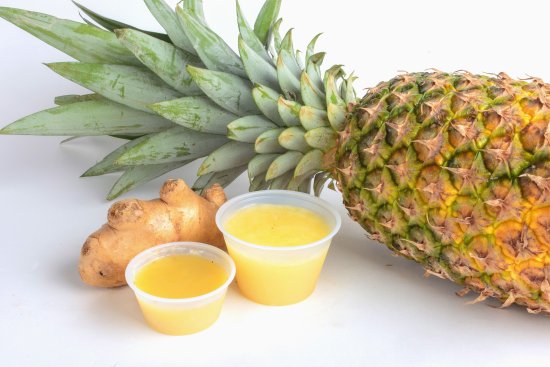 Ingredients:
1 cup fresh Chestnut Hill Farms pineapple juice (learn how to make fresh juice)
Pinch of salt
Pinch of pepper
1 1/2 tsp honey
Directions:
Combine fresh pineapple juice, salt and pepper in a glass.
Warm honey slightly so it's easier to mix. Add pineapple juice mix.
Sip 1/4 cup of mixture up to three times a day to relieve sore throat.
Keep refrigerated.
If you'd like to try something a little stronger, cayenne and ginger can add an extra spicy kick to your cough syrup. Check out a recipe for the spicier version of this remedy here.
---
To get more pineapple-related news, recipes, and more, sign up for our newsletter today.
---
Resources
To learn more about pineapple's nutritional and health benefits, explore the sites below.
---
Medical Disclaimer: This post has not been evaluated by the FDA. The information, including but not limited to, text, graphics, images and other material contained on this website are for informational purposes only. This information is not intended to be a substitute for professional medical advice, diagnosis or treatment. Always seek the advice of your physician or other qualified healthcare provider with any questions you may have regarding a medical condition or treatment and before undertaking a new health care regimen, and never disregard professional medical advice or delay in seeking it because of something you have read.
More information can be found via resources at WebMD and other websites listed above.