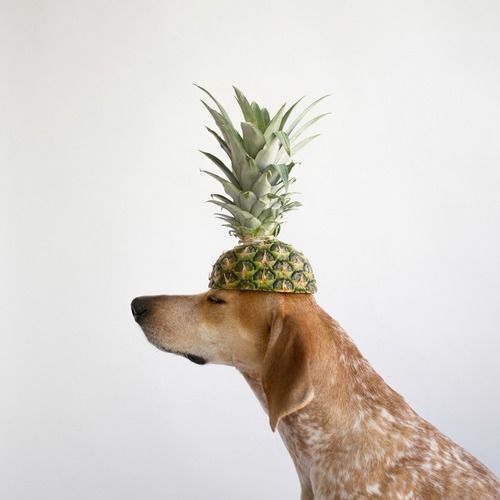 How to Share this Tropical Treat with Your Pups
We've all been there: our furry friend staring at us with big eyes, begging for just a taste of our food. How can we resist? Luckily, when it comes to pineapple, your pups can join in on the fun! This tropical fruit isn't just a healthy snack for humans – it can be a sweet treat for dogs too, and is packed full of nutrients. Read on to discover the nutritional benefits pineapple can offer our canine pals and to find a recipe for tropical biscuits they'll be sure to love.
C is for Canines
Pineapple is full of vitamin C, and the nutrient is just as important for dogs as it is for humans. As an antioxidant, it can reduce inflammation in our pups and keep their brains sharp as they get older. While dogs can produce vitamin C in their bodies on their own, an extra dose can help prevent disease and allow dogs to better recover from injuries.
Keeping Your Pup Healthy
In addition to vitamin C, pineapple contains thiamin, copper, potassium, and more. Bromelain, an enzyme found in the fruit, can help dogs absorb proteins. While fruits and vegetables aren't necessary for a dog's diet, as most commercial dog foods contain all the vitamins and minerals your pup might need, they do offer healthy ways to occasionally introduce new, exciting treats into their diets. Pineapple chunks, along with small pieces of carrot or berries, are also great substitutes for training treats.
However, keep in mind that your pup should only eat pineapple in small amounts. High in fiber, pineapple in large quantities can be harmful to your dog's digestive system. Plus, remember to only give your furry friend fresh pineapple chunks, not canned, as the latter contains too much sugar for them.
How to Prepare the Pineapple
Before giving your dog pineapple, make sure you prepare it properly. The fruit should be completely peeled and cut into bite-size pieces, with all of the tough core removed. To make it even more refreshing, try freezing the pineapple first – this is a great summer treat to help your pup cool down!
If your dog isn't a fan of raw pineapple, or if you want to give them more variety, try baking the fruit into some all-natural dog treats – they're safe for people to eat too!
Pineapple & Tangerine Dog Treats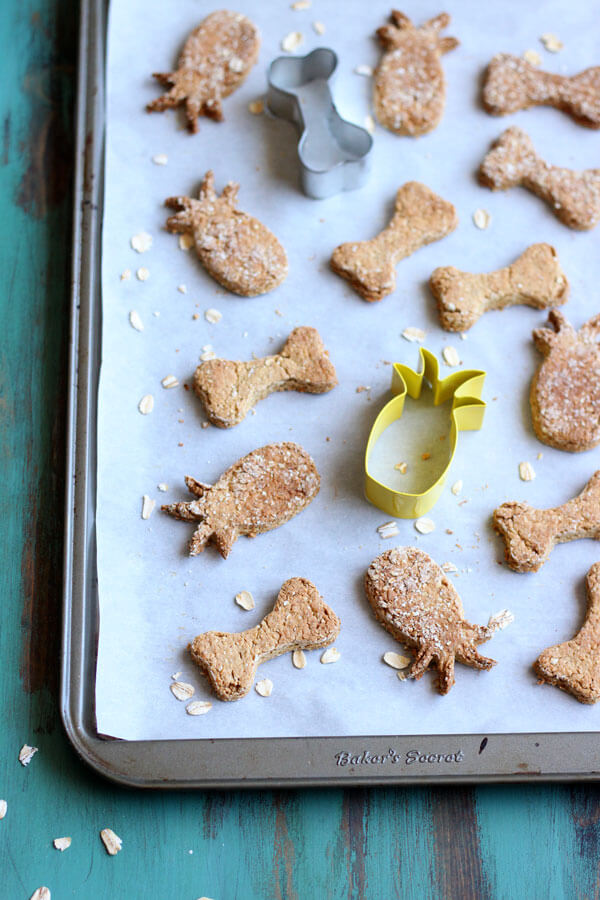 Ingredients:
1 cup chopped fresh Chestnut Hill Farms pineapple
2 tbsp coconut oil
1 large egg
3 cups oat flour (approximately 13.5 oz weight)
Extra oat flour for rolling
Directions:
Preheat oven to 350°F.
Grind enough rolled oats in a food processor to make 3 cups of coarse flour. Set aside.
Puree 1 cup of chopped pineapple in the same food processor. This will yield just over 3/4 cup.
Add pureed pineapple, egg, and coconut oil to a medium mixing bowl. Mix with a whisk until smooth.
Add oat flour to the mixture and use a spatula or mixing spoon to combine. The finished dough should be something between pie and bread dough, not too sticky and easy to handle.
Sprinkle some oat flour on a cutting board or counter and turn the dough out, knead and shape into a disk.
Roll dough out to about 1/4″ thick. Cut out shapes with cookie cutters, and place on a parchment paper-lined baking sheet about 1/2" apart.
Reshape scraps and roll out again to 1/4" thick and continue cutting out treats until finished. Dip the cookie cutter in some oat flour each time you cut so the cutter doesn't get sticky.
Bake for 20 minutes, rotate pan and flip treats upside down so they can brown evenly. Bake for another 20 minutes.
Turn off the heat, and allow treats to further dry out in the oven.
Store cool treats in an airtight container.
If you try out the recipe or give your pup some pineapple to sample, be sure to share a photo and tag us @chestnuthillfarms. We can't way to see your happy, healthy furry friends!
---
For more pineapple facts and recipes delivered straight to your inbox, be sure to sign up for our newsletter today.
---
Medical Disclaimer: The information, including but not limited to, text, graphics, images and other material contained on this website are for informational purposes only. This information is not intended to be a substitute for professional medical advice, diagnosis or treatment. Always seek the advice of your physician or other qualified healthcare provider with any questions you may have regarding a medical condition or treatment and before undertaking a new health care regimen, and never disregard professional medical advice or delay in seeking it because of something you have read.
More information can be found via resources at AKC.org.