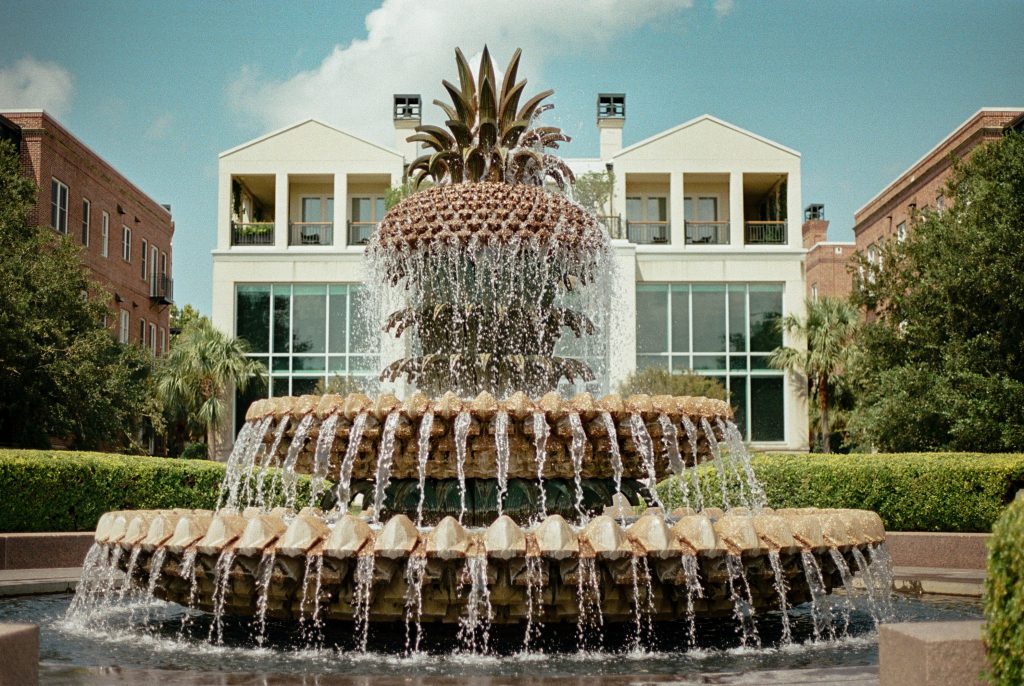 This Tropical Fruit Has a Long History of Hospitality
If you've seen the television show Sanditon (based on Jane Austen's unfinished novel of the same name), you may remember a scene in which a pineapple is sliced at a dinner party with great fanfare – and the horrible reaction when it's revealed that it had rotted inside. The pineapple's initial impressiveness and its rotten state were brought on by the same factor: that it took a really long time to bring the tropical fruit to England.
As with so many historical status symbols, rarity made the exotic pineapple a sign of luxury. In fact, for a while the fruit was so rare that most people wouldn't eat it (which didn't help with the rotting issue). Instead, they'd simply use it as a centerpiece, often rented for an event from the fruit's owner. Whether used as a centerpiece or actually served, the pineapple became associated with hospitality and sparing no expense for your guests.
That association is still strong today, with the pineapple frequently appearing in (or on) hotels, buildings, restaurants and more. Charleston, South Carolina's famous Pineapple Fountain is used as a symbol of the city's notable southern hospitality, and gilded pineapples adorn the towers of St. Paul's Cathedral in London. Around the world, the queen of fruits is known as a sign of warmth and welcome.
Pineapples at Christmas
In the 19th century, the pineapple became a common centerpiece once more, this time during holiday celebrations. A seasonal display of apples, pinecones, holly, and fir leaves created a base, with the pineapple as a crowning star in the center. Now more readily available, the fruit was often enjoyed candied or in baked goods, while its juice frequently sweetened up the holiday punch.
Today, our Costa Rican pineapples are available and in-season year-round, which means they can shine at your Fourth of July barbecue just as easily as they can take part in your holiday party.
The Modern Pineapple Party Centerpiece
Though we no longer need to rent our pineapples for parties, they still make for beautiful decoration. If you're looking for a tropical alternative to a Christmas tree, pineapple's spiky crown makes for a perfect place to hang ornaments. Looking for something more subtle? A bit of metallic spray paint and a tall candle work to turn the fruit into a festive centerpiece, ideal for adding a wintry glow to your gathering. Find all the DIY details below:
Toasting to the Holidays With Pineapple Rum Punch
Remember that fruit you've got leftover from your centerpiece? It's perfect for juicing and adding to festive cocktails. For a classic choice that's easy to whip up and can serve plenty of people, opt for a rum punch (also a staple in Costa Rican holiday festivities). Pineapple juice sweetens up the drink and adds a delicious tang to this citrusy mix. Even better, rum punch is the ideal cocktail for experimenting with and making your own. Just remember this saying from the Caribbean:
"One part sour, two parts sweet, three parts strong, and four parts weak."
(That is, one part lime juice, two parts sweetener like agave or simple syrup, three parts rum, and four parts juice.)
If you'd rather have a recipe to follow, no problem – check out our Perfect Pineapple Punch for a pineapple-passion fruit blend that's sure to please even the most discerning partygoer.
---
Want more pineapple facts, DIY ideas, and recipes sent straight to your inbox? Sign up for our newsletter today.