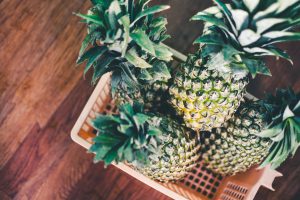 Prickly, bright and oh-so-refreshing: there are plenty of reasons for a pineapple! In fact, the overall likelihood of a pineapple purchase has bumped up a full two percentage points from 2017 to 2018, according to Fresh Trends. What exactly drives consumers to take home this sweet fruit?  We want to share with you a full breakdown of pineapple purchasers' motivations (and why you should be one, too!)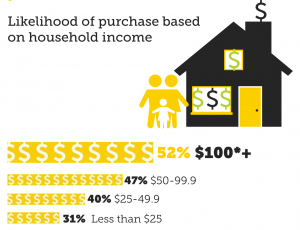 For the 10th consecutive year, the likelihood of adding this tropical fruit to a cart increased according to annual income. Consumers earning more than $100,000 a year are the most likely to purchase a pineapple, coming in at 52%. The likelihood decreases as annual income lowers, indicating a direct correlation between earnings and pineapple preference.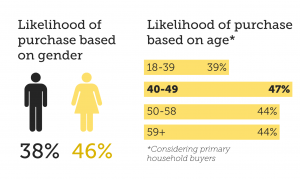 Additionally, fresh pineapples have been most popular on the grocery lists of 40-49 year old consumers. Just three percentages behind in likelihood, shoppers 50 and above are more likely to purchase this spiky fruit than those 39 and under. Across all age categories, women are 8% more likely to buy a pineapple than men.

Another trend of pineapple purchasers? Those with 3 or more kids are the most likely to buy one! We like to think this is because every pineapple comes with more than enough sweet fruit to go around. It is the perfect snack to share with the whole family.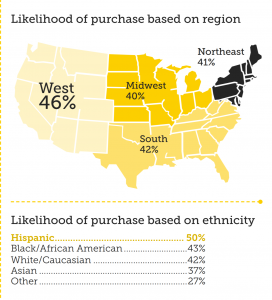 Consumers on the West side of the United States are the most likely to pick up a pineapple, with the South taking second place at 42% likelihood. Pineapple purchases are more scarce in the Midwest and Northeast, taking up the end spots at 40% and 41%.
Across ethnicity, the Hispanic community is the most likely to make a pineapple purchase. All those who fall in the "Other" category are the least likely, across all measurements, to buy this refreshing fruit.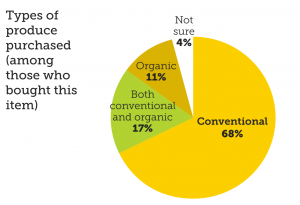 The ultimate question-  organic or conventional produce purchases? In 2018, 68% of consumers reported they typically buy conventional fruit. 17% reported they purchase the fruit organic at least some of the time, while 11% of buyers say they go all organic, all the time.
We are happy to report the 2018 pineapple purchase trends to you, straight from Fresh Trends! For 2019, we picture a future just as sweet and bright as the prickly fruit itself. Next time you're crafting your grocery list, go ahead and add in a tropical treat.
Read on for how to create the perfect party decor with our how-to video here!