Showcasing Colorful Produce for a Bright New Year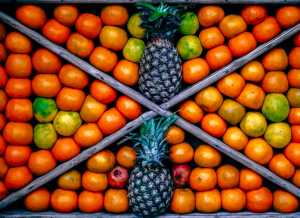 The beginning of the year means New Years resolutions and a fresh commitment to healthy eating. Consumers are open to trying self-improvement trends, and new brands look less intimidating. Along with health labels, bright and colorful produce gleams with promise of a "New You."
The produce section of the supermarket finds more traffic with health-conscious shoppers ready to make this year even better. For example, according to Wakefield Research, 87 percent of consumers have interest in making small diet changes. This includes eating more fruit and vegetables. Retailers can make this easy for their customers through the display of colorful produce that shoppers are ready to buy. One of these demographics include millennials, which shows that 78 percent of this market is actively seeking new food favorites through online recipes.
As one of the most colorful foods on the planet, pineapple is the perfect fuel-packed fruit to display during the start of the year. Stocked with immune-boosting vitamins and nutrients, pineapple is a versatile fruit that is a great addition to the popular smoothie, cold-fighting juice or tasty dinner recipe.
In conclusion, it is important to help consumers get on track this 2019 with fresh displays straight from the farm. Contact us for any questions or ideas that we can assist with to help you have a fruitful New Year!