Why We Carve Fruits & Vegetables to Celebrate the Autumn Season
As the weather cools and the leaves begin to change color, there's one activity on our minds: pineapple carving. Our favorite tradition to celebrate autumn, pineapple carving is a staple at Chestnut Hill Farms and the perfect way to give your Halloween decorations a tropical twist. However, we aren't alone in putting a fresh spin on pumpkin carving – from turnips to watermelons, other fruits and vegetables are carved each autumn too. We dove into the history of carving to understand the origin of the spooky tradition, and, of course, checked out a few of the other more unique carving choices.
The History of Pumpkin Carving
Generally traced back to Celtic cultures, the jack o' lantern finds its origins in an Irish tale called "Stingy Jack." The story describes the many ways in which Jack tricks the Devil into leaving him alone until, at last, he dies. As revenge, the Devil refuses to allow Jack into the afterlife, instead forcing him to wander the night alone. Jack was given a single ember with which to light his way, which he placed inside a carved turnip as a makeshift lantern. From this, Jack became known as "Jack of the Lantern," which quickly became the Jack-o'-Lantern we know today.
The story also explains why it's common to see turnips instead of pumpkins lighting windowsills in Ireland and Scotland. Other root vegetables, like potatoes or beets, were also popular. Uncommon in Ireland, pumpkins didn't become part of the tradition until Irish families immigrated to America and found the gourds ideal for carving – and scaring away evil spirits.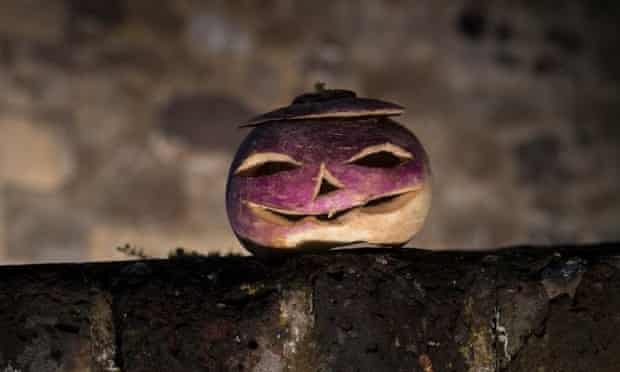 Carving Other Fruits & Vegetables
When it comes to choosing a piece of produce to carve, there's plenty of room for creativity. Here are three of our favorite fruits and vegetables to dress up for the holidays:
Watermelon: Thanks to their oblong shape, there's plenty of room to get creative with watermelons. The red fruit inside is also ideal for crafting more ghoulish scenes.
Apples: Just like the classic turnip, apples can easily be cored and carved. Even better, when you're done with the lanterns, the fruit can be left to dry in the sun, turning into equally spooky shrunken apple heads.
Pineapples: Of course, we're partial to carving pineapples. Not only do they smell delicious, but pineapples are also easy to core, eliminating the hollowing-out step that's required for pumpkins. Even better, that fruit can then be enjoyed – eat it plain as a healthy snack, or try some Halloween-themed pineapple treats.
---
Ready to get pineapple carving this year? Use our pineapple locator to find a Chestnut Hill Farms pineapple near you. Plus, don't forget to share a photo of your creation and tag us on social media! We can't wait to see what you carve.