Celebrate with These Healthy Halloween Pineapple Recipes!
On a holiday where candy reigns supreme, it may be strange to hear the words "healthy" and "Halloween" used together. While your little ones may be set on reaping the benefits of an evening spent trick or treating, this doesn't mean that you can't add a bit of nutrition to the holiday. Juicy, fresh pineapple can add a healthy twist to your mini monsters' cuisine this Halloween and with it's sweet flavor, they'll swear it's just as good as candy! With just a little bit of innovation, you are bound to trick your little monsters into loving these healthy treats. Check out some of our favorite healthy Halloween pineapple recipes below.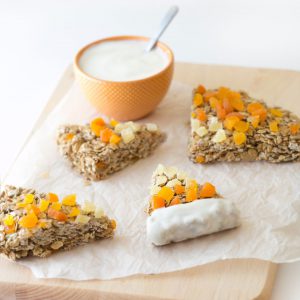 Ingredients: 
• 2 cups rolled oats
• 1 cup sunflower seeds
• 1/3 cup honey
• pinch of salt
• ¼ cup chopped fresh dried Chestnut Hill Farms pineapple
• ¼ cup chopped dried apricots
• ½ cup whole-milk plain yogurt
Directions: 
1. Our first step is to prep the dried pineapple. Slice your pineapple into chunks, and place onto a baking sheet lined with parchment paper. Set your oven to 225°F and bake each side of the pineapple chunks until dried, about 25-30 minutes on each side. 
2. Preheat your oven to 400°F. 
3. Spread oats and sunflower seeds on a rimmed baking sheet. Bake until fragrant, 5 to 8 minutes.
4. Coat a 9-inch pie pan with cooking spray. Cook honey in a medium saucepan over medium-high heat, without stirring, until large foamy bubbles form, 2 to 4 minutes. (The bubbles will start out small and increase to about ¾ inch or larger when the honey is done.)
5. Immediately pour the toasted oat mixture and salt into the honey; stir until completely coated. Quickly press the granola into the prepared pan using a heat-resistant spatula coated with cooking spray. Top the granola with a circle of pineapple pieces in the center of the pan and then create a ring of apricot pieces around it, stopping about 2 inches from the edge. Gently press the dried fruit into the granola. Let cool for 30 minutes. Cut into 8 wedges and transfer to a wire rack to cool completely.
6. Line a baking sheet with parchment paper. Place the wedges on the pan and spoon 1 tablespoon yogurt onto the bottom third of each wedge. Place in the freezer until the yogurt hardens, about 15 minutes. Serve immediately.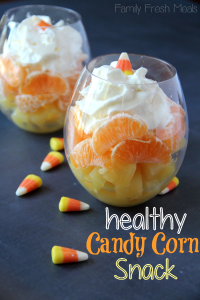 Ingredients:
• Chestnut Hill Farms pineapple, cut into bite-sized chunks
• Oranges, cut into bite-sized chunks
• Whipped cream
• Candy corn
Directions: 
1. In a clear glass, layer pineapple, then oranges and top with whipped cream and a couple pieces of candy corn. Serve right away or refrigerate until ready to serve. It's as easy as that!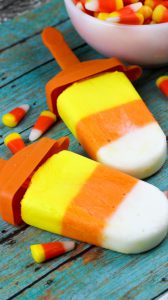 Ingredients:
•  1/4 cup cream of coconut
• 3/4 cup coconut water
• 1 cup pineapple juice from fresh Chestnut Hill Farms Pineapple
• 1 cup mango juice
• red food coloring
Directions:
1. Combine the cream of coconut and coconut water in a measuring cup. Pour into 10 3-ounce or 8 4-ounce ice-pop molds, dividing evenly.
2. Freeze until set, at least 2 hours.
3. Mix the mango juice with 1 drop of red food coloring in a measuring cup. Pour on top of the coconut mixture, dividing evenly. Insert the ice-pop sticks, pushing gently into the coconut mixture. Freeze until firm, at least 2 hours.
4. Pour the fresh pineapple juice on top of the mango, dividing evenly. Freeze until firm, at least 2 hours and up to 4 days.