The Perfect Pineapple Punch for an Epic St. Patrick's Day Party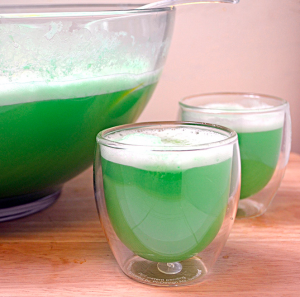 Looking for a delicious way to liven up your St. Patty's Day party? The Perfect Pineapple is the a great addition to sweeten up your day with a light punch that won't knock you under the table. Enjoy a fruity balance of ginger, pineapple and champagne to celebrate the jolly leprechauns in all their green glory. Your guests will be impressed, and fresh, sustainably grown pineapple will add a bonus of surprising health benefits. This concoction is also perfect for any day of the year – simply swap out the sherbet for another favorite flavor and voila! Every day's a party!
Wondering where you can buy your Perfect Pineapple? Check out our store locator page to find a Chestnut Hill Farms provider near you!
Ingredients:
1 Chestnut Hill Farms Pineapple, cored and juiced
2 quarts Lime Sherbet
2 litters Ginger Ale
2 bottle of Champagne or Sparkling Wine
Pineapple rings, for garnish
Make Your Own Fresh Pineapple Juice:
Pick out a fresh Chestnut Hill Farms Perfect Pineapple and cut it into small chunks. (Watch video how here!)
Add fresh pineapple pieces into a blender with 1 cup of water and 2 tablespoons of sugar. Blend until smooth.
Strain the juice to remove pulp using a juice strainer. (A regular strainer works fine as long as the mesh is small.) Add more water if necessary.
Directions:
Add the lime sherbet to a large punch bowl. Pour the champagne on top of the sherbet. Then, slowly add the ginger ale and pineapple juice to the mixture.
Stir a bit to help the sherbet become foamy and to combine the ingredients.
Garnish with fresh pineapple slices and enjoy!
Original recipe modified from Host the Toast.