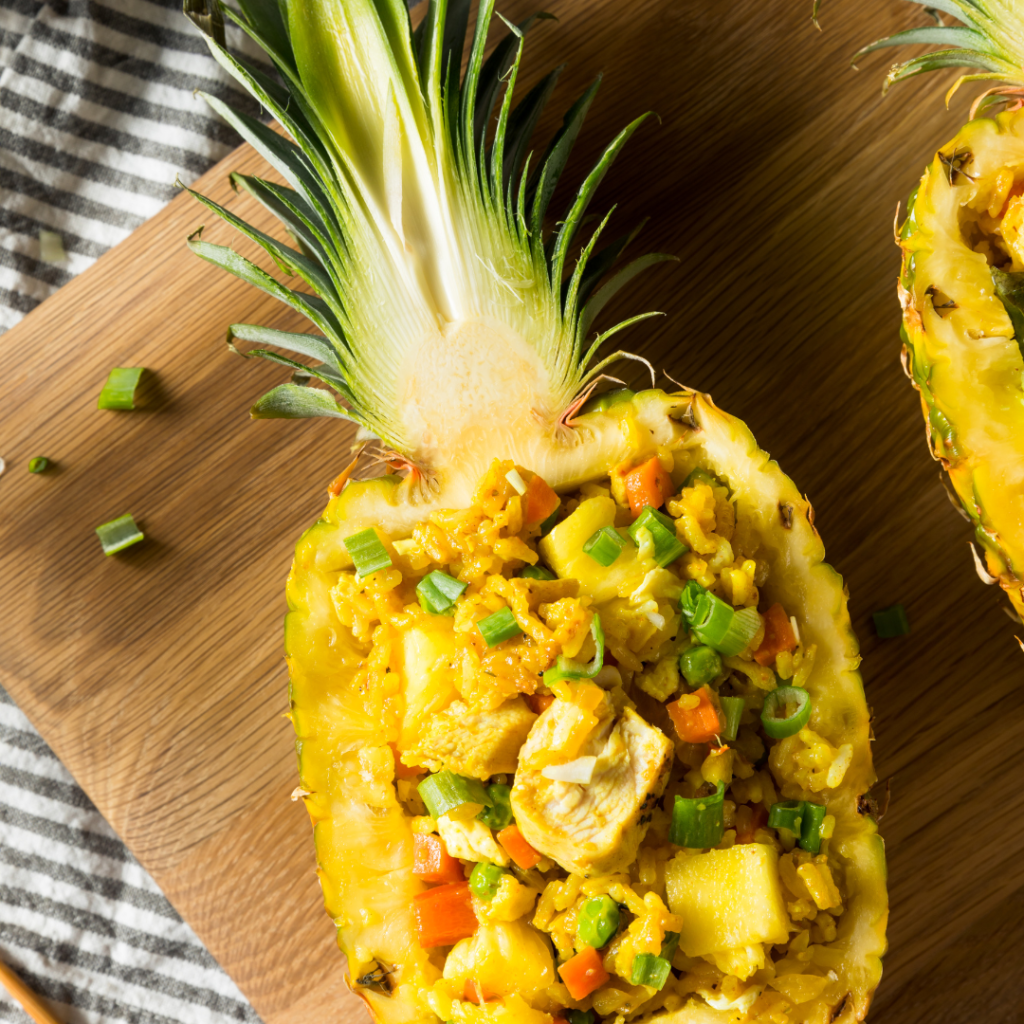 Fried Rice with a Tropical Twist
As you return home after an exhausting day, the aroma of takeout and the convenience of a microwave meal seem tempting. However, your senses are drawn to a sweet, ripe pineapple on the kitchen counter and an array of fresh, vibrant veggies. You are craving a dish that satisfies your tropical palate and nourishes your overall well-being. That is where our recipe for Paleo Pineapple Fried Rice comes to the rescue. This dish combines a medley of tastes and textures, from the succulent sweetness of ripe pineapple to the satisfying crunch of stir-fried vegetables, crafting a delicious paleo feast.
What is the Paleo Diet?
The paleo diet, a shorthand for the Paleolithic diet, is a nutritional strategy centered on consuming foods believed to replicate the dietary habits from the Paleolithic era, lasting roughly from 2.5 million to 10,000 years ago. The Paleo diet consists of unprocessed whole foods and avoids processed foods, refined sugars, artificial sweeteners, dairy, and grains. Proteins such as chicken, beef, turkey, seafood, fruits, vegetables, and nuts are encouraged.
Health Benefits of Key Ingredients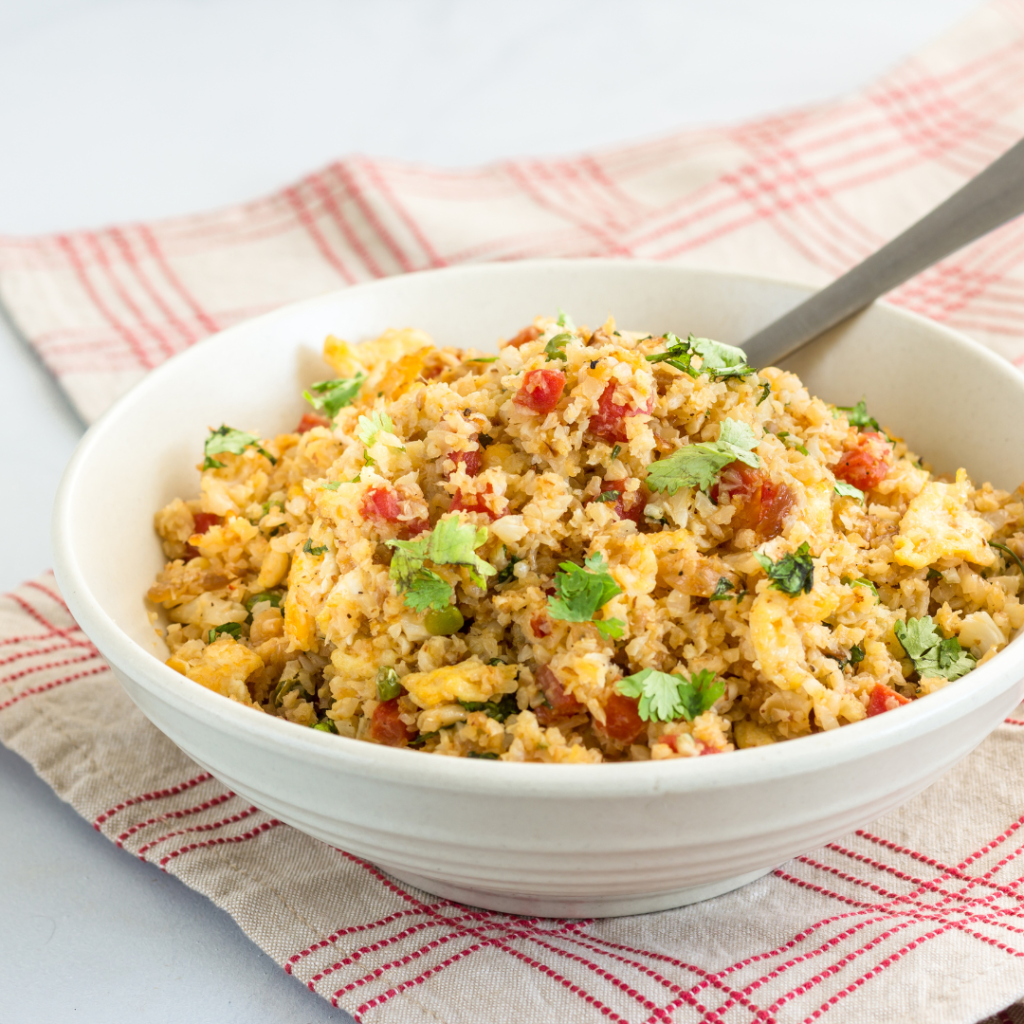 This recipe is incredible because every ingredient contains essential vitamins and minerals! Cauliflower rice is low-carb and rich in nutrients such as vitamin C, Potassium, Fiber, and B6.
Red peppers contain a high amount of vitamin A, which can improve eye health.
Carrots contain 8% of your daily potassium and fiber intake, which can help regulate blood pressure and support heart health.
Pineapple also has numerous health benefits, such as containing a significant amount of vitamin C, which helps support your immune system.
Vegetarian and Vegan Twists on Paleo Pineapple Fried Rice
You can't predict your dinner guests, so it's good to be ready to accommodate vegetarian or vegan preferences when serving Paleo pineapple fried rice. Instead of adding chicken, you can replace it with tofu with an excellent amount of plant protein. Tofu is a great option for someone vegetarian or vegan. Cashews are another substitute for protein for someone vegan, but be careful if they have a nut allergy!
Navigating Allergies and Sensitivities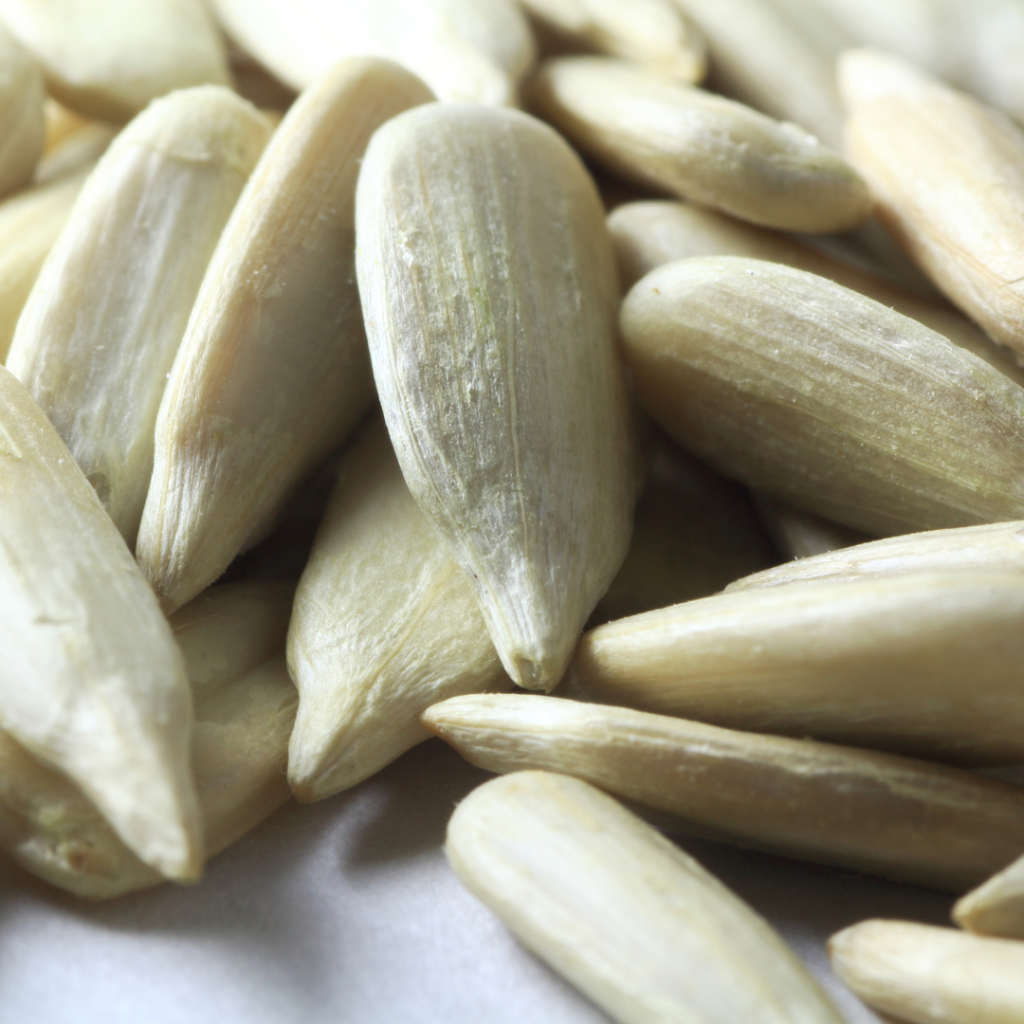 When fixing a nutritious dish like paleo pineapple fried rice, it is essential to remember that some individuals might have dietary restrictions or allergies. These allergies or nutritional restrictions include nuts, shellfish, or eggs. Instead of using cashews, you can substitute sunflower seeds. Eggs are a common allergy; chia eggs make a tremendous paleo-friendly replacement. You can't make paleo-fried rice without soy sauce, but it's not for everyone. You can substitute soy sauce for coconut aminos for any soy-free or gluten-free friends. You'll still get that great umami flavor.
Ingredients
1/4 cup avocado oil
1/2 pound boneless skinless chicken thighs, cut into bite-sized pieces
2 cups small chunks of fresh Chestnut Hill Farms Perfect Pineapple, weighing 8 ounces
One red bell pepper, cut into 1/2″ pieces, 1 1/2 cups
Four small carrots, weighing 8 ounces, thinly sliced, 2 cups
Two cloves garlic, minced
One bunch of green onions, thinly sliced
One head of cauliflower, 1 lb 11 oz, or 5 cups frozen cauliflower rice,
Four eggs
Sauce
1/4 cup coconut aminos, tamari, or soy sauce
1/2 teaspoon red pepper flakes or two teaspoons chili paste
Instructions
Grate the cauliflower using a box grater and set it aside, or skip this step if using frozen cauliflower rice.
Crack the eggs into a bowl and lightly whisk them with a fork.
Mix the coconut aminos and red pepper flakes or chili paste in a small bowl and set it aside.
Preheat a large non-stick skillet (15″) or a Wok over medium-high heat for a few minutes until it's hot but not smoking.
Add 1 Tablespoon of the avocado oil to the pan and brown the chicken pieces. Remove from pan and set aside.
Next, carefully add the pineapple and then one more tablespoon of oil to the pan (adding the oil after the pineapple helps to keep the oil from splattering).
Sear the pineapple chunks to create caramelized edges for 2-3 minutes. Remove the pineapple from the pan and set it aside while you finish the fried rice.
Add the remaining two tablespoons of avocado oil to the pan and sauté the bell pepper, carrots, and garlic until the veggies are crisp-tender. Then, add the green onions and cauliflower rice to the pan.
Cook for 1-2 minutes or until the cauliflower has softened. Add the eggs and stir until the egg scrambles around the stir-fry for 1-2 minutes.
Add the sauce to the pan and cook for another 1-2 minutes until the sauce is absorbed and thoroughly mixed in.
Remove the fried rice from the heat and stir in the cashews, chicken, and caramelized pineapple. Taste test to see if you want to add sea salt and serve immediately!
---
Don't Miss Out on Pineapple Perfection
Pineapple is the spotlight in this dish and knowing how to cut one is essential to achieving that sweet and savory flavor. Now, you have everything you need to unleash your culinary creativity and make delicious Paleo fried rice.
Stay in the Loop with Our Juicy Updates! Sign up for our newsletter to receive the latest news. Don't miss out! https://www.chfusa.com/whoweare_newsletter_signup.htm