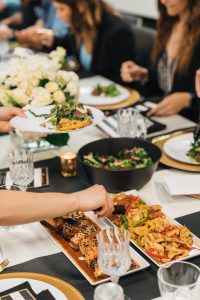 Make Your Office Thanksgiving Potluck a Pineapple Delight!
The holidays are a time for joy, laughter, and, of course, delicious food! What better way to bring everyone at your office together than with a Thanksgiving potluck? It's the perfect opportunity to exchange ideas, share recipes, and enjoy mouthwatering dishes during this potluck season. When it comes to a delicious meal, one fruit that stands out above the rest: pineapple!
With it's natural sweetness and versatility, pineapples create a wide array of sweet and spicy dishes and treats. For instance, a beautifully made pineapple parfait may seem like a sweet treat but is packed with health benefits of fruit! By providing your co-workers with nutrients and beneficial compounds, such as vitamin C, they'll become even more energized for the next office meeting and afternoon task with a smile.  
There are so many recipes and unique dishes that could bring you all together as employees and look forward to establishing a strive to success as one team. So why not spice up your holiday gathering with a pineapple-infused dish? It's sure to bring a smile to everyone's face and leave them craving for more!
Fresh Pineapple Salsa
Mixed with sweet and spicy flavors, pineapple salsa is the perfect holiday appetizer that can be enjoyed on its own or paired with crispy tortilla chips. This dish can be made from start-to-finish in under 30 minutes.
Ingredients
3 cups the fresh, Chestnut Hill Farms Perfect Pineapple
1/2 red bell pepper
1/2 chopped onion
1/2 cup fresh cilantro
1 jalapeno diced
2 tsp lime juice
1/4 tsp sea salt
Directions
Pick a small or medium bowl and combine the red peppers, cilantro, onion, and jalapeno.
Add lime juice and salt into the bowl and stir.
Once the bowl has been mixed, set it aside for about 15 minutes while cutting the perfect pineapple into small or smaller slices.
After sitting, it can now be freshly served, and tortilla chips may be eaten with.
Brazilian Baked Pineapple
Brazilian baked pineapples are a delightful side dish or a mouthwatering dessert. Discover the incredible versatility of pineapples as they are cooked and baked.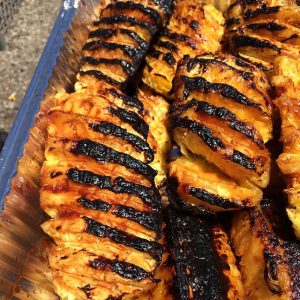 Ingredients
Ingredients
Cooking spray
1 perfect pineapple
1 1/2 cup brown sugar
3 tsp cinnamon
4 tsp butter
Directions
Cut your perfect pineapple into the shapes of your choice.
Add the cinnamon and brown sugar into a resealable bag or recyclable plate.
Once the pineapples have been cut or shaped, place them inside the bag or plate with the ingredients and cover them on both sides
Take a pan out, small or medium, and use the cooking spray to cover the pan all over.
Layer the butter into small squares. You may add brown sugar to the pan if you want.
Begin placing the pineapples on top of the pan in layers. Make sure to pour any pineapple juice left over.
Hawaiian Chicken
Hawaiian Chicken will transport you to a tropical paradise with its flavors and juicy pineapple marinade. With one bite, your co-workers will be transported from their Thanksgiving potluck to a beach on the Big Island.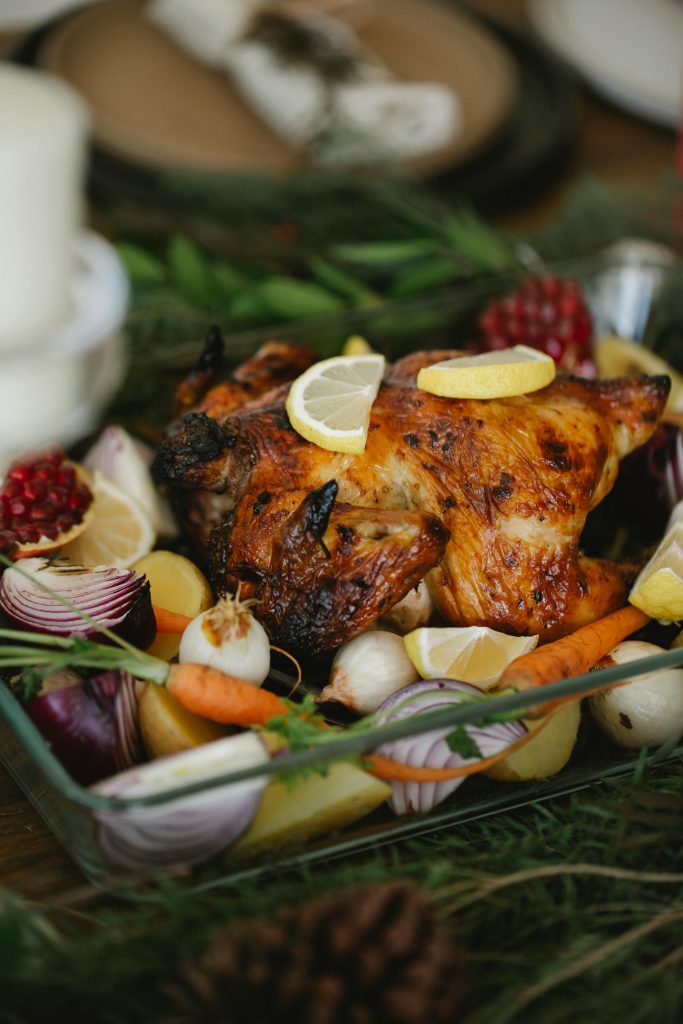 Ingredients
1/2 cup fresh pineapple juice
1 cup sliced Chestnut Hill Farms Perfect Pineapple
1 tsp onion powder
1/3 cup olive oil
2 tsp garlic
1/3 brown sugar
1/3 cup low-fat sodium soy sauce
2 tsp ground ginger
1 tsp pepper
2 tsp salt
1/2 tsp paprika
1/3 cup ketchup
1/3 asian sweet chili sauce
1 ½ boneless skinless chicken thighs
Directions
Combine the soy sauce, brown sugar, garlic, paprika, ground ginger, olive oil, and pineapple juice into a large bowl or giant ziplock bag.
Mix the ingredients with the chicken thighs and set aside in the refrigerator overnight to marinate.
Heat the grill to medium. Take the marinade chicken and grill for 7 minutes until the chicken is cooked through. Add the fresh pineapple slices to the grill and cook for 2 minutes per side, then serve!
---

Are you looking for new recipes to prepare your Thanksgiving list? Join our newsletter or check out our recipes!