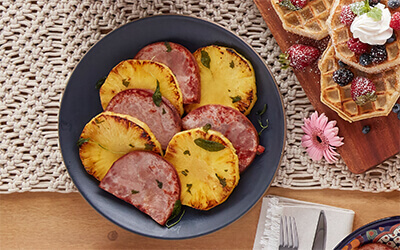 A Fresh and Simple Easter Dinner Recipe
It's just not Easter without an infamous Easter Ham! The unlikely combination of pineapple and ham tends to make a strong appearance every year on this holiday. Cooking a whole Easter ham on your own can be time-consuming and tedious. That's why we're sharing this simple recipe that will be sure to impress your family and friends. 
From the Kitchen to the Table in 30 Minutes
This Sheet Pan Perfect Pineapple Ham will only take about 30 minutes in total to prepare and cook, leaving you with an ample amount of time to spend the holiday with your loved ones. With the sweet flavors from a fresh Chestnut Hill Farms Perfect Pineapple combined with the savory saltiness of the ham, there's no doubt everyone will be asking for seconds of this meal!
Don't forget to whip up a batch of Perfect Pineapple Upside-Down Cookies to complete your Easter Dinner!
Ingredients:
2 tablespoons chopped rosemary
½ teaspoon freshly ground black pepper
½ teaspoon salt
2 ham steaks sliced
1 Chestnut Hill Farms Perfect Pineapple sliced
Orange Zest
2 tablespoons butter melted
Instructions:
Preheat the oven to 425 degrees F.
In a small bowl, combine orange zest, melted butter, rosemary, pepper, and salt.
Dip each slice of ham into the mixture, ensuring both sides are well coated.
Arrange ham and pineapple on the sheet pan, overlapping the ham with the pineapple slices for added flavor.
Place the sheet pan into the oven and bake until the ham is cooked through, about 20-25 minutes.
Enjoy immediately!