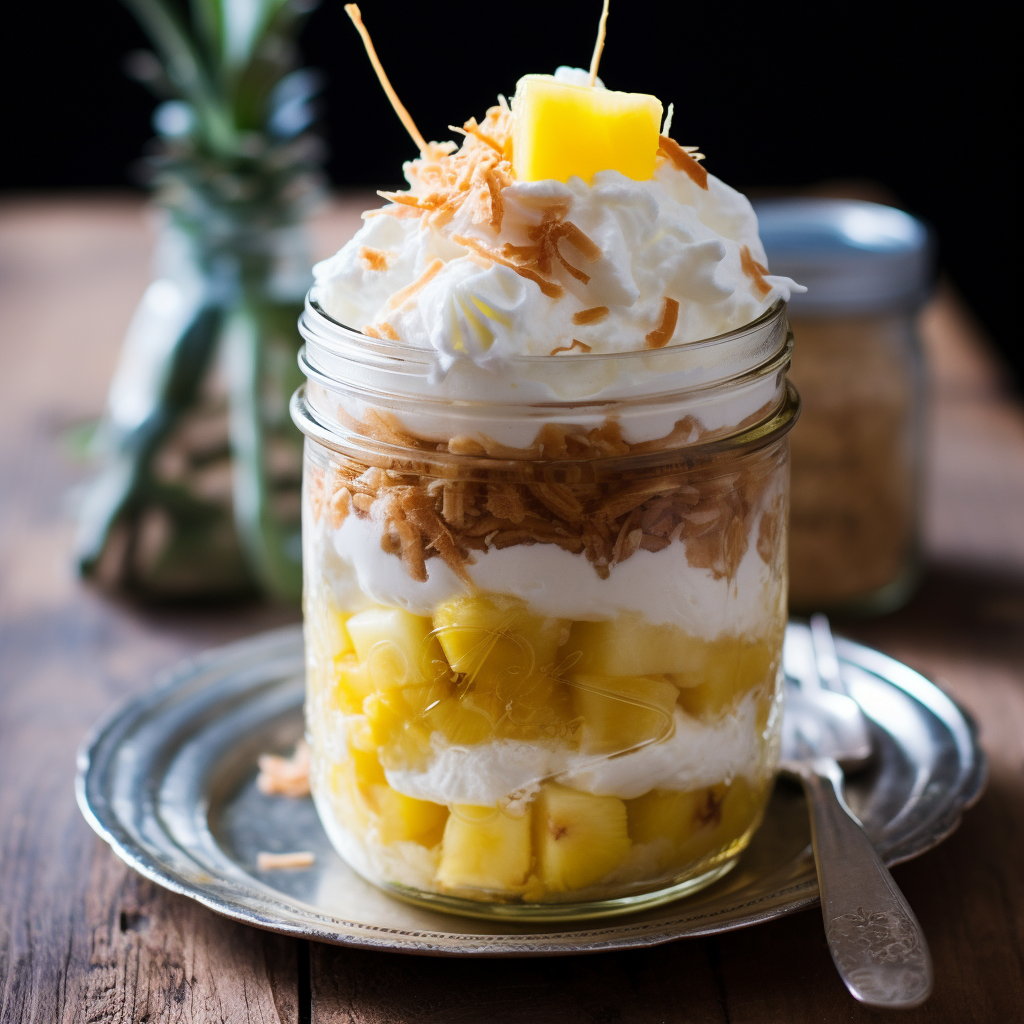 A Tropical Twist on Healthy Desserts
There is always room in your life for a little tropical fun, no matter the season! Piña Colada Pie in a Jar brings the essence of a piña colada, a beloved tropical cocktail, into a nutritious dessert that's perfect year-round.
A Sip of Sunshine: The Origins of Piña Coladas
Piña coladas, those creamy and refreshing beverages, are often associated with white sandy beaches, swaying palm trees, and tropical getaways. In fact, these delightful drinks have Caribbean roots. The first piña colada was mixed in San Juan, Puerto Rico by bartender Ramón "Monchito" Marrero at the Caribe Hilton in 1954. In fact, in 1978, this popular drink was officially declared the national drink of Puerto Rico. Two years later, the iconic Rupert Holmes' song "Escape (The Piña Colada Song)" topped the charts and truly put the cocktail on the map. In Spanish, the word "piña colada" translates to "strained pineapple", referring to the drink's fresh pineapple content! With this piña colada-inspired dessert, the tropical flavors are undeniable.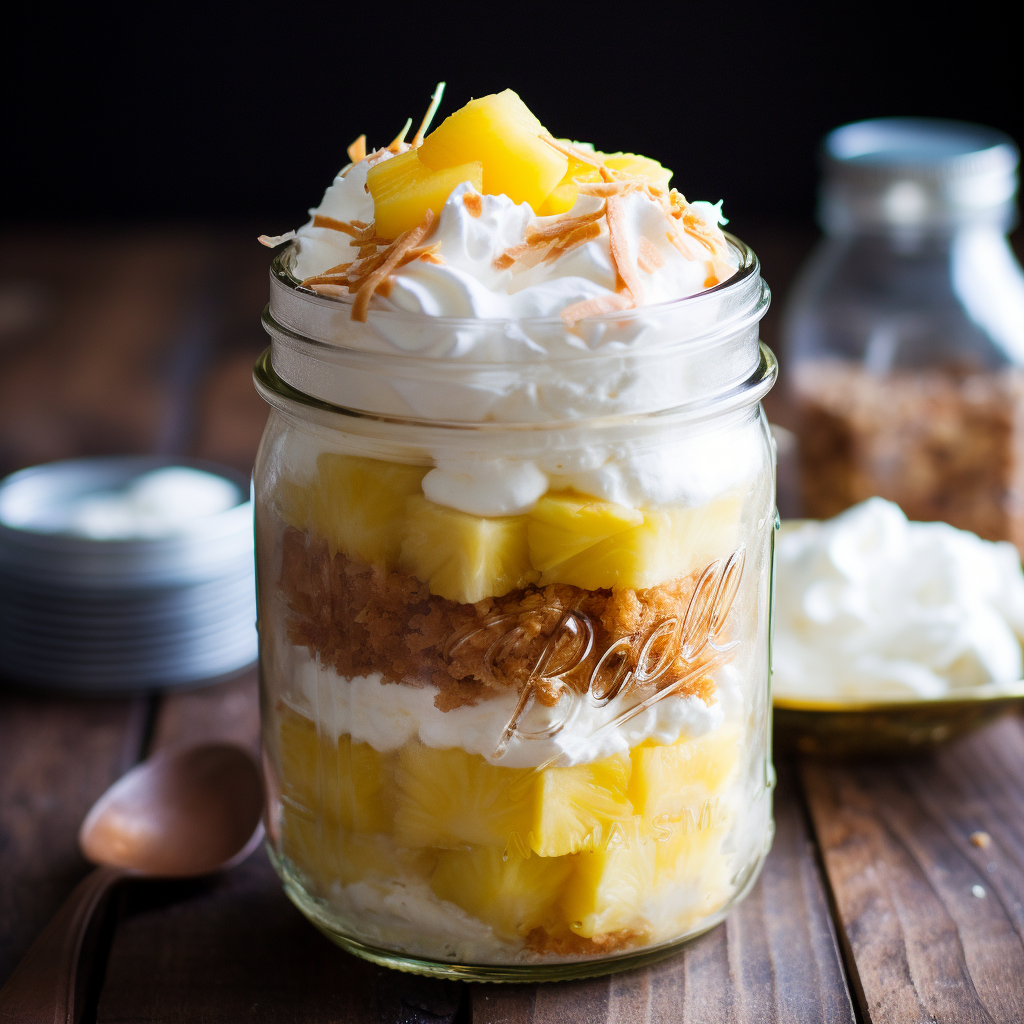 The Power of Pineapple: A Healthy Twist
Piña coladas get their pineapple flavor from the star of the show – the pineapple itself. Did you know that pineapple is incredibly nutritious in addition to being delicious? Packed with vitamins, minerals, and antioxidants, pineapple offers numerous health benefits. It's a fantastic source of vitamin C, which supports your immune system, and bromelain, which is known for its anti-inflammatory properties. It also contains "antioxidants — molecules that help your body ward off oxidative stress." So, while you're indulging in the flavors of a piña colada pie, your body is also reaping the benefits!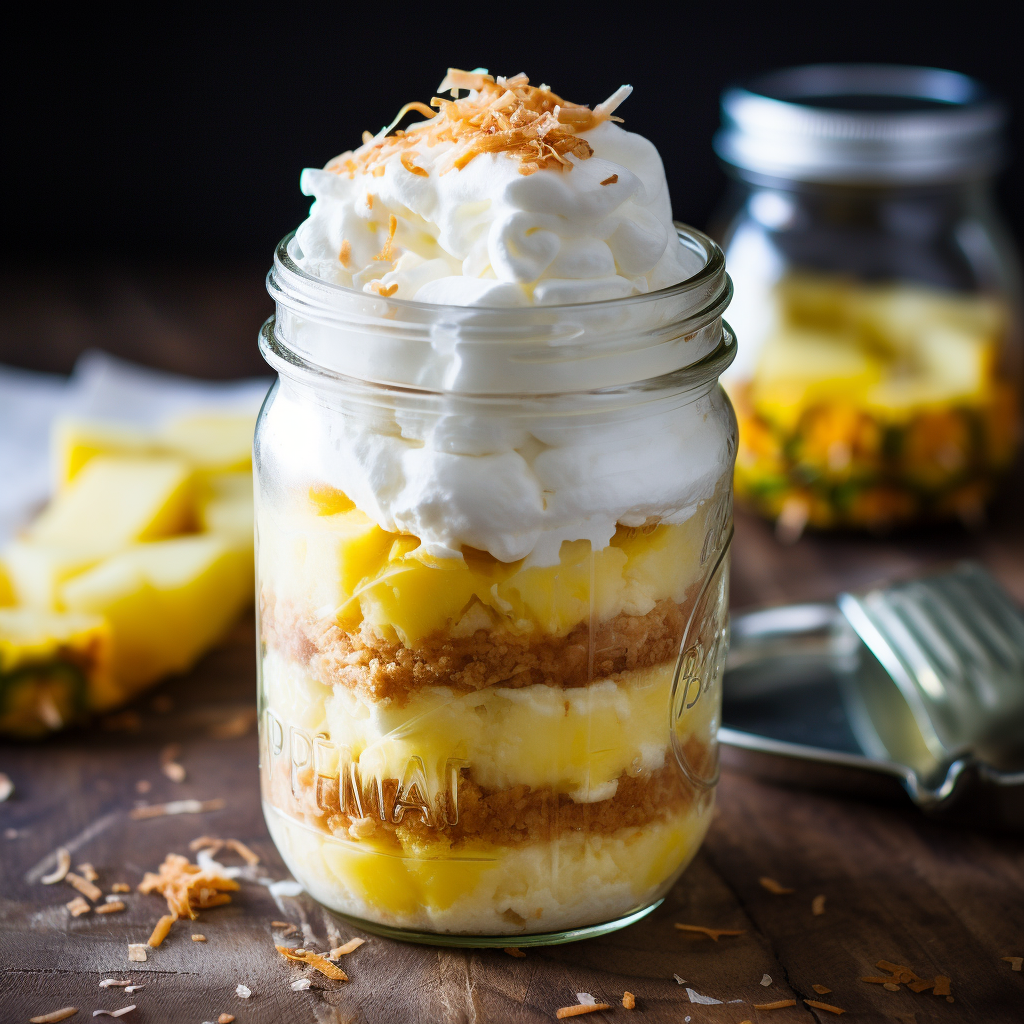 Creating Your Piña Colada Pie in a Jar
Now that we've delved into the appeal of piña coladas and the numerous health benefits of pineapple, it's time to bring it all together with a delicious and nutritious dessert. This dessert is the perfect way to enjoy a touch of the tropics, any time of the year. It's the ideal treat to elevate your dessert game while being both delightful and healthy! For the freshest and most delicious pineapples, be sure to check out Chestnut Hill Farms, whose volcanic soil makes the perfect pineapple!
Ingredients
3 cups finely crushed graham crackers
12 tbsp butter, melted
1.5 cups fresh, diced and crushed Chestnut Hill Farms Perfect Pineapple
2 cups heavy cream
8 oz cream cheese, softened
1 tbsp sugar
1/2 cup unsweetened coconut flakes, toasted
Instructions
Make crust: In a large bowl, combine graham cracker crumbs with butter and stir until combined.
Make pineapple layer: In a medium saucepan over medium-low heat, heat crushed pineapple until thick and jammy, about 15 minutes.
Meanwhile, make the cream layer: In a stand mixer fitted with a paddle attachment, beat heavy cream until stiff peaks form. Fold in cream cheese and sugar. (For best results, transfer mixture to a piping bag.)
Among four mason jars, layer graham cracker crust, pineapple (using a spoon), and cream, alternating until you reach the top of the jar.
Garnish with toasted coconut and serve.
Cheers to a taste of the tropics!
Stay Connected with Chestnut Hill Farms
For a deeper dive into the world of pineapples and to receive fruity updates, sign up for our newsletter. Unleash the tropical magic in your desserts and celebrations, year-round!