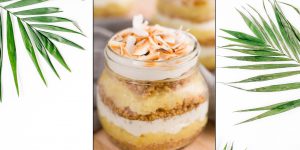 With summer fluttering to an end, variations of tropical favorites such as a cool pina colada is a fun way to enjoy the final days of September. Enjoy the classic cocktail in dessert form with the easy to assemble pina colada pie in a jar, and take your taste buds into a sweet Caribbean daydream with Chestnut Hill Farms pineapples.
TIME: 0:30    PREP: 0:30    LEVEL: EASY    YIELD: 4
INGREDIENTS
3 c. finely crushed graham crackers
12 tbsp. butter, melted
1.5 cups fresh, diced and crushed Chestnut Hill Farms pineapple
2 c. heavy cream
8 oz. cream cheese, softened
1 tbsp. sugar
1/2 c. unsweetened coconut flakes, toasted
DIRECTIONS
Make crust: In a large bowl, combine graham cracker crumbs with butter and stir until combined.
Make pineapple layer: In a medium saucepan over medium-low heat, heat crushed pineapple until thick and jammy, about 15 minutes.
Meanwhile, make cream layer: In a stand mixer fitted with a paddle attachment, beat heavy cream until stiff peaks form. Fold in cream cheese and sugar. (For best results, transfer mixture to a piping bag.)
Among four mason jars, layer graham cracker crust, pineapple (using a spoon), and cream, alternating until you reach the top of the jar.
Garnish with toasted coconut and serve.
Original Recipe modified through delish.com.