Celebrate the Holiday with Perfect Pineapple Thanksgiving Recipes!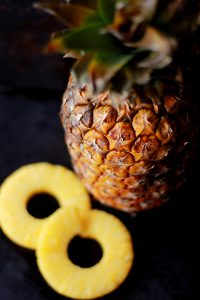 Now that Halloween has come and passed, it's time to get our minds off of sweet treats and start planning for arguably the biggest meal of the season: Thanksgiving dinner! Being that our perfect pineapples are available year-round, this healthy fruit is the perfect addition to your holiday feast. Packed with nutrients essential to maintaining a strong immune system, including Vitamin C and Bromelain, consuming pineapple is a great way to ward off cold and flu season as the summer months begin to fade. Here are some of our favorite pineapple Thanksgiving recipes!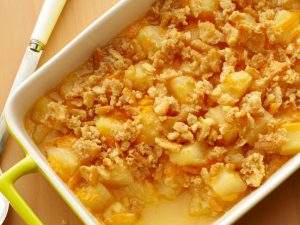 Ingredients: 
• 1 cup sugar
• 6 tablespoons all-purpose flour
• 2 cups grated sharp cheddar
• 2 large Chestnut Hill Farms pineapples (approximately 20 ounces), cut into chunks, with 6 tablespoons pineapple juice reserved
• 1 cup cracker crumbs
• 8 tablespoons (1 stick) butter, melted, plus extra for greasing pan
Directions
1. First, preheat the oven to 350 degrees F.
2. Grease a medium-size casserole dish with butter.
3. In a large bowl, stir together the sugar and flour. Gradually stir in the cheese. Add the drained pineapple chunks, and stir until ingredients are well combined. Pour the mixture into the prepared casserole dish.
4. In another medium bowl, combine the cracker crumbs, melted butter, and reserved pineapple juice, stirring with a rubber spatula until evenly blended. Spread crumb mixture on top of pineapple mixture. Bake for 25 to 30 minutes, or until golden brown. Now enjoy!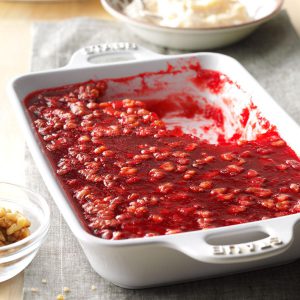 Ingredients: 
• 2 large Chestnut Hill Farms Pineapple, crushed (approximately 20 oz)
• 2 packages (3 oz) or 1 package (6 ounce) raspberry flavored gelatin
• 1 can (16 oz) whole berry cranberry sauce
• 1 medium apple chopped
• 2/3 cup chopped walnuts (optional)
Directions: 
1. Add enough cold water to crushed pineapple until it measure 3 cups and pour into a large saucepan. Reserve crushed pineapple for garnish if desired.
2. Bring juice to a boil then remove from heat immediately.
3. Add gelatin. Whisk mixture at least 2 minutes until completely dissolved.
4. Add cranberry sauce and stir. (Gelatin mixture should be thick.)
5. Pour mixture into a large bowl. Refrigerate 1 1/2 hours or until slightly thickened.
6. Remove from fridge and stir in pineapple, apples and walnuts; stir gently.
7. Pour into a medium serving bowl. & refrigerate for 4 hours or until completely firm.
8. Top with reserved crushed pineapple just before serving.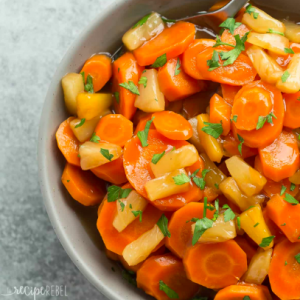 Ingredients: 
• 2 lbs carrots peeled and sliced
• Fresh chopped Chestnut Hill Farms Pineapple (about 2 cups)
• 1/2 cup brown sugar
• 3 tablespoons balsamic vinegar
• 3/4 teaspoon salt
• 2 tablespoons corn starch
Directions:
1. In a medium bowl, combine pineapple with sugar, vinegar, salt and corn starch and stir until combined.
2. Add carrots to a 2.5-4qt slow cooker. Pour pineapple over top and stir well.
3. Cover and cook on low for 5-6 hours or high for 3-4 hours until tender. Serve.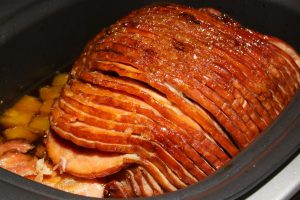 Ingredients:
• 1 bone-in fully cooked spiral cut ham (about 10 lbs/4.5 kg)
• 1 cup fresh Chestnut Hill Farms pineapple juice
• ½ cup brown sugar (90g)
• 1 cinnamon stick
• 4 cloves
Directions: 
1. Take ham out of the refrigerator about 2 hours before baking to allow it to come to room temperature. Remove ham from packaging, then rinse and pat dry with paper towels. Place in a deep baking dish with fat side up.
2. Combine pineapple juice, brown sugar, cinnamon stick, and cloves in a small saucepan. Bring to a boil. Reduce heat to medium low and simmer for about 15 minutes or until pineapple juice is reduced by half. It should be thick and syrupy.
3. Brush half of the glaze onto the ham and into the folds of the cut slices. Reserve the other half of the glaze for later.
4. Place ham in a preheated 325°F (165°C) oven and bake for 1¼ to 1½ hours.
5. Carefully remove the ham from the oven and brush the remaining glaze onto the ham. Return to the oven and continue to bake for another 15 to 20 minutes or until internal temperature of ham reaches 160°F (71°C).
6. Finally, allow ham to rest for 15 minutes before serving.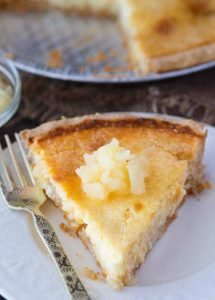 Ingredients: 
• 1 250g package of cream cheese, softened
• 1/2 cup sugar
• 1/2 tsp salt
• 2 eggs
• 1/2 cup milk
• 1/2 tsp vanilla extract
• 1 tbsp cornstarch
• 1/2 cup sugar
• 1 cup crushed Chestnut Hill Farms pineapple, with juice
• 1 unbaked frozen pie shell
Directions: 
1. Preheat oven to 400F.
2. In a large bowl, beat together cream cheese, 1/2 cup sugar, salt, eggs, milk and vanilla extract. Set aside.
3. Next, in a small saucepan, stir together cornstarch, 1/2 cup sugar and crushed pineapple. Bring to a boil and boil for 2 minutes, stirring constantly. Let cool a few minutes and then pour into pie shell.
4. Pour cream cheese mixture on top of pineapple mixture. Bake for 10 minutes then reduce heat to 325F and bake an additional 50 to 55 minutes, or until center is set.
5. Let cool before serving. This may be the hardest part!