Enjoy Every Bite of National Nutrition Month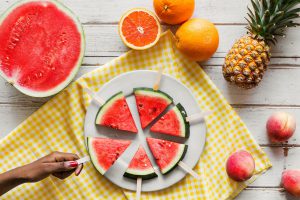 As the Earth blooms into spring, March brings an opportunity for transformation into our lives with National Nutrition Month. Sponsored by the Academy of Nutrition and Dietetics, National Nutrition Month highlights the importance of making informed food decisions and developing beneficial eating habits in our day-to-day.
From lack of time to staying on budget, there are plenty of reasons we eat the way we do. In fact, 82% of Americans do not want to give up foods they like in order to eat healthier. However, incorporating a few smart swaps into meal prep can actually bring an abundance of flavor and nutrition to your food habits.
Colorful Ways to Keep Meals Healthy
It's easy to build a healthy plate if you keep plenty of fruits and vegetables on hand. You should aim for 2 cups of fruit and 2 ½ cups of vegetables every day. At each meal, fill up half of the plate with colorful produce to add texture, flavor, vitamins, minerals and fiber. Hitting these goals will fill your stomach with food that's high in nutrients and low in calories and fat.
Sneak fruit and vegetables into your diet with smart swaps. We've put together a few ideas to get you started.
Sweet Substitutions
Don't let dessert be your Achilles heal in the path to a nutritious life! There are plenty of fruit dishes packed with natural sweetness to fulfill your sugar cravings.
Grilled fruit kabobs are at the top of our list for a surprisingly sweet option. Load up a kabob stick with fresh pineapple, peaches and banana. Place on a grill until the fruit is hot and slightly golden. When warm, pineapple juices transform into a syrupy and sweet treat. These guilt-free grilled fruit kabobs pack a healthy helping of both flavor and vitamins.
For more elegant affairs, choose from our selection of fruit salad recipes. These crowd-pleasing desserts are packed with immune-boosting Vitamin C and bromelian. Bring one to your next pot-luck or holiday meal and let guests satisfy their sweet tooth while staying nutritious.
Savor the Flavor
Many of your go-to food choices can actually taste better with the addition of fruits, vegetables and spices. Have fun putting a twist on your normal meals while reaping the nutritious benefits.
Stuck in a breakfast rut? Try swapping out your typical smoothie for a Detox Smoothie featuring pineapple, cucumber, banana and plenty of greens. If you prefer mornings to be more savory, swap your typical eggs and bacon with a veggie-packed omelette. Stuffing an omelette with onions, peppers, broccoli, tomatoes and low-fat cheese will create a satisfying and hearty meal to power you through until lunch time.
Speaking of lunch, are you craving pizza yet? Nutrition isn't all about sacrifice. You can still enjoy your favorite foods and live a healthy lifestyle. National Nutrition Month is a reminder to be intentional and mindful about your eating habits. Top your pizza with fresh ingredients like pineapple, peppers, spinach or zucchini to make the most of the meal.
Finally, get creative with dinners! Mix up a grilled seafood or poultry dish by topping it with a pineapple or pear fruit puree. Experimenting with new flavors and ingredients will put a fun and healthy twist on dinner.
Make the Most of a Nutritious Lifestyle
Nutrition may start in the kitchen, but the benefits will show in every aspect of your life. Enjoy increased energy and immunity as well as lowered risk of disease when you pursue a nutritious lifestyle.
For more healthy eating ideas, explore our fruit-filled and vitamin-packed recipes!