Delicious Winter Fruit Salad Recipes Your Family Can't Resist
The chill is in the air, meaning the holidays are upon us. As you prepare to set your holiday table this year, consider a few of these delicious holiday fruit salad recipes to add something sweet before dessert arrives. Packed with immune-boosting Vitamin C and bromelian, pineapple gives an extra boost of the good stuff that your family and friends will love.
Classic Winter Fruit Salad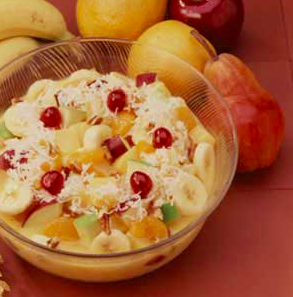 1 Chestnut Hill Farms Pineapple
1 package (3 ounces) cook-and-serve vanilla pudding mix
1 quart mixed fresh fruit chunks (apples, bananas, oranges, pears) or use fresh
3/4 cup chopped pecans or walnuts
1/3 cup sweetened shredded coconut
Whipped topping, optional
Directions:
Cut Chestnut Hill Farms Pineapple into chunks. (Read how here.) Reserve any juice and set to side.
In a saucepan, combine pudding mix and reserved pineapple juice. Cook and stir over medium heat until thickened. Transfer to a bowl and cool.
Fold in fruit, nuts, coconut and reserved pineapple. Chill until serving. Garnish with whipped topping if desired.
Creamy Hawaiian Cheesecake Salad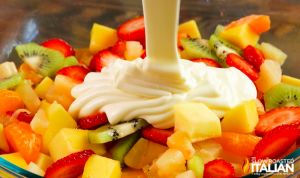 1 (8-ounce) package cream cheese
1 (3.4-ounce) package instant cheesecake pudding, unprepared
1 cup International Delight French Vanilla Creamer (liquid)
1 pound strawberries, hulled and sliced
4 mandarin oranges, peeled and sectioned
1 Chestnut Hill Farms Pineapple, cut into chunks (Read how here.)
3 kiwi, peeled and cut into half moons
2 mangoes, cut into bite size chunks
1 banana, cut into coins
Juice of 1/2 lemon
Instructions:
In a medium tall bowl, using an electric mixer, whip cream cheese until it becomes smooth. Add the dry pudding mix. Beat until well combined.
With the mixer on low, slowly add the creamer to the cream cheese mix. Add it about a tablespoon at a time. Whip until smooth.
In a large bowl, combine strawberries, oranges, pineapple, kiwi and mango.
Add the cheesecake mixture to the fruit. Gently fold cheesecake mixture into fruit.
In a small bowl combine the banana coins and the lemon juice. Toss until well coated, drain the excess lemon juice. Gently fold the banana into the cheesecake salad.
Chill until ready to serve or serve immediately.
Recipe by the Slow Roasted Italian
Merry Christmas Fruit Salad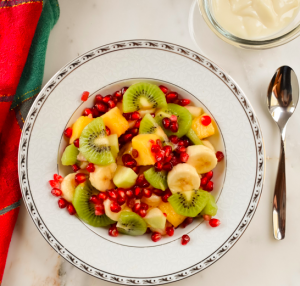 1 Chestnut Hill Farms Pineapple, Peeled and Diced (will use about 1/2 pineapple)
2 whole Bananas, Peeled and Sliced
3 whole Kiwis, Peeled and Diced
1 whole Apple, Cored and Diced
1 whole Pomegranate, Seeded
Instructions:
Mix Pineapple, Bananas, Kiwi, Apple together well.
Add pomegranate seeds and serve plain or over yogurt.
Recipe by Serena Bakes Simply From Scratch
Ready to set the table? Check out a great way to use your pineapple leftovers as a candleholder below!