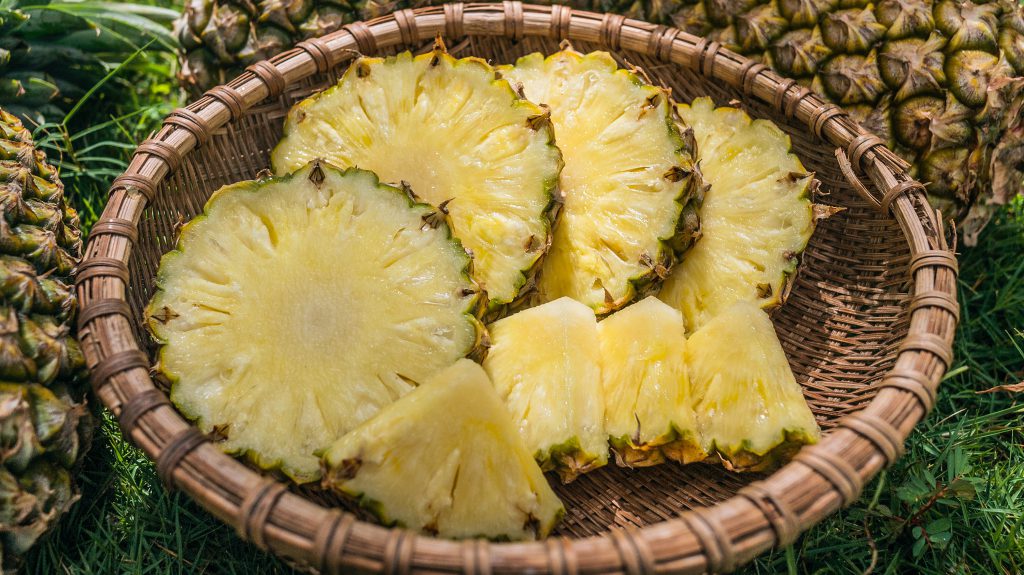 Spice Up Your Meals with Nutrition and Flavor Using Pineapple
Parents, we understand the challenge of incorporating unique and healthy recipes into your family's weekly meal lineup. To help you overcome this, we present the pineapple—a versatile fruit bursting with flavor and packed with numerous health benefits.
Not only does pineapple delightfully balance sweet and tangy flavors, but it's also a rich source of vitamin C, high in fiber, low in calories and fat, and abundant in bromelain—a natural enzyme with anti-inflammatory properties. With these remarkable health benefits in mind, get ready to tantalize your taste buds and win over even the pickiest eaters with our collection of 3 unique pineapple recipes!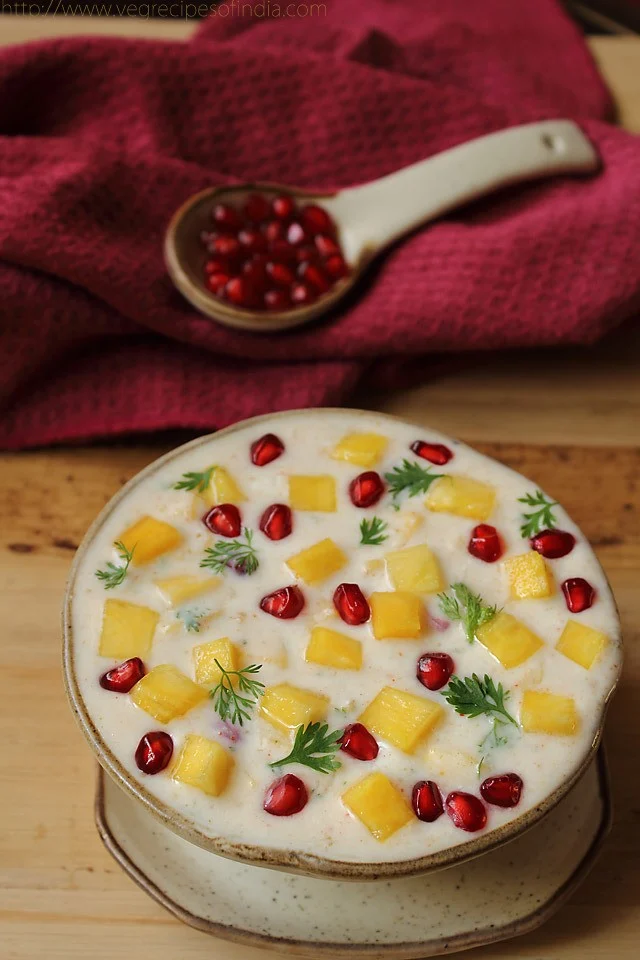 Pineapple Raita
Pineapple raita is a game-changer when it comes to incorporating unique and healthy recipes into your family's weekly meal lineup. This exotic pineapple recipe from Dassana's Veg Recipes combines the tropical sweetness of pineapple with the creamy tanginess of yogurt, creating a burst of flavors that will captivate the palates of your entire family.
Originating in India where raita is a beloved accompaniment to spicy meals, pineapple raita offers incredible flexibility in its customization so you can add your favorite spices, herbs, vegetables, and fruits. The options are endless, allowing you to create a refreshing dip or side dish to elevate your meals and wow your loved ones!
Ingredients
1 cup Chestnut Hill Farms Perfect Pineapple, diced
2 cups yogurt
½ cup pomegranate arils
1 tsp red chili powder
2 tsp roasted cumin powder
2 to 4 tbsp sugar
salt to taste
2 to 4 tbsp chopped coriander leaves
Instructions
With a wired whisk, whip the yogurt until it's smooth.
Add the spices, powders, sugar, and salt to the yogurt. Mix well.
Add the chopped pineapple cubes and half of the pomegranate arils, reserve the other half for garnishing.
While serving, garnish pineapple raita with the remaining pomegranate arils and chopped coriander leaves.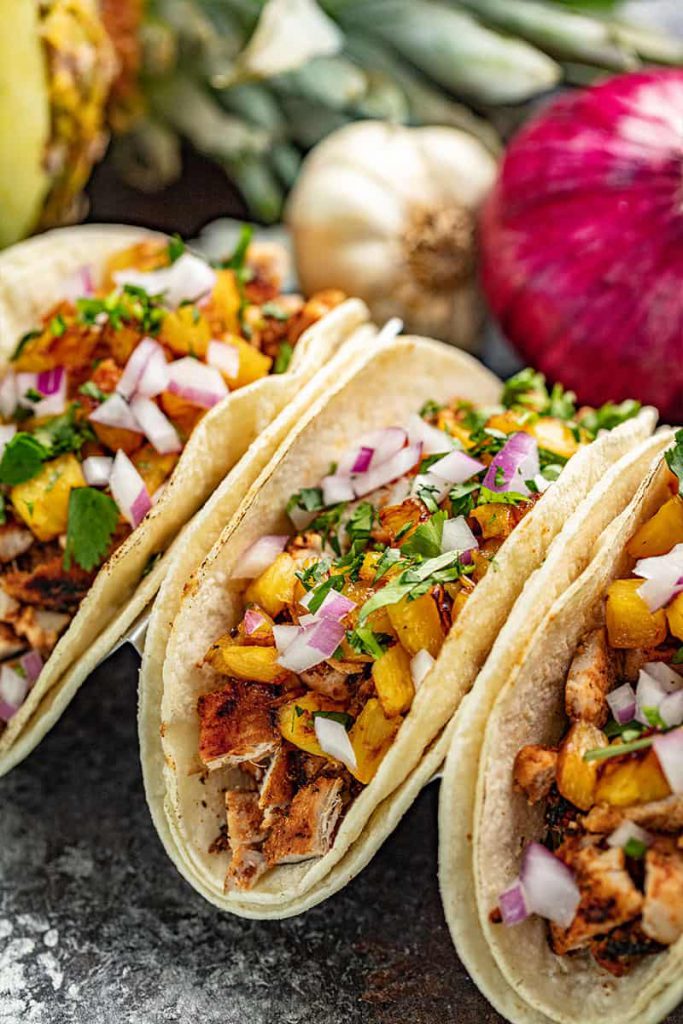 Tacos Al Pastor
Add a touch of excitement to your family's next taco night with tacos al pastor! This delicious pineapple recipe from The Stay at Home Chef balances the flavors of tender, juicy pork with the tangy sweetness of pineapple to create a mouthwatering combination that is sure to become a new family favorite.
Drawing inspiration from Lebanese immigrants who settled in Mexico in the 1930s and brought the vertical rotisserie cooking method used for shawarma, Mexican cooks skillfully infused local flavors and ingredients. The result? Tacos al pastor: marinated pork cooked on a vertical spit with species, achiote, and pineapple – a delightful fusion of Lebanese and Mexican influences.
Ingredients
1 (2-3 pound) boneless pork butt or loin
1 white onion, roughly chopped
1 Chestnut Hill Farms Perfect Pineapple
½ cup orange juice
¼ cup distilled white vinegar
2 tbsp ancho chili powder
4 cloves minced garlic
1 chipotle in adobo pepper
1 ½ tsp salt
1 tsp dried Mexican oregano
2 large limes, cut into wedges
½ cup freshly chopped cilantro
1 small red onion, diced
12 small corn or flour tortillas
Instructions
Use a sharp knife to slice pork into thin slices. Place in a large mixing bowl or resealable plastic bag.
Cut the pineapple into 2-inch wide spears. Dice approximately 1 cup of pineapple and set the rest of the spears aside.
Add the roughly chopped onion into a blender along with 1 cup of the cubed pineapple. Add in orange juice, white vinegar, chipotle, chili powder, garlic, salt, and oregano. Puree until smooth.
Pour marinade over pork. Refrigerate and let marinate for at least 4 hours.
Heat a skillet or grill to high heat. Working in small batches, sear each slice of pork until cooked through, 2 to 4 minutes. At the same time, grill pineapple until lightly charred. Roughly chop the cooked pork and dice cooked pineapple.
Serve meat up hot on a warmed tortilla topped with freshly chopped cilantro, diced grilled pineapple, sliced red onion, and a lime wedge.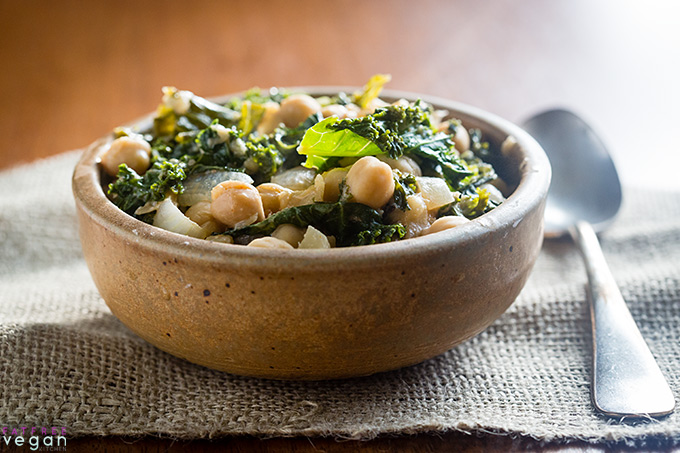 African Pineapple Peanut Stew
Take your taste buds on an adventure with this exotic pineapple recipe from the Fatfree Vegan Kitchen! This West African stew generally served during Kwanzaa is an excellent choice for families looking for plant-based protein options as it incorporates peanuts and chickpeas.
This recipe is also very flexible and can be adapted to your taste or the ingredients you have available! Potential add-ins include meat, different vegetables, and various spices.
Ingredients
1-2 bunches of kale, sliced
1 large onion, chopped
2 garlic cloves, minced or pressed
2 cups Chestnut Hill Farms Perfect Pineapple, crushed
15 oz chickpeas
½ cup peanut butter
1 tbsp Tabasco
¼ cup parsley, chopped
salt to taste
skinless peanuts, crushed
scallions, chopped
Instructions
Prepare the kale by washing it and removing the large center stem from each leaf. Stack the leaves on a cutting board and slice them into one-inch thick slices.
In a large, covered wok or Dutch oven (non-stick preferred), sauté the onions for about 6 minutes, stirring frequently, until the onions are lightly browned. Add the garlic, and stir for another minute.
Add the pineapple and its juice to the onions and bring to a simmer. Stir in the kale and the chickpeas, cover, and simmer for about 5 minutes, stirring a couple of times, until just tender. Mix in the peanut butter, Tabasco, and parsley and simmer for 5 minutes. Add salt to taste, and serve topped with crushed peanuts and scallions, over rice or other grain.
Stay Connected with Chestnut Hill Farms
Looking for more unique pineapple recipes? Make sure to subscribe to our monthly newsletter!