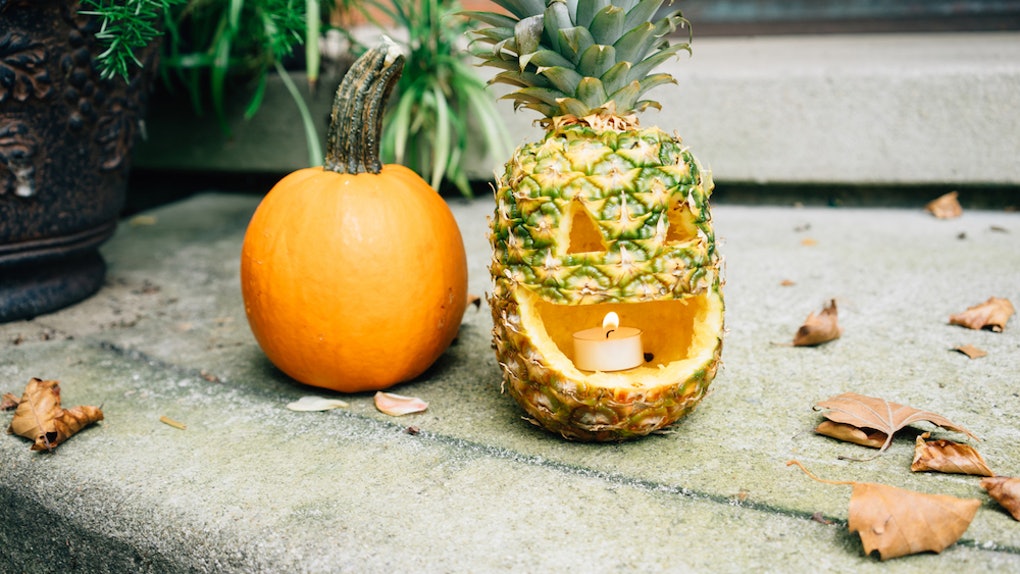 Host a Halloween Party with the Perfect Pineapple
If you're hosting a frightfully fun Halloween party this year, you may wonder how to limit the high fructose corn syrup and artificial sweeteners on the dessert table. Luckily, we have an answer for you! With a perfect pineapple Halloween party, your party treats can stay sweet- just, naturally sweet.
Pineapple contain enzymes that ease digestion. Swapping out a Snickers for a few slices of the queen fruit may actually help you avoid an upset stomach. Less stomach aches means more time to plan the Perfect Pineapple Halloween party! 
Check out these crafty ways to incorporate the queen fruit into your Halloween celebrations.
Create Your Own Pineapple Jack-O-Lantern
Pumpkins are a thing of the past. Carve a piña lantern this year to achieve the perfect Halloween party centerpiece! These crafty creations can be completed in five easy steps and are guaranteed to be a show stopper!
Pineapple-Topped Hot Dogs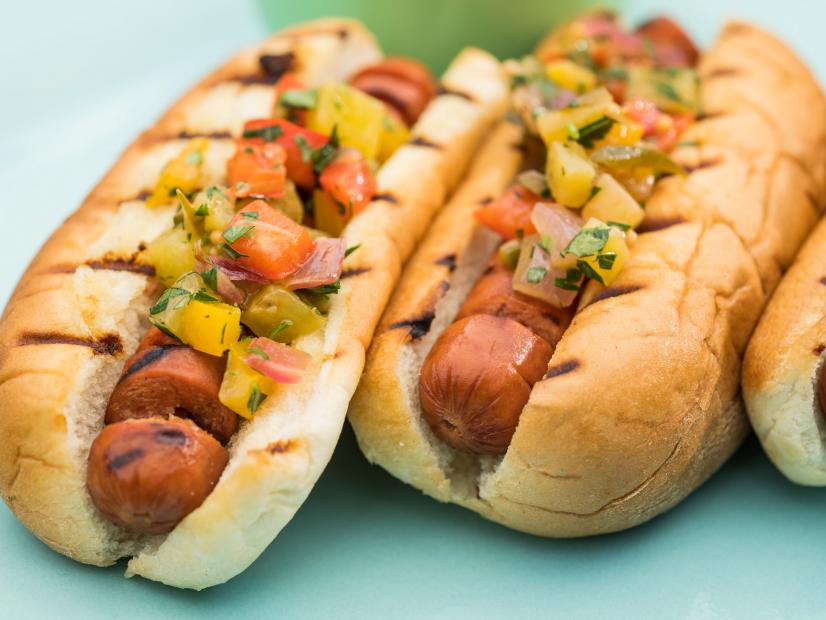 Recipe Sourced From Real Simple
Doing some good old grilling is one of the easiest ways to please a crowd. Don't doubt your desire to throw some dogs on the grill when hosting friends with this new twist on a classic – tropical dogs.
Ingredients
4 hot dogs
4 hot dog buns
¼ cup sweet red cherry peppers (such as peppadews)
½ cup chopped fresh Chestnut Hill Farms pineapple
½ cup fresh cilantro leaves
Directions
Cook the hot dogs according to the package directions.
Split and toast or grill the buns.
Place the hot dogs in the buns and, dividing equally, top with the pineapple, peppers, and cilantro.
Pineapple Slaw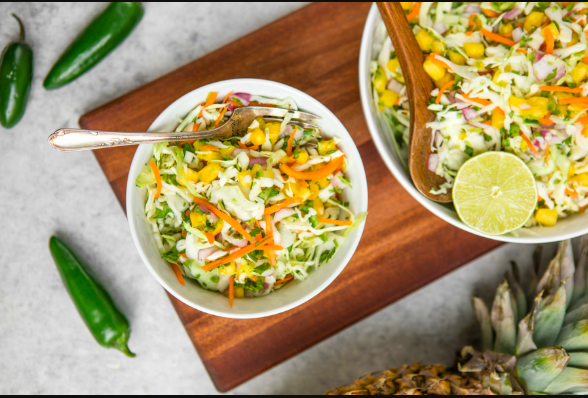 Photo and Recipe Sourced From From My Bowl
This next recipe can be used in addition to pineapple-topped hotdogs or paired as a side to your favorite dish. Store this vegan dish overnight to maximize its flavor potential. This recipe comes together so easily, you can spend more time mingling and less time prepping for your pineapple Halloween party.
Ingredients
½ Small Head Green Cabbage, shredded (about 4-5 cups)
½ Red Onion, diced
2 Jalapeños, diced and seeds removed
1 cup Shredded Carrot
1 ½ cup Fresh Chestnut Hill Farms Pineapple, diced into 1/4″ cubes
½ bunch Cilantro, stems and leaves finely chopped
Juice of 1 Lime
3 tabespoon White Vinegar
1 teaspoon Salt
Directions
Wash, Chop, and prep all of the vegetables.
Combine all ingredients in a large bowl, and mix until everything is well incorporated.
Serve as desired; you can serve this immediately, but it is best chilled. I would recommend storing it in the fridge for at least 3 hours, preferably overnight.
Rum-Infused Pineapple
Recipe Sourced From My Recipes
The perfect medley of sugar and rum come together in this spiked sensation.
Ingredients
¼ cup packed brown sugar
¼ cup dark spiced rum (such as Captain Morgan's)
1 Chestnut Hill Farms pineapple, peeled, cored, halved lengthwise, and sliced lengthwise into 12 wedges (about 1 1/2 pounds)
1 tablespoon butter
2 tablespoons sweetened flaked coconut, toasted
3 cups low-fat vanilla ice cream
Directions
Combine sugar and rum in a microwave-safe bowl. Microwave at HIGH 1 1/2 minutes or until sugar dissolves. Brush rum mixture evenly over pineapple wedges.
Melt butter in a grill pan over medium-high heat. Add pineapple to pan; grill 3 minutes on each side or until grill marks form and pineapple is thoroughly heated. Sprinkle with coconut. Serve with ice cream.
Happy Halloween!
Don't forget to Sign up for the Chestnut Hill Farms Newsletter to keep up with all things pineapple and fun!