By Dr. Lloyd Berg, PhD.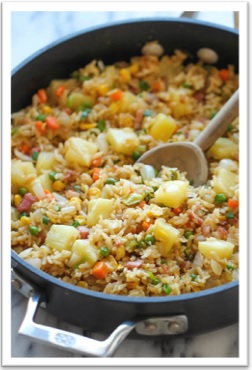 Pineapples can make even the most traditionally hearty meals healthier and tastier!
If you're looking for a quick, easy and flavorful dish to whip up tonight that doesn't make you feel guilty every time you take another bite, then we've got just the recipe for you.
One of our favorite dishes, Pineapple Fried Rice makes cleaning out the fridge look downright gourmet. With several variations for this recipe, we take our cue from the expertise of West Coast meal guru Chungah at DamnDelicious.com.
Mixing brown rice, peas, carrots, corn, bite-sized ham and of course fresh pineapple chunks, this tasty take on take-out is sure to become one of your new favorites.
Ready to wok on the wild side?
Stop by DamnDelicious.com and check out the full recipe here.
For more information about Chestnut Hill Farms its products, please contact our offices at (305) 592-6969.