By Dr. Lloyd Berg, PhD.
It's a beautiful weekend and the patio furniture is calling your name! You've called up your mates and invited them over for a lovely get-together outside under the warm sun.  In preparing a nice spread, you realize it's finally time to bring out your favorite food, your countertop rock star, your MVP (your most valuable plate)…the unmatched, sweet, juicy and always satisfying pineapple!
Yeah!!! Ok…so…how do we cut this thing again?
Believe it or not, most people you know are probably cutting pineapples the "wrong" way. Well, sure, technically you can cut a pineapple however you'd like. BUT, if you think a pineapple should be cut quickly, efficiently and functionally – then join us as we teach you how to cut a pineapple the "right" way.
So good in fact, you won't even need an extra plate by the time you're done. Click on the video below for instructions and happy slicing!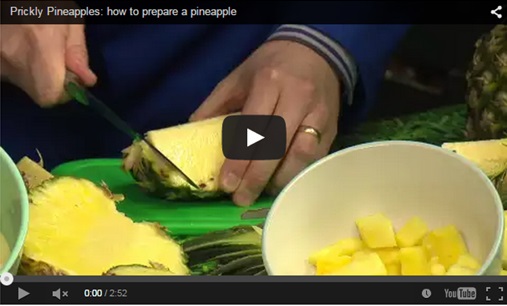 For more information about Chestnut Hill Farms' Perfect Pineapple™ please contact our offices at (305) 592-6969.