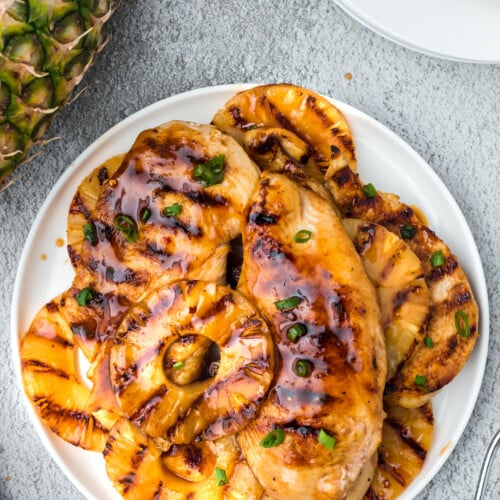 Pineapple's Health Benefits
Finding the right Father's Day recipe can be challenging. What's even harder is finding one that is nutritious and will make the whole family feel great. Luckily, you came to the right place. We believe in the power of fruits AKA nature's candy. Fire up the barbecue, it's time for some pineapple grilling.
Pineapple is especially nutritious and has many health benefits. According to the BBC, pineapple supports immunity and aids digestion. There is even research by registered dieticians to prove that pineapple is anti-inflammatory. That means your skin and pains & aches will thank you!
You really can't go wrong with a pineapple recipe for your annual Father's Day grill. Plus, pineapple can be added to various types of cuisine, which we'll dive into next.
Pineapple Grilled Chicken
Let's start off with a simple recipe that is sure to WOW your guests. This filling entrée from The Clean Eating Couple gets an A+ from us.
Ingredients
2 lbs boneless, skinless chicken breasts pounded and thin cut
1 8 oz can pineapple rings drained–set juice aside
1/4 cup canned pineapple juice
1/4 cup Hawaiian barbeque sauce
2 tablespoon low sodium soy sauce
1 tablespoon olive oil
1/3 cup brown sugar
1/2 teaspoon garlic powder
1/2 teaspoon red pepper flakes
1/2 teaspoon onion powder
Instructions
Heat grill to medium-high heat.
In a large bowl, mix pineapple juice, barbecue sauce, low sodium soy sauce, olive oil, brown sugar, garlic powder, red pepper flakes, and onion powder to make a marinade.
Set ¼ cup of your marinade mixture aside for basting the chicken before serving.
Place your chicken and pineapple rings into your marinade and let sit covered in a refrigerator for 10-20 minutes. Do not marinate for more than 20 minutes. Pineapple juice can break down chicken.
Grill marinated pineapple rings and chicken breasts for about 4-5 minutes on each side, making sure that they all reach an internal temperature of 165 degrees.
Serve hot with extra marinade and optional green onion garnish.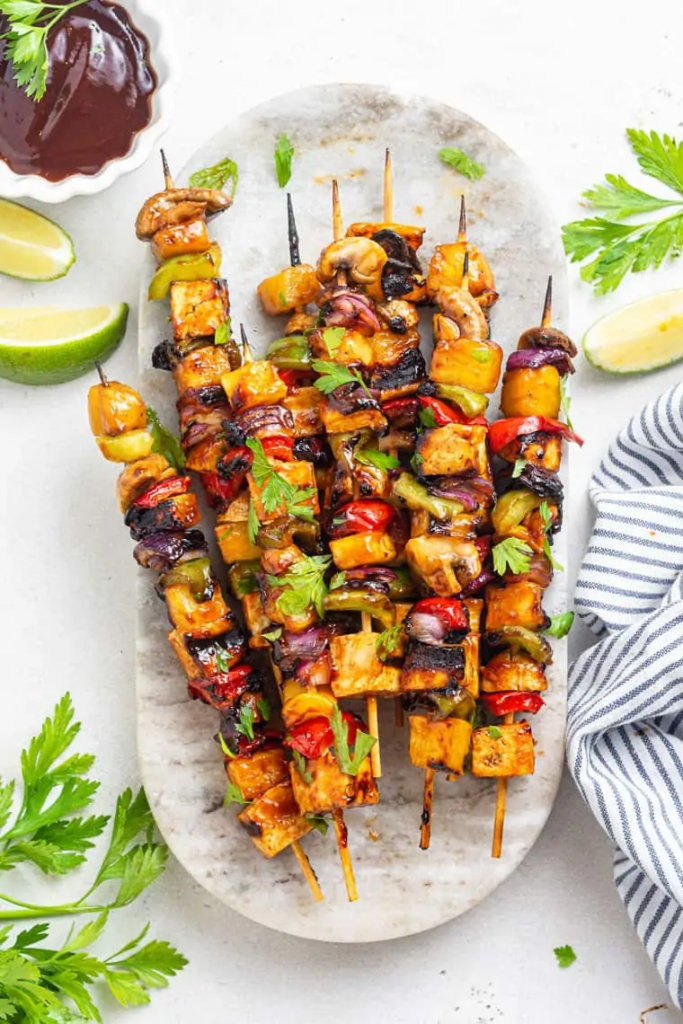 Grilled Pineapple and Tofu Kebabs
This recipe from Simply Quinoa is made vegetarian-friendly by replacing meat with firm tofu. You can pair it with some yummy barbecue sauce as well.
Ingredients
1 block extra firm tofu
2 cups fresh pineapple
1 orange bell pepper
1 yellow bell pepper
1 green bell pepper
1 package mushrooms
1 red onion
1 cup vegan BBQ sauce
Fresh parsley to garnish
Instructions
Start by pressing the tofu for about 15 minutes. Place the tofu on a paper towel-lined plate, cover the tofu with another paper towel and put something heavy on top of it (a cookbook works well). Set aside.
While the tofu is pressing, cut the pineapple, peppers and onions into 1″ pieces, and remove the stems from the mushrooms.
Once the tofu is done, cut that into 1″ pieces as well.
Skewers the pineapple, tofu and veggies onto metal skewers and place the skewers on a baking sheet.
Cover the skewers with a layer of sauce on all sides.
Turn the grill on medium heat and grill the skewers for about 10 minutes, flipping halfway through. After you've flipped, brush with another layer of sauce.
Remove the skewers from the grill and brush with any remaining sauce. Sprinkle with a garnish of fresh parsley and serve immediately.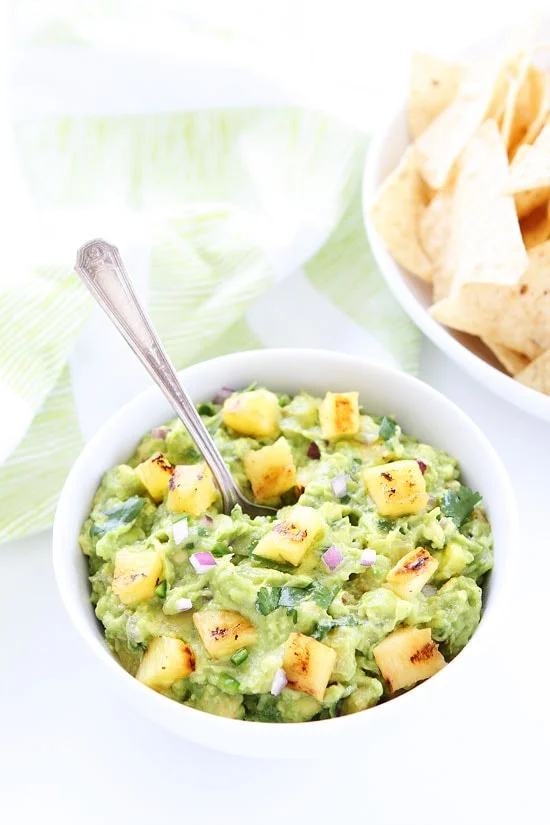 Grilled Pineapple Guacamole
This guacamole is a stand-out recipe with its infusion of delicious pineapple. Guac-lovers unite! Thanks to Two Peas and Their Pod for spicing up our next Taco Tuesday.
Ingredients
1/2 pineapple cored and cut into spears
Olive oil for brushing pineapple
3 large ripe avocados peeled and pitted
1/3 cup finely diced red onion
1/3 cup chopped cilantro
1 small jalapeño pepper seeds removed and finely diced
Juice of 1 lime
Salt and black pepper to taste
Instructions
Preheat grill to medium-high heat.
Brush pineapple spears with olive oil. Place spears on hot grill and grill until pineapple is browned and juicy, turning occasionally so all sides are grilled. Remove grill and set aside to cool to room temperature.
When the pineapple is cool, chop into small pieces.
In a large bowl, combine the avocado flesh, red onion, cilantro, jalapeño, and lime juice. Mash together with a fork until desired consistency is reached. Gently stir in the grilled pineapple. Season with salt and black pepper, to taste. Serve immediately with tortilla chips.
Stay Connected with Chestnut Hill FarmsIf you want more fun and easy recipes delivered straight to your inbox then sign up for our newsletter!