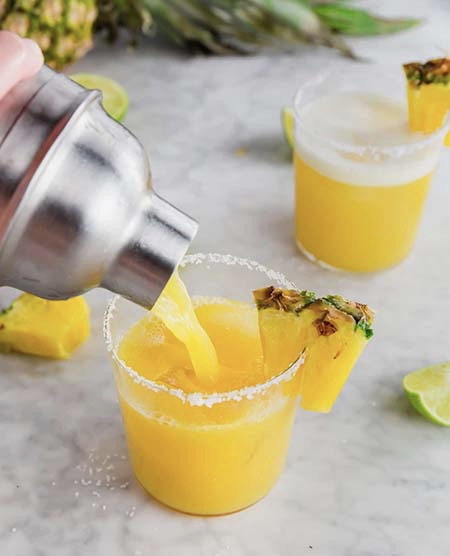 Celebrate National Margarita Day on February 22nd with this Five-Ingredient Cocktail.
Cheers to National Margarita Day! Margaritas are the perfect cocktail to be enjoyed all-year-round, not just in the warm summer months. With all kinds of flavors to choose from, our favorite is a Classic Pineapple Margarita. We can't wait to celebrate and mix up one of these.
Made with only 5 ingredients this cocktail is perfect to whip up after work and pair with some delicious pineapple guacamole or tacos al pastor, or to simply toast the weekend! Adding Tajin to the salt-rim brings this classic margarita up a notch with a little spice. We like to add a slice of one of our fresh pineapples to the side of the glass for an extra-sweet garnish. It's also a great snack for when you finish sipping on your refreshing marg! Make it classic on the rocks or blend with some ice to create an icy masterpiece. 
Ingredients:
4 cups ice cubes
6 ounces pineapple juice
3 ounces tequila
2 ounces orange liqeur
2 ounces lime juice
3 tablespoons salt
Tajin
Fresh pineapple
Instructions:
Start by riming your glass with salt and Tajin to pair with this sweet drink. On a small plate, pour salt and Tajin mixed together. Run a lime around the rim of your glass and then roll the rim in the mixture. Creating a beautiful vessel for your margarita.
In a shaker add fresh pineapple chunks, muddle until the pineapple comes to a thick pulp.
In the same shaker, add ice, pineapple juice, tequila, orange liqeur and lime juice.
Shake for 10-15 seconds and pour into salt and Tajin-rimmed glass.
Garnish with lime and pineapple wedge, Enjoy!
Recipe adapted from A Dash of Megnut.
---
Don't forget to snap a photo of your delicious cocktail and tag us on Instagram @chestnuthillfarms.
To discover more delicious ways to enjoy Chestnut Hill Farms pineapple, sign up for our newsletter!