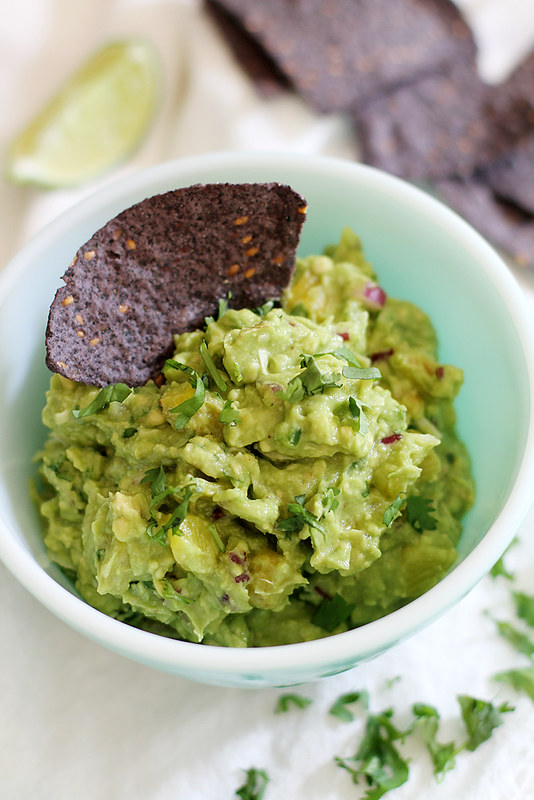 4 Pineapple Recipes to Get the Fiesta Started This May
It's nearly May, which means Cinco de Mayo is quickly approaching! Although we can't celebrate the holiday at our favorite Mexican restaurants right now, there's no excuse not to throw a party at home. Whip up some of our favorite tropical treats, schedule a Skype session with your friends and family, and play some great music for the perfect, quarantine-friendly fiesta.
Pineapple Empanadas
If you're craving the perfect combination of sweet and tart, look no further than these empanadas de piña, which feature a filling made of fresh Costa Rican pineapple. With warm spices like cinnamon and anise, these treats are both delicious and comforting and will keep you coming back for more – even after Cinco de Mayo is over.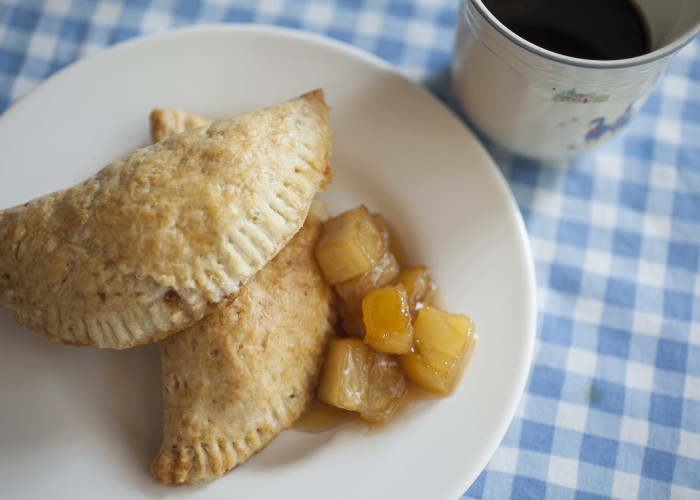 Ingredients:
For the Dough:
3 1/2 cups flour
1 1/4 cups shortening
1/2 cup sugar, plus 1/2 cup for dusting empanadas
1 tsp baking powder
1/2 tsp anise seeds
2 tbsp ground cinnamon, for dusting
1 cinnamon stick
1 tsp salt
1/2 cup water
For the Pineapple Filling:
2 cups Chestnut Hill Farms pineapple, finely chopped
3/4 cup piloncillo or dark brown sugar
1 1/2 tbsp cornstarch
2 tbsp lemon juice
¼ cup cold water
Directions:
Combine anise seeds, cinnamon stick, and 1/2 cup of water. Steep in the microwave for 1 1/2 minutes, strain to keep liquid, and set aside.
Melt shortening in a microwave safe bowl. Add the liquid you just strained and gently stir.
In another bowl, combine dry ingredients and gradually add flour mixture to wet ingredients. If the dough is sticky, add a bit more flour. Cover the dough with plastic wrap and let rest.
While the dough is resting, make filling. In a large nonstick skillet, add fresh pineapple. Heat on medium. Mix the brown sugar with 2 tbsp lemon juice and pour over pineapple. Lower heat and cook for 20 to 25 minutes, until most of the liquid is absorbed.
In a small bowl, mix 1 tbsp cornstarch with 1/4 cup of cold water and whisk, making sure there are no lumps. Add this slurry to the cooking pineapple, stir well and often so it does not burn. Cook for another 5 to 7 minutes. Let the filling cool.
When the filling is cool and the dough has rested, form 20 to 24 1 1/2 inch dough balls and set aside. Preheat oven to 375 degrees F.
Take one dough ball at a time and press in tortilla press lined with wax paper to make a flat circular-shaped dough. Fill with 1 1/2 to 2 tbsp of filling.
Fold the dough over the filling and seal the empanada. Using a fork, or your fingers, press edges together to seal.
Transfer empanadas to a parchment-lined baking sheet and bake for 30 minutes or until golden brown.
In a small bowl, combine 1 cup sugar with 2 tbsp of ground cinnamon. While still slightly warm, roll empanadas in a cinnamon-sugar mixture to cover.
Grilled Pineapple Coconut Guacamole
While we're big fans of classic guacamole, we also can't turn down the chance to give it a tropical twist. This dip gets some extra flavor from jalapeno, coconut, and sweet grilled pineapple. With this around, you might not even need an entrée – just plenty of chips.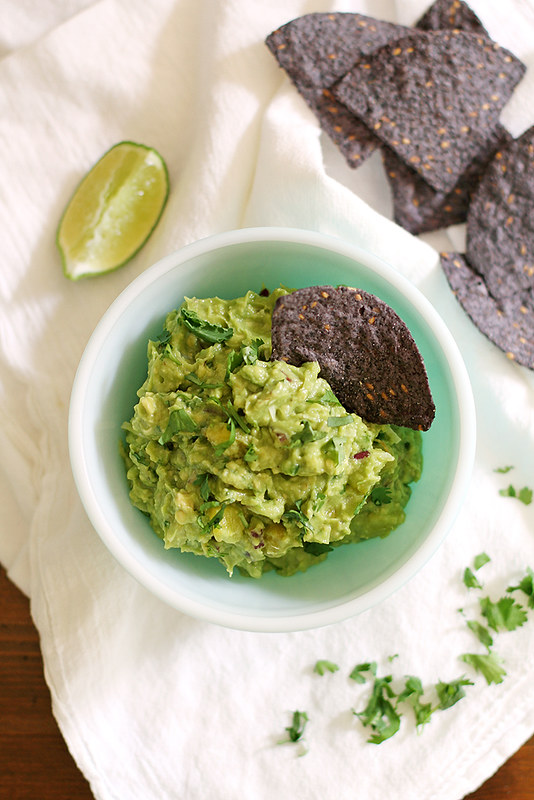 Ingredients:
2 large ripe avocados, mashed
1/2 cup diced grilled Chestnut Hill Farms pineapple
1/4 cup diced red onion
2 tbsp sweetened coconut flakes
1 tbsp chopped fresh cilantro
1/2 jalapeno pepper, seeded and diced
2 tbsp light coconut milk
1 tbsp lime juice
Salt and pepper, to taste
Directions:
Stir all ingredients in a bowl until combined. Adjust ingredients to taste.
Serve with tortilla chips. Enjoy!
Tacos al Pastor
While the pork for tacos al pastor is usually cooked over a trompo, or vertical rotisserie, this recipe uses a grill on low heat to create a similar effect without needing special equipment. The pork is marinated in a dressing full of chiles, garlic, vinegar, and pineapple for several hours, then grilled slowly to bring out all the delicious flavors. With a tropical salsa on top, these tacos are truly irresistible and perfect for a Cinco de Mayo celebration.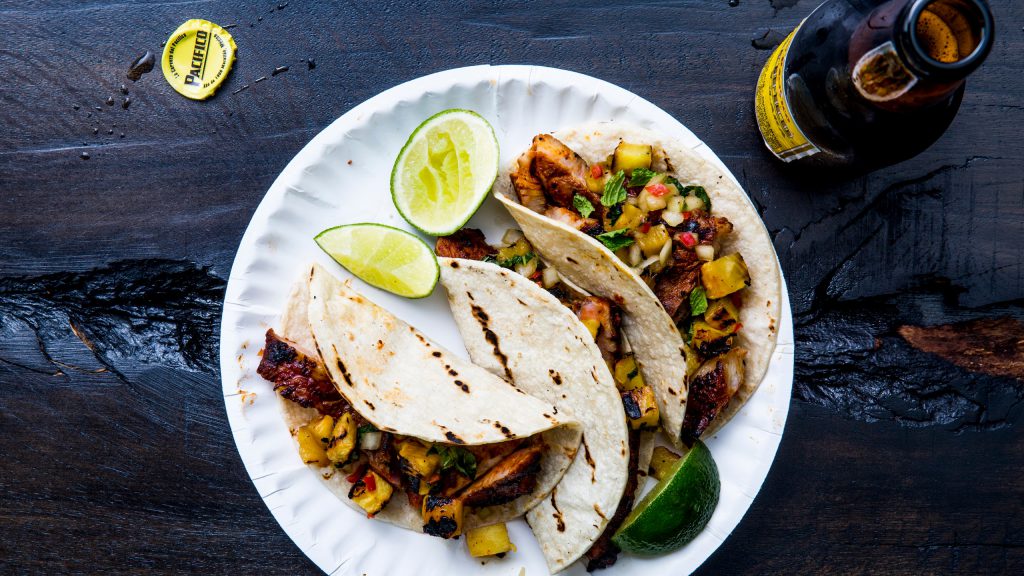 Ingredients:
10 guajillo chiles, seeds removed
2 chiles de arbol
3 pounds boneless pork shoulder, sliced 3/4" thick
8 garlic cloves, peeled
1 cup distilled white vinegar
1/4 cup sugar
3 tbsp prepared or fresh achiote paste
3 oz kosher salt, plus more
1 Chestnut Hill Farms pineapple, peeled, cored, cut into 1/2" rings, divided
1 medium onion, finely chopped, divided
2 red habanero chiles, seeds removed, finely chopped
1/4 cup fresh mint, chopped
3 tbsp fresh lime juice
16 corn tortillas
Lime wedges, for serving
Directions:
Bring guajillo chiles, chiles de arbol, and 2 cups of water to a boil in a medium saucepan over medium-high heat. Cover, remove from heat, and let sit 30 minutes to let chiles soften.
Place pork in a large bowl. Puree chiles and soaking liquid, garlic, vinegar, sugar, achiote paste, 3oz salt, half of the pineapple, and half of the onion in a blender until smooth, about 2 minutes. Pour over pork, stirring to coat thoroughly. Cover and chill 3-12 hours.
If using a gas grill or grill pan, prepare for medium-high heat; if using a charcoal grill, prepare for two zones of heat, medium-high and low. Grill remaining pineapple over medium-high heat, turning once, until charred, 6-8 minutes. Finely chop pineapple and combine with habanero chiles, mint, lime juice, and remaining onion in a small bowl. Season with salt, cover, and chill until ready to use.
If using gas grill or grill pan, reduce heat to low; if using charcoal grill, use low-zone heat. Remove pork from marinade and grill until marinade on pork has dried and begins to caramelize and char, about 12 minutes per side. Transfer to a cutting board and let pork rest 10 minutes.
Grill tortillas until soft and beginning to char, about 30 seconds per side. Slice pork against the grain into 1/4" strips. Top each tortilla with a few pieces of pork and some pineapple salsa. Serve with lime wedges for squeezing over.
Cucumber, Pineapple, & Tajin Popsicles
Cool off from the heat of your tacos with these frosty paletas featuring pineapple and Tajin. This Mexican spice blend is the perfect blend of chilis, salt, and lime, and pairs perfectly with tropical fruits. While we're big fans of Tajin sprinkled on top of fresh pineapple for a simple treat, the seasoning also welcomes more creative uses, like in popsicles. This recipe is fun to make with kids and only uses two tablespoons of added sugar, so you can enjoy as many as you'd like for Cinco de Mayo.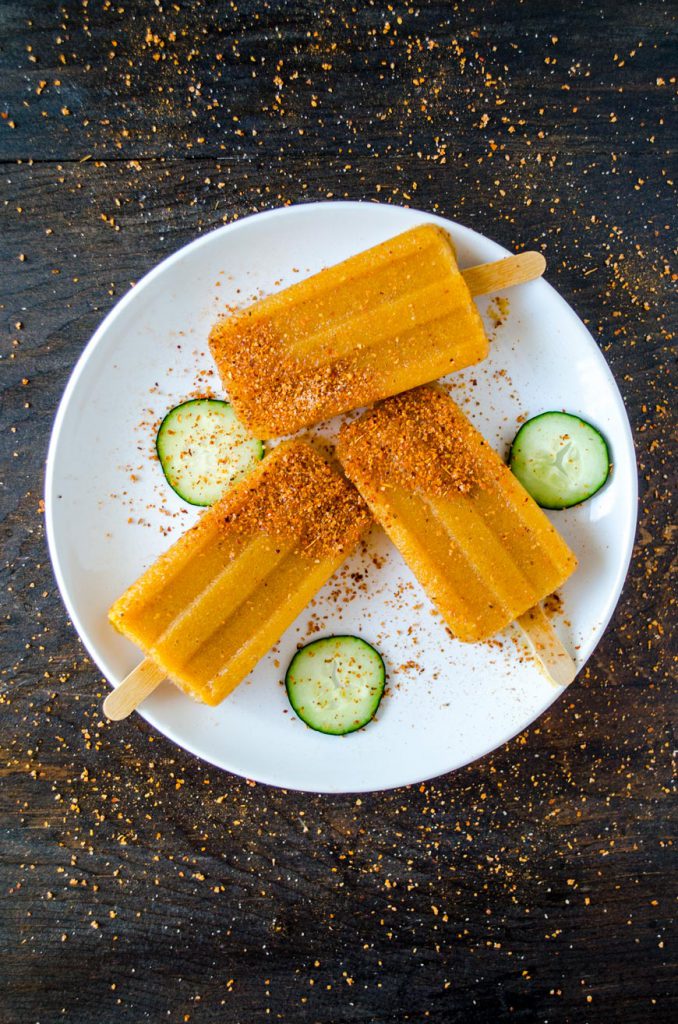 Ingredients:
2 3/4 cup cubed cucumber, peeled and deseeded
1 cup cubed Chestnut Hill Farms pineapple
2 tbsp sugar, or your favorite sweetener
2 tbsp lime juice
2 tbsp Tajin
Directions:
Place all ingredients in the blender, and process until smooth.
Pour into your molds, snap on the lids, and freeze for at least 5 hours.
After unmolding the popsicles, sprinkle them with some more chile powder and enjoy!
---
If you throw a tropical fiesta this May, don't forget to snap a photo and tag us on Instagram @chestnuthillfarms. We can't wait to see what tasty pineapple treats you make!
To discover more delicious ways to enjoy Chestnut Hill Farms pineapple, sign up for our newsletter!
---