A Tropical Fiesta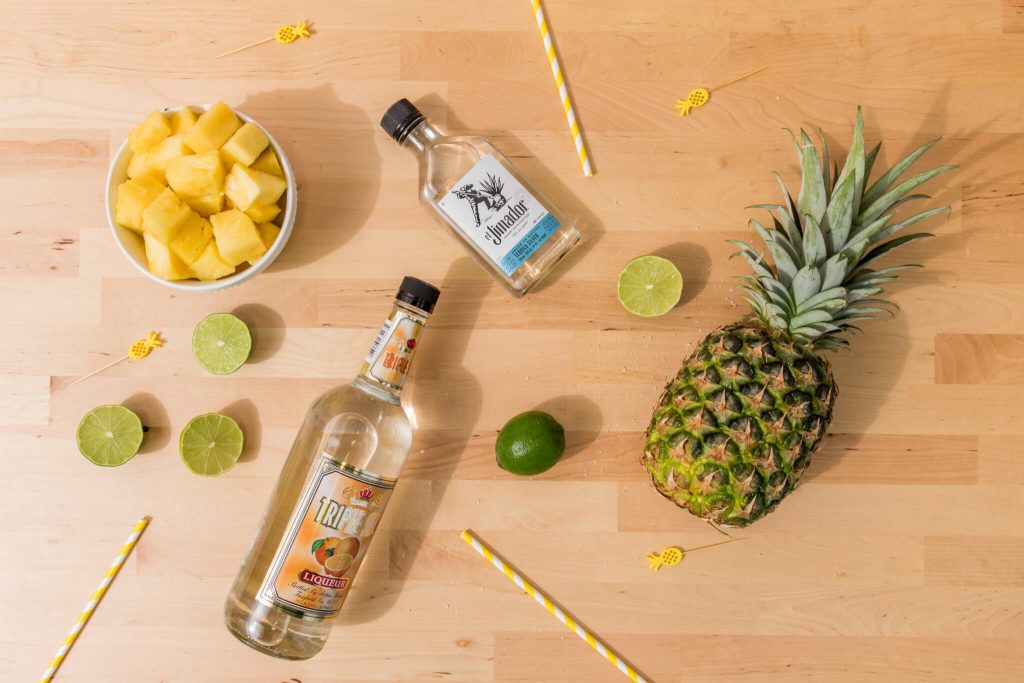 Cinco de Mayo is on the horizon and we are ready to party! Prepare for weekend fiestas with this recipe round-up fit for a festive crowd. We've taken classic Mexican treats and added a tropical summer twist of fresh pineapple. Delight your guests with a Cinco de Mayo celebration, pineapple style.
Fresh Pineapple Margarita
A tropical twist on the iconic Mexican cocktail, this Fresh Margarita will soon be your Cinco de Mayo pineapple favorite. Freshly blended pineapple pairs perfectly with hand-squeezed citrus for a refreshing way to start a party.
Ingredients 
1 cup fresh Chestnut Hill Farms pineapple chunks
1-ounce fresh-squeezed lime juice
1-ounce fresh squeezed orange juice
3 tablespoons superfine sugar
2 ounces tequila
1 ½ ounces orange liqueur
Ice
1 tablespoon kosher salt
1 tablespoon coarse sugar
Lime wedges and pineapple chunks for garnish
Directions 
Blend the pineapple chunks into a smooth puree. Pour the pineapple puree into a pitcher with the lime juice, orange juice, sugar, tequila and orange liqueur.
Add 1 cup of ice into the pitcher and stir the mixture vigorously for one minute until chilled.
Squeeze lime juice onto a plate and spread an equal mixture of salt and sugar onto another plate. Prepare the margarita glasses by dipping the rims into the lime juice and then into the salt/sugar.
Fill the glasses with ice and strain the margarita mixture over the ice. Garnish with lime and pineapple if desired. Enjoy!
Fresh Pineapple Salsa
Sweet, tangy, refreshing- this Pineapple Salsa has it all. Freshen up a classic Cinco de Mayo appetizer with tropical pineapple salsa. Serve it up in a pineapple bowl for bright colors and bright flavors on your fiesta table.
Ingredients 
1 whole Chestnut Hill Farms pineapple
1 cup diced bell peppers
1 cup diced Roma tomatoes
1/3 cup chopped cilantro
¼ cup minced red onion
4 tablespoons lime juice
¼ teaspoon black pepper
1/8 teaspoon salt
Optional: 1 tablespoon diced jalapenos
Directions
To make the pineapple serving bowl, cut about 1/3 of the pineapple off lengthwise, leaving the stem attached to the larger 2/3rds of the pineapple.
Cut around the edge of the exposed pineapple fruit to trace the outline of the bowl. Make cuts across the middle in a crosshatch pattern. Use a metal spoon to loosen and scoop out the pineapple chunks. Pour any extra juice out of the pineapple.
Dice enough of the pineapple chunks to make one cup of diced pineapple to be used for the salsa. Set any extras aside for another use.
In a small bowl, mix together diced pineapple, diced tomatoes, diced peppers, minced onions, chopped cilantro, lime juice, salt and pepper. Add jalapenos, if desired.
Transfer the salsa to the pineapple bowl for serving.
Serve with lime-infused tortilla chips for an added festive kick! Enjoy!
Pineapple & Tajin
This deceptively simple finger food packs enough zing to get the party started. Pineapple, meet Tajin. Tajin, meet pineapple. While we are on formal introductions, what exactly is Tajin? This Mexican seasoning mix combines ground red chilies, sea salt and dehydrated lime juice (and zero artificial flavorings!). It adds a chili-lime kick to every food it meets, instantly inspiring the flavors of Mexican cuisine.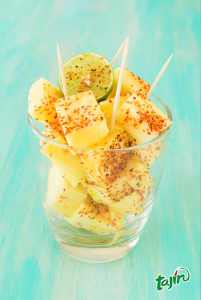 Ingredients
Chestnut Hill Farms Pineapple
Tajin seasoning
Tooth Picks
Directions
Chop up the Chestnut Hill Farms Pineapple into roughly 1-inch cubes. Need help cutting a pineapple? Check out our tutorial.
Lay pineapple cubes out on a sheet pan in one layer and sprinkle with Tajin to taste.
Insert a toothpick into each piece for an easy Cinco de Mayo pineapple appetizer. Enjoy!