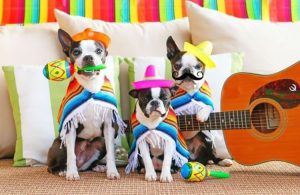 Cinco de Mayo is a celebration that has become widely popular across mainstream America and certain parts of the world. According to the History Channel, Cinco de Mayo, or the fifth of May, is a holiday that celebrates the date of the Mexican army's 1862 victory over France at the Battle of Puebla during the Franco-Mexican War.
This day is actually a minor holiday in Mexico, while in the U.S. it has evolved into a commemoration of Mexican heritage, especially within areas of Mexican-American populations. Celebrate the 5th of May with us no matter where you are with these delicious recipes below!
Pineapple Margarita:
Ingredients:
• 2 cups lime juice, about 20 limes
• 2 cups white tequila
• 2 cups Triple Sec
•  1 Chestnut Hill Farms pineapple
Directions:
Cut the pineapple into cubes and muddle to create juicy pulp. Combine the lime juice, tequila, Triple Sec, and freshly muddled pineapple juice. Fill a cocktail shaker 1/2-way with ice and fill 2/3 full with the margarita mixture. Shake for 30 seconds and pour into glasses. Decorate with fresh pineapple slices and serve ice cold.
Easy Pineapple Salsa:
Ingredients
• 1 Chestnut Hill Farms pineapple cut and diced
• 10 Roma tomatoes cored and diced
• 1 bunch cilantro finely chopped, about 1 cup
• 1 cup red onion finely chopped
• 3-4 jalapeno peppers seeded and finely chopped (about ½ cup or more to taste)
• 2 tablespoons fresh lime juice from 2 limes
• Salt and freshly ground black pepper
• Hot pepper sauce to taste, optional
• Tortilla chips for serving
Directions:
1. In a large bowl, combine pineapple, tomatoes, cilantro, red onion, and jalapenos. Add lime juice and toss to coat.
2. Season to taste with salt, pepper, and hot pepper sauce, if using. Allow flavors to blend at room temperature for 30 minutes, or chill until serving time. Serve with tortilla chips.
Original recipes from Culinary Hill & Food Network.