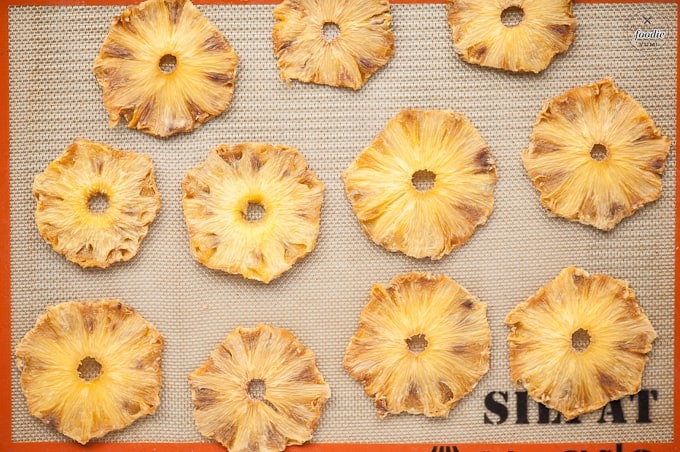 Looking for a sweet treat that won't play health tricks on you this fall? Make your own chewy dried pineapple treat! You and your kids can enjoy it as a snack on its own or part of a trail mix. Dried pineapple is a simple, flavorful way to take in all of the anti-inflammatory, immunity-boosting and pain-relieving properties that our favorite tropical fruit has to offer. And the good news: you don't need any fancy equipment to make it! All you need is an oven, a knife and a fresh Chestnut Hill Farms pineapple to make this delicious and nutritious fall-time treat on your own!
DIY Dried Pineapple Treat
This nutritious recipe only has one key ingredient: a Chestnut Hills Farm pineapple! With minimal prep, this healthy treat is a no-brainer in the kitchen. Simply prepare your pineapple, set your slices on a baking sheet and let them roast in the oven.
Ingredients
1 Chestnut Hill Farms Pineapple
Directions
Preheat oven to 175° F and line large baking sheet with parchment paper or a silicone baking mat.
Using a serrated edge knife, cut off the top, bottom and sides of pineapple.
Using a paring knife, remove any remaining eyes.
Lay the pineapple on its side and slice it into ¼ inch rounds.
Using a paring knife or round frosting tip, remove the hard core center.
Lay pineapple rings in a single layer on baking sheet.
Dry pineapple rings in oven for 8 hours, flipping them every 2 hours.
Store in airtight container.
Dried pineapple stays fresh and chewy for 2-4 weeks, so it is the perfect treat to carry you into the fall!
Join our newsletter for more pineapple recipes and tips!
Recipe sourced from Self-Proclaimed Foodies