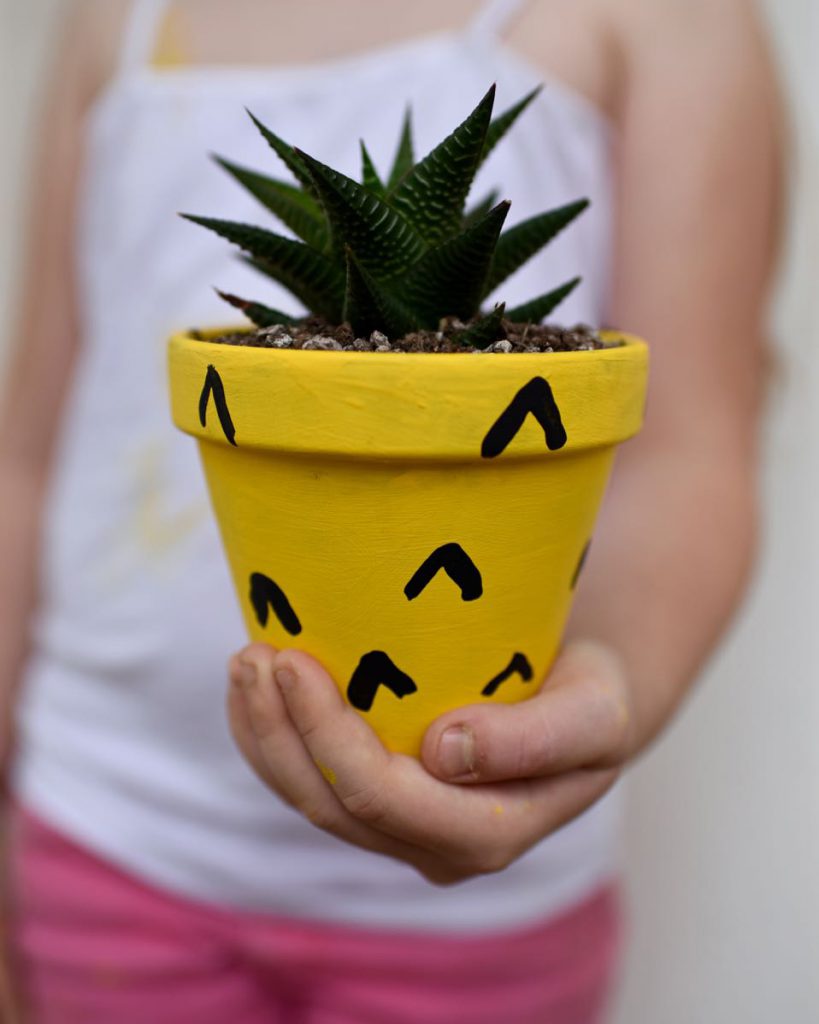 Keep Learning Sweet with Pineapple DIYs and Crafts
Forget not playing with your food – it's time to get creative! With more kids learning from home this school year, it can be challenging to keep education exciting. Crafts featuring food are a creative, hands-on way to make school fun – and delicious! – and to keep your kids engaged. Whether used as part of a daily lesson plan or enjoyed as an after-school activity, these projects are sure to sweeten your day. Check out four of our favorite kid-friendly pineapple crafts, plus a delicious after-school snack, below.
Pineapple Painted Pot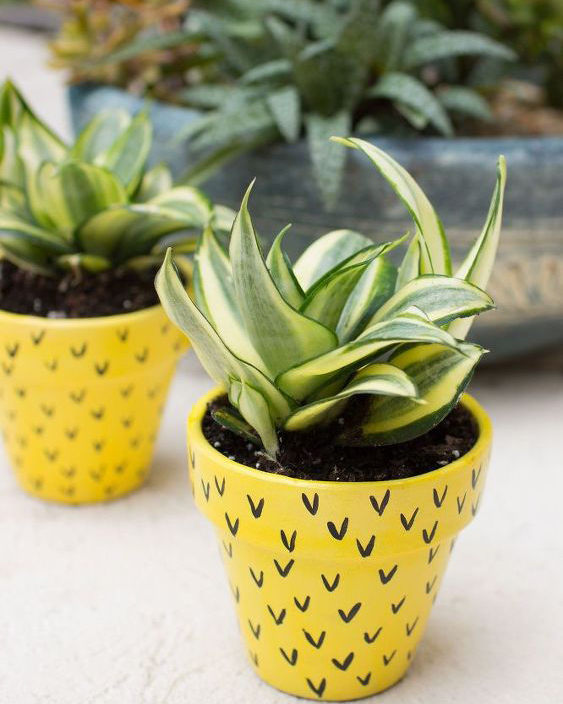 Brighten your home with an adorable pineapple planter. Transforming a flowerpot into a sweet fruit is easy and fun to do with your kids! Even better? It's the perfect place to plant a pineapple crown for a free and sustainable houseplant. Kids are sure to love watching their new green pal grow.
Materials
Flowerpot
Yellow Acrylic Paint
Green Acrylic paint
Black marker
Instructions
Paint the flowerpot yellow. You may need 2-3 coats for this to make sure the color is completely opaque.
Paint the top of the pot green, if desired.
Use the black marker to add little "V" signs or diagonal lines across and around the pot.
Add soil to your pot and plant a succulent of your choice to act as the pineapple's leaves.
Pineapple Gelatin Science Experiment
Calling all young food scientists! This experiment is simple and fun, and teaches kids all about the power of bromelain. With just some gelatin and pineapple chunks, you can see firsthand how the enzyme prevents gelatin from setting firmly. Even better, this lesson can be adapted by age group – feel free to expand on the science behind it for older kids, or simply let younger ones compare the outcomes with and without pineapple.
Materials
Fresh Chestnut Hill Farms pineapple
2 bowls
Measuring cup
Kettle
Water
Spoon
Two quarters
2 containers of gelatin
Instructions
Mix the gelatin powder with warm or hot water according to the package's instructions.
Pour an equal amount of gelatin into each of the two bowls.
Add ten small chunks of fresh pineapple to one bowl. Keep the other bowl plain.
Put both bowls of gelatin in the refrigerator to set, and wait for several hours. Create a hypothesis, your best guess about what is going to happen. Do you think that the presence of pineapple will change the way the gelatin sets? Why?
After three or four hours, take the gelatin out of the fridge. What happened to it?
Compare the two bowls of gelatin. Place a quarter on top of each bowl, and wiggle the bowls. What happens to the quarter?
For more details and the scientific explanation behind the results, find the full lesson plan here.
Pineapple Bead Keychain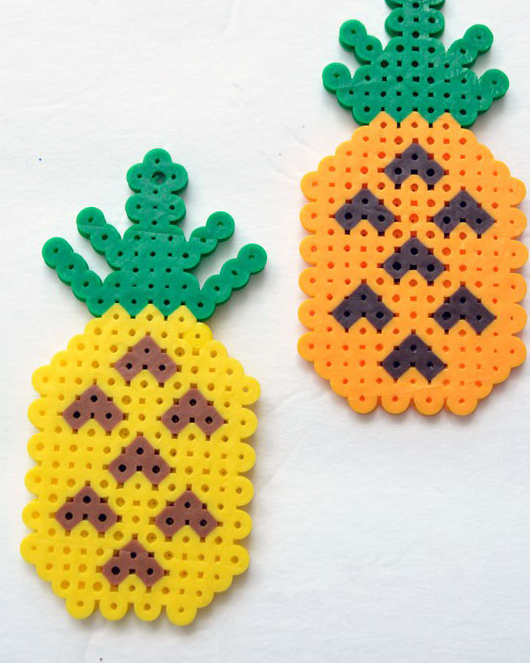 A tropical fruit on a small keychain is the perfect summertime reminder and organizer. Customize the beads anyway you want and add some unique summertime shine to an accessory or backpack. Bonus points if you snack on some pineapple while getting creative!
Materials
Perler beads
Hexagon Pegboard
Ironing Paper
Tweezers
Iron
Pineapple Template Printable
Instructions
Lay out your hexagon pegboard and use tweezers to place a row of six of yellow beads towards the bottom of the hexagon.
Add green beads to the top of pineapple.
Add brown beads to form three triangle points inside the pineapple.
Fill the remaining area with yellow beads to complete your pineapple.
Lay out a piece of iron paper and place the iron on top for about 20-30 seconds.
Lay another piece of iron paper on the opposite side and iron for 20-30 seconds.
Let cool and then carefully poke a hole through the top beads of your pineapple and slide your keychain loop through.
Pineapple Boat Fruit Salad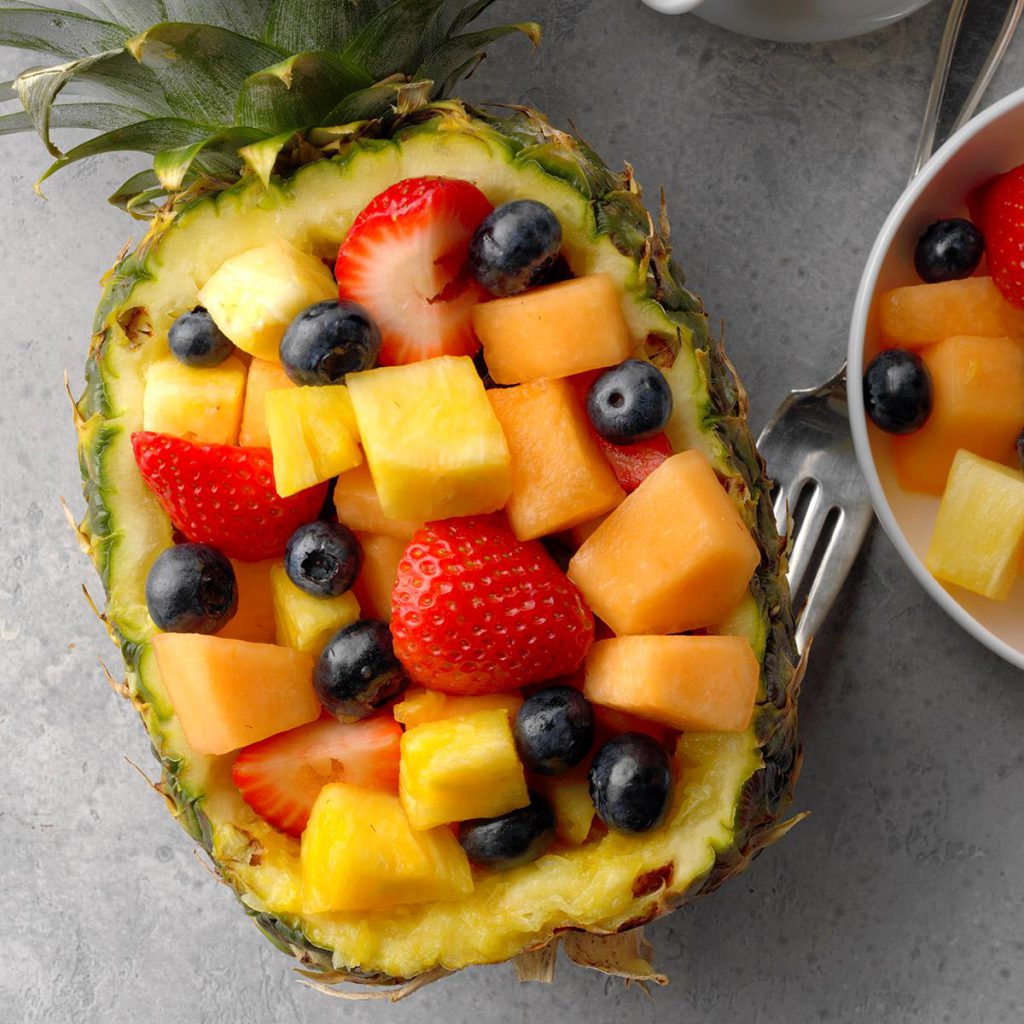 Fruit salad isn't just delicious – it's also a great way to get kids involved in the kitchen. Invite your kids to help scoop cantaloupe balls, safely slice off the tops of strawberries, or use cookie cutters to make fun shapes out of pineapple. Your little chefs can take charge when it comes to what fruits they want to mix together. Of course, serving the salad inside a hollowed-out pineapple bowl makes it extra special.
Ingredients
1 Chestnut Hill Farms pineapple
Cantaloupe
Strawberries
Blueberries
Lime juice
Instructions
Cut one third of the pineapple on one side, leaving the top attached.
Remove the pineapple cubes and place into a bowl.
Add the cantaloupe, strawberries, blueberries and lime juice to a bowl.
Toss to coat and add to the pineapple shell.
P.S. For more fun pineapple projects, be sure to check out our kid-friendly pineapple crafts blog.
---
Sign up for our Chestnut Hill Farms newsletter for more pineapple recipes and crafts!
---