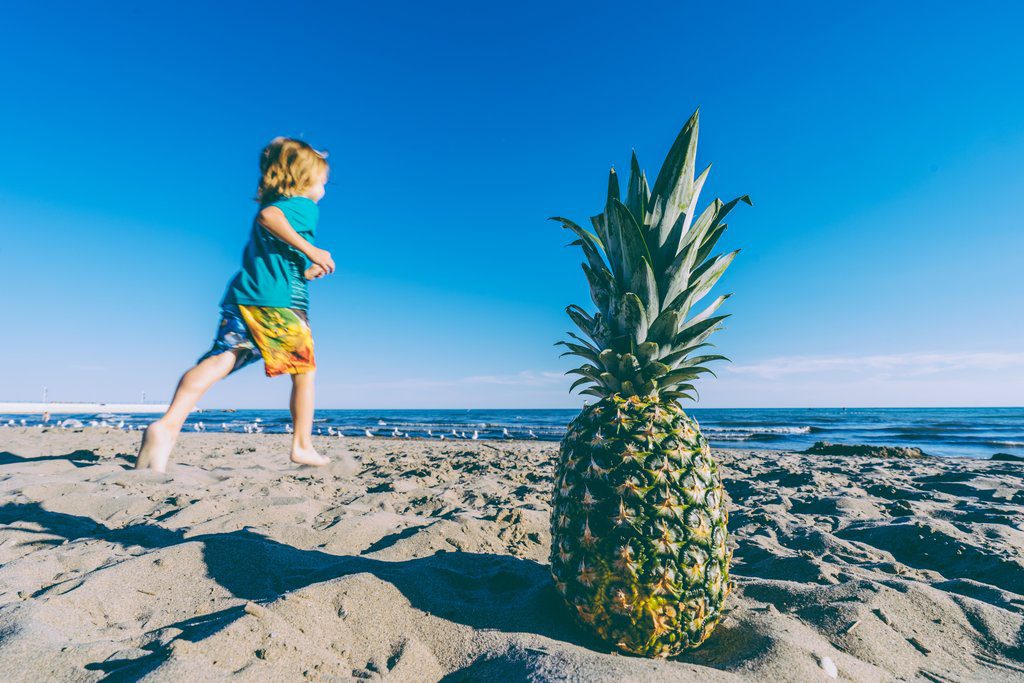 Give busy little hands a fun and fruity project with these kid-friendly pineapple crafts. Perfect for after school or to mix-up a weekend afternoon, we've rounded up crafts inspired by the queen fruit to try out this back-to-school season. Your little one will be proud of their tropical creation! Pair these fun activities with sweet pineapple snacks for a guaranteed fun time.
P is for Pineapple Handprint Art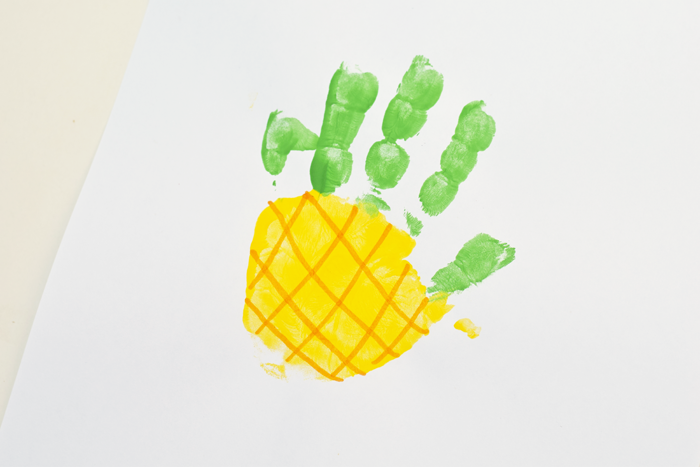 Craft and photo sourced from It Happens in a Blink.
Combine learning and fun with a P is for Pineapple work of art. Just the right amount of messy, kids will love creating these crafty pineapple paint handprints!
Materials
White paper
Yellow and green paint
Paintbrushes
Orange marker
Instructions
Apply a thick coat of yellow paint to the palm of your kiddos hand.
Next, apply green paint to all five fingers of the same hand.
Lay the painted hand face-down in the center of the paper. Apply gentle pressure, then lift up. Let the painting dry completely.
Once the paint is dry, use the orange marker to draw diagonal lines both directions on the dried yellow paint to create a pineapple pattern.
DIY Pineapple Night Light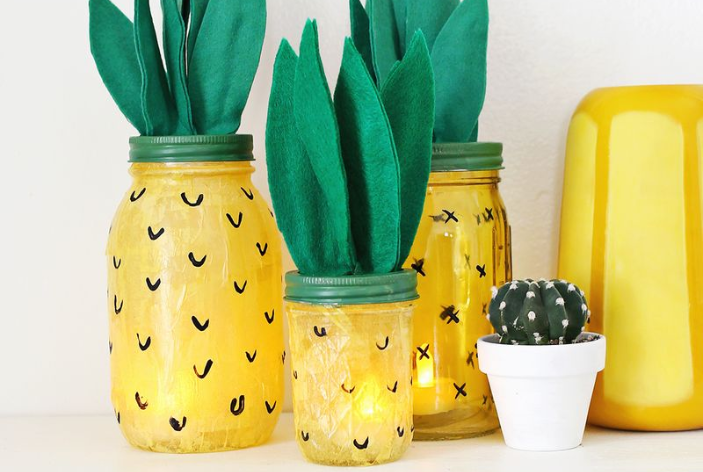 Craft and photo sourced from A Beautiful Mess.
Are your little ones afraid of the dark? This DIY Pineapple Night Light is so cute, all spooky thoughts will vanish when it lights the room with its tropical glow. While these pineapple crafts involve some adult supervision, kids will love the opportunity to help craft their own night light.
Materials
Mason jar
Yellow tissue paper
Gloss finish Mod Podge
Black and green acrylic craft paint
Paintbrushes
Scissors
Green felt
Pipe cleaners (any color)
Battery operated tea lights
Glue gun
Instructions
Cut the tissue paper into small squares
Use Mod Podge to adhere the tissue to the outside of the mason jar, covering it completely. Allow to dry.
Add pineapple texture details with black paint.
Cut leaves from the felt and hot glue them to the lid.
Paint the lid green.
Insert battery-operated tea light and close the jar.
Pineapple Necklace Craft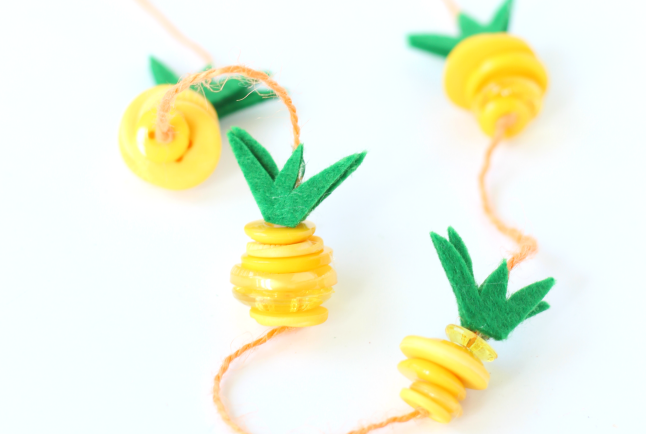 Craft and photo sourced from Raising Whasians.
Cute, bright and kid-friendly, this DIY necklace comes together in a snap. Continuing the trend of easy pineapple crafts, all you need for this creation are a few simple supplies and a kiddo who loves to accessorize.
Materials
Twine, any color
Yellow buttons – a mix of fun shapes and shades
Green felt
Scissors
Hot glue
Instructions
Measure out the twine to a length that will slip on and off your child's head easily once it is tied as a necklace.
Begin by threading six to seven buttons onto the twine to form a pineapple shape. Push the buttons together and towards the bottom of the length of twine. Tie a knot immediately above and below to hold the stack together.
Repeat the threading process, leaving a few inches in between each stack of buttons.
Once you have enough twine decorated with buttons to form the length of the necklace, tie the ends together.
Cut out small pieces of green felt to create the spikey pineapple crowns, two for each button pineapple. Glue the felt to the top of each pineapple, one piece for each side of the string. Allow to dry.
Sign up for our Chestnut Hills Farms newsletter for more fun pineapple crafts and recipes!