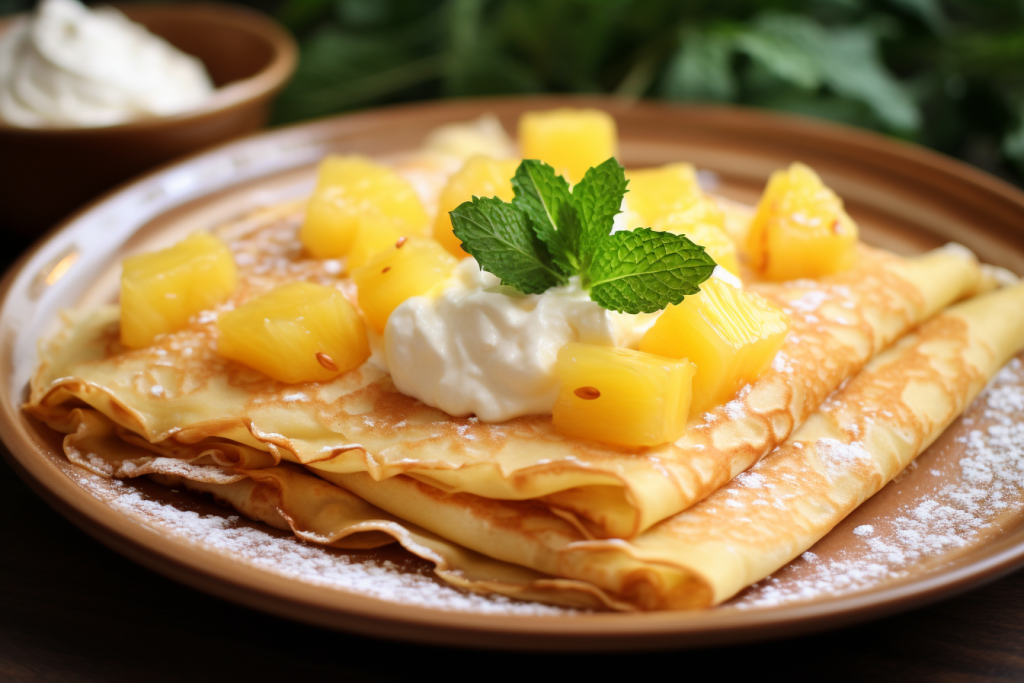 Mornings Redefined: Pineapple Crepes for Breakfast
Rise and shine, it's officially the weekend! You woke up wanting a delicious breakfast but, more importantly, a breakfast that includes pineapples. You thought about cutting up a pineapple and eating it on the side with some cereal, but that wouldn't satisfy your sweet craving. Instead, you decide to fix some pineapple caramel crepes. This pineapple caramel crepe recipe is everything you could want and more! 
Forget your traditional breakfast routine and leave the cereal behind. You remember you have the Perfect Pineapple you have been waiting to ripen, and what better way to enjoy than pineapple crepes? Join us as we take your breakfast from ordinary to extraordinary by exploring the history of crepes and unlocking the secrets behind making the best pineapple crepes!
What Are Crepes? 
We've got the breakfast-time treat for you if you're tired of thick, weighty pancakes: crepes!  A crepe can be sweet or savory, depending on your mood. Crepes can be filled with mushrooms, eggs, spinach, or pineapples; the opportunities are endless. There are variations of the type of batter used to make crepes. You can use buckwheat flour or make batter from scratch with flour, eggs, milk, and butter. Plus, adding vanilla extract enhances the flavors if you're making a sweet pineapple crepe.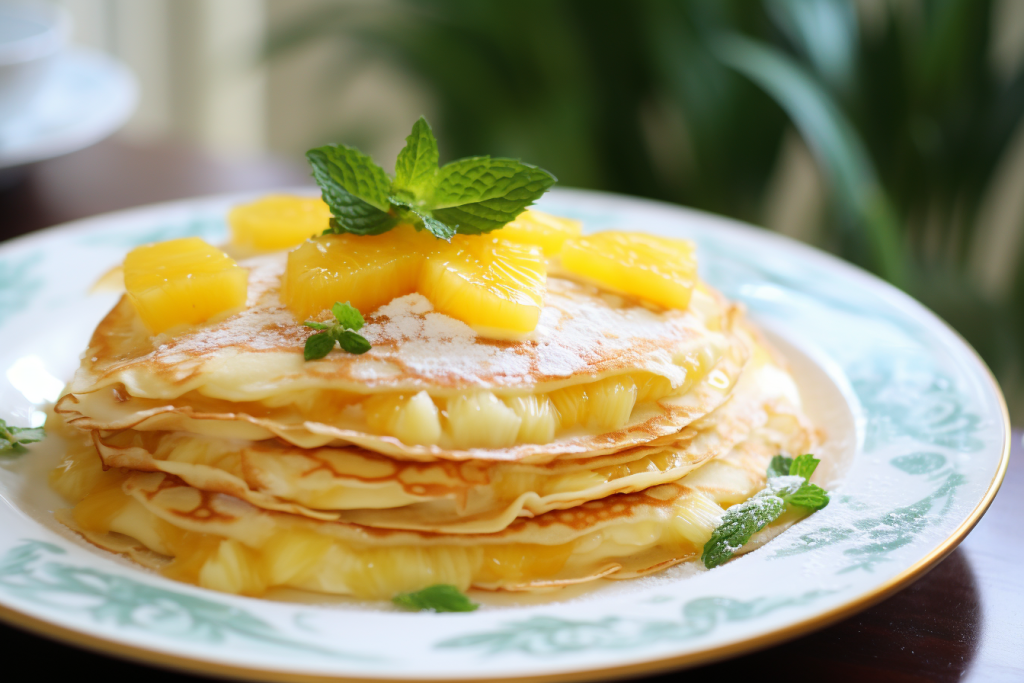 A Journey into Crepe History 
In the 13th century, a homemaker in Brittany, France, unintentionally dripped buckwheat porridge onto a cooking stone. She realized her accident had created something beautiful and delicious: a thin crepe that would become a culinary craze across France. Crepes became very popular in France as they were cost-efficient and used minimal raw ingredients.
In French and European cities, people consider crepes street food because they are commonly found on food carts or in "creperies." The term "crepe" or crêpe, in the French rendition, finds its origins in the Old French word "crespe," which in turn finds its origin in the Latin word "crispus," signifying a curled or wavy texture. 
There is even a holiday in France called Jour Des Crêpes that takes place on February 2nd, where people all over the country have a feast of crepes to celebrate Candlemas.
Mastering Pineapple Crepes: Tips and Tricks for Perfection 
Making pineapple crepes is more challenging than making pancakes, but don't worry you'll become a pro in no time with these tips!
After making your batter, it is essential to let it rest at room temperature for at least 30 minutes. Allowing the batter to rest helps it absorb the liquid, so you don't have runny crepes!
Next, the temperature is everything. Set your stove topt to medium heat. if the pan is too hot, the crepes might brown too quickly and not cook through. 
Just as temperature is essential when fixing crepes, so is being able to flip them over quickly. You want to use a thin spatula to flip over your crepes and your fingers to peel back the crepe and flip it over.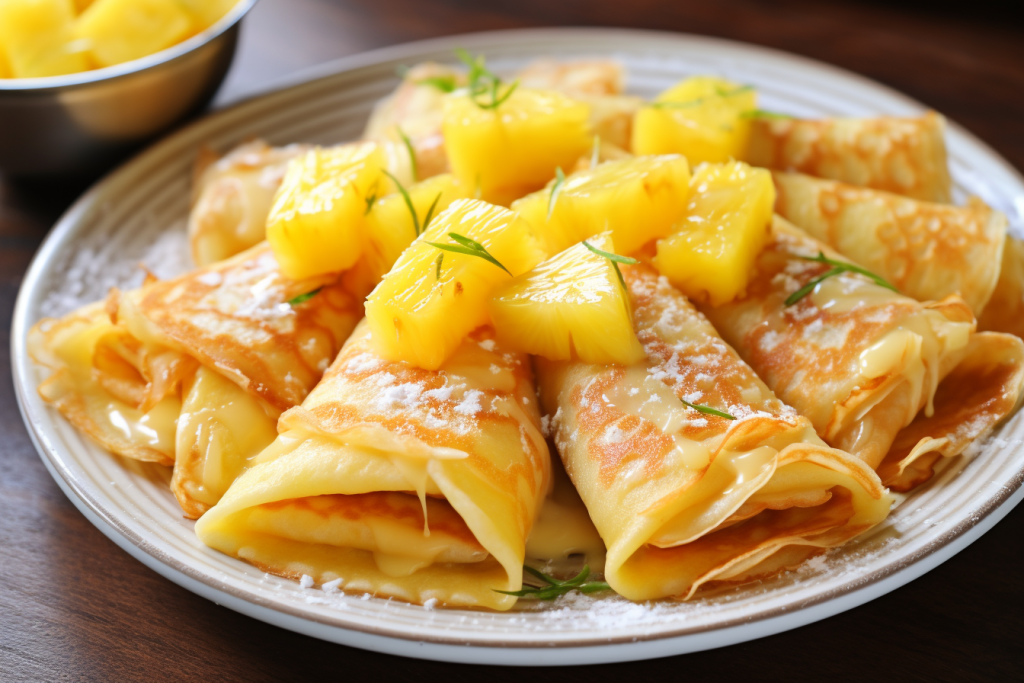 Tropical Morning Bliss: Sunrise Delight with Breakfast Caramel Pineapple Crepes
Caramel pineapple crepes, a delightful fusion of tropical flavor and sweet decadence, offers an extraordinary breakfast experience. In this recipe, we will dive into the art of creating these delectable caramel pineapple crepes perfect for breakfast, brunch, or a dessert that will leave your taste buds dancing!
Ingredients
For the Crepe Batter
3/4 cup cold water
3/4 whole milk
Three egg yolks
One tablespoon sugar
Two tablespoons of quality rum is optional but delicious!
1 cup of flour
Five tablespoons melted butter
Pineapple Caramel Sauce
Note: preparing this sauce just before frying up the crepes is best.
One medium-ripe Chestnut Hill Farms Perfect Pineapple
3/4 cup light brown sugar packed
6 tablespoons cold butter + 1 tablespoon for caramelizing
1/4 cup heavy cream
Two tablespoons of quality rum optional
Instructions
For the Crepes
In the bowl of a stand mixer or large mixing bowl, add the water, milk, eggs, rum, flour, and butter in that order. Using the whisk attachment (or hand mixer), mix the batter on medium-high for 1 minute. You should use the plastic splash guard; it can get messy!
After 1 minute, turn off the mixer and scrape down the sides of the bowl with a spatula. Mix for several seconds more until smooth.
Cover the bowl with plastic wrap and chill for at least 2 hours. You can also prepare the batter the night before.
How to Prepare
Heat a small skillet or crepe pan over medium-high heat. Once hot, melt a bit of butter (1/4 teaspoon or swipe the stick several times in the hot pan). Using a 1/4 cup measuring cup, scoop 1/4 cup of batter and slowly pour into the center of the pan while holding the pan above, not on, the burner. Slowly swirl the batter around the hot pan until the liquid semi-sets. Return the pan to the heat.
Cook for 90 seconds, gently wiggle the crepe to loosen, and flip the crepe to the other side using a spatula or your fingers (be careful!). Cook for 30 seconds and then slide onto a wax paper or cutting board.
Repeat until you have 12 crepes. You can stack the crepes to keep warm.
Pineapple Caramel Sauce
Note: preparing this sauce just before frying up the crepes is best.
One medium-ripe pineapple
3/4 cup light brown sugar, packed
6 tablespoons cold butter + 1 tablespoon for caramelizing
1/4 cup heavy cream
Two tablespoons of quality rum (optional)
Trim your pineapple top, bottom, and sides. Cut in half vertically and slice the fruit into 1/2 inches slices. Remove the core with a spoon or sharp paring knife.
Using a small skillet, melt one tablespoon of butter over medium-high heat. Once foaming, add several slices of pineapple to soften and gently caramelize. Cook for about 3 minutes, flip, and repeat on the other side. Remove and set aside. Repeat with the remaining slices.
Heat a clean medium saucepan or large skillet over medium-high heat. Dump the brown sugar into the pan and, using a whisk, stir until the sugar melts to a viscous liquid.
Add the butter immediately, and continue to whisk until completely melted. It will spit, so be careful! The caramel will look loose and a bit clumpy at this stage.
Remove from the heat and whisk in the rum and cream.
Return to the heat and continue whisking and heating until the caramel becomes smooth.
Adjust the heat to low, and add the pineapple slices. Cook for 3-5 minutes, stirring occasionally, and then put aside.
How to Assemble
Take one crepe and fold it in half, and then in half again, making a triangle. Place it on your plate. Next, add a slice of pineapple. Repeat until you have three crepes and three pineapple slices per serving. Take a generous spoonful (or three) of caramel and drizzle over the crepes. Dust with powdered sugar if desired.
Ready to Get a Taste of Pineapple Paradise? 
Pineapples have significant health benefits, and in case you don't like crepes, you can try some Hawaiian pineapple waffles instead! Here at Chestnut Hill Farms we've got you covered with everything pineapple!